Tonight I wanted to make something special for Sam after his fantastic first dance class. My four-year-old nephew and in-laws also joined us for dinner. Strangely, I'm more nervous cooking for kids than adults. Kids aren't afraid to tell you they don't like your food and are more than willing to go hungry if necessary to prove it. When I saw this recipe for tiny meatball-filled soup I figured the kids (even my chicken nuggets-loving nephew) would be amused enough to eat it, even if the adults weren't as impressed. Luckily, both kids and adults enjoyed the soup. The whole wheat pasta with Swiss chard was also a hit. You can find these recipes and other kid-friendly fare at our new Family Favorites page at the top of the site.
Italian Wedding Soup
adapted from Giada's Family Dinners
by Giada De Laurentiis
Serves 6 to 8
for the meatballs:
1 small onion, grated
3 cloves garlic, minced
3 tablespoons chopped fresh flat-leaf parsley
1 egg
1 teaspoon salt
freshly ground black pepper
1/2 cup (50 g) grated Parmesan cheese
1/4 cup (25 g) plain dry breadcrumbs
1 lb (450 g) ground beef
for the soup:
8 cups (2 liters) low-sodium chicken broth
1 lb (450 g) escarole, coarsely chopped
2 eggs
1/2 cup (50 g) freshly grated Parmesan
salt and freshly ground black pepper
To make the meatballs, in a large bowl, stir together the onion, garlic, parsley, egg, salt and pepper. Using your hands, mix in the the cheese, breadcrumbs, and beef. Shape the meat mixture into 1‑inch-diameter meatballs (about 75). Place on a baking sheet or large plate.
To make the soup, bring the broth to a boil in a large pot over medium-high heat. Add the meatballs and escarole and simmer until the meatballs are cooked through and the escarole is tender, about 8 minutes. In a small bowl, whisk together the eggs and cheese. Stir the soup in a circular motion. Gradually drizzle the egg mixture into the moving broth for about 1 minute, stirring gently with a fork to form thin stands of egg. Season the soup to taste with salt and pepper. Ladle the soup into bowls and serve.
***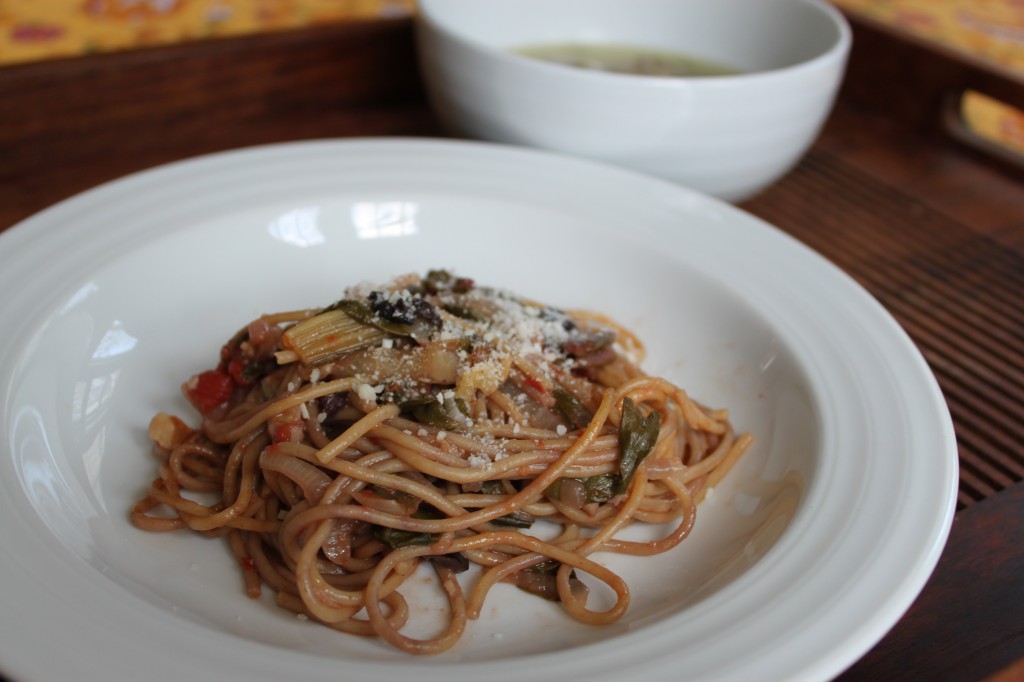 Whole Wheat Spaghetti with Swiss Chard and Pecorino Cheese
adapted from Giada's Family Dinners
by Giada De Laurentiis
Serves 6
3 tablespoons toasted walnuts or pine nuts
3 tablespoons olive oil
2 onions, thinly sliced
2 bunches Swiss chard, trimmed and chopped
3 garlic cloves, minced
1 x 14 oz (400 g) can diced tomatoes with juices
1/4 cup (60 ml) dry white wine
1/4 teaspoon dried crushed red pepper flakes
salt and freshly ground black pepper
12 oz (340 g) whole wheat spaghetti
1/2 cup (70 g) pitted Kalamata olives, coarsely chopped
3 tablespoons freshly grated Pecorino cheese
Preheat a small, heavy skillet over medium-low heat. Place the nuts in the hot skillet and stir them until they become golden brown and fragrant, about 5 minutes, taking care not to scorch them. Immediately place the toasted nuts in a separate bowl to cool and set aside.
Heat the oil in a large frying pan over medium-high heat. Add the onions and saute for about 8 minutes, until tender. Add the chard and saute for about 3 minutes, until it wilts. Add the garlic and saute for 1 minute, until fragrant. Stir in the tomatoes with their juices, wine, and red pepper flakes. Bring to a boil. Decrease the heat to medium-low, cover and simmer until the tomatoes begin to break down and the chard is very tender, stirring occasionally, about 5 minutes. Season the chard mixture to taste with salt and pepper.
Meanwhile, bring a large pot of salted water to a boil. Add the spaghetti and cook for about 10 minutes, stirring occasionally, until tender but still firm to the bite. Drain the spaghetti, add it to the chard mixture and toss to combine.
Transfer the pasta to a large bowl or platter. Sprinkle with the olives, cheese and nuts. Serve, passing extra cheese if desired.

Email this post

Print this post