The trouble with being a two-year-old who still doesn't talk much is that your older sister takes liberties when translating for you. When I asked my little boy what he wanted for dinner for his birthday last week, my daughter piped up and proclaimed that he wanted "that pasta with the peas and white sauce" — what is, in fact, one of her favorite dinners. But since I knew he loves it too, I went along with it. This comes from the "Kiddiefeast" chapter in Nigella Lawson's Feast
cookbook, and while it's a winner with kids, grown-ups love it too (bacon and cream — what's not to love?). It's certainly not a dish for every day, what with all that cream, but it's one of my favorite comfort food recipes.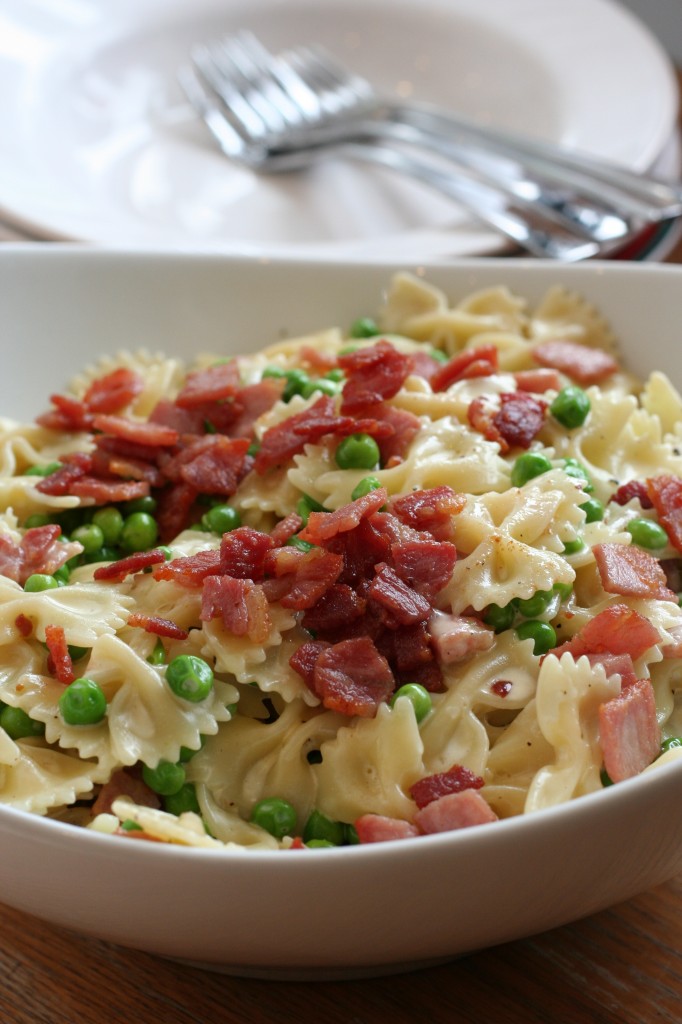 Pasta with Bacon, Peas and Cream
adapted from Feast: Food to Celebrate Life
by Nigella Lawson
Serves 4
In her book The Dinner Lady
, Jeanette Orrey makes a version of this where instead of the cream and Parmesan, you could add 10 oz (280 g) grated cheddar cheese and 1/3 cup (80 ml) milk to the drained pasta at the end, stirring until the cheese has melted. If I have some leftover ham, I almost always wind up making this and using the ham instead of bacon.
14 oz (400 g) farfalle (bow ties) or other short pasta
1 1/2 cups (200 g) frozen peas
1/2 lb (225 g) bacon, diced (or use leftover diced ham)
1 1/4 cups (300 ml) heavy cream
1/2 cup (50 g) freshly grated Parmesan, plus extra to serve
salt and freshly ground black pepper
Cook the pasta according to the packet instructions in plenty of boiling salted water. After 5 minutes, add the peas to the pasta to cook them together in the one pot.
Meanwhile, fry the bacon in a separate pan until crispy. Remove from the pan with a slotted spoon and drain on paper towels. Set aside.
When the pasta is cooked, drain along with the peas. Put the pot back on the heat with the bacon, cream and Parmesan. Stir well and warm it through. Add the drained pasta and peas back to the pan and toss everything together. Season to taste and serve with extra Parmesan grated on top.

Email this post

Print this post