I love eating new foods and try to cook or bake a couple new things each week. People ask a lot about where I get all the new recipes. Usually I take a look in my pantry to see which ingredients are taking up the most shelf space, then check my fridge to see what produce is losing freshness the fastest. I can then search for recipes based on those ingredients. I use the Epicurious website and iPad app quite a bit. It allows me to pull up recipes by ingredients and gives me access to back issues of Gourmet as well as other cooking magazines like Bon Appétit. I first discovered this soup recipe when looking for a way to use up huge bags of bulk chickpeas, lentils and rice. The saffron and fresh herbs brighten up these humble ingredients, making it one of my favorite "go to" recipes for winter.
I'm always on the lookout for new recipes. Feel free to send your favorites my way. I'd also love to know how you pick out new recipes.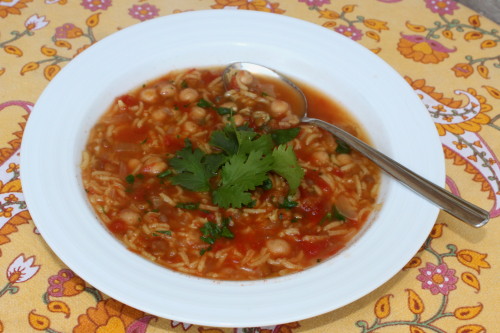 Harira
adapted from Gourmet, March 1994
The original Gourmet recipe is made with a whole chicken breast, which is simmered than shredded into the soup. I've adapted that recipe to make a vegetarian version. Find the chicken-based recipe here.
4 cups (950 ml) broth (vegetable or chicken)
4 cups (950 ml) water
a 28-to 32-ounce (800-to 950 ml) can whole tomatoes, drained and puréed coarse
1/4 teaspoon crumbled saffron threads
2 medium onions, chopped fine
1 1/2 cups cooked dried chick-peas (recipe follows), or a 15-ounce (425 g) can, rinsed
1/2 cup (100 g) raw long-grain rice
3/4 cup (160 g) lentils
a large handful of fresh coriander (cilantro), finely chopped
a large handful of fresh parsley leaves, finely chopped
In a large heavy kettle with a lid bring the broth and water to a boil. Add to the kettle the tomatoes, saffron, onions, chickpeas, rice, and lentils and simmer, covered, 30 minutes, or until the lentils are tender. Season with salt and pepper to taste. Soup may be prepared up to 4 days ahead (cool uncovered before chilling covered). Just before serving, stir in the coriander and parsley.
To Cook Dried Chickpeas:
To make about 2 cups cooked chick-peas begin with a scant cup (180 g) dried.
In a bowl soak the chickpeas in water to cover by 2 inches overnight and then drain. In a saucepan combine the drained chickpeas and water to cover by 2 inches and simmer, covered partially, 1 to 1 1/2 hours, or until tender. Drain the chickpeas before using.

Email this post

Print this post