Remember the first weeks of the pandemic when a trip to the grocery store required intense planning and anxiety, and shelves were eerily bare? Although I quickly gave up on finding cilantro and toilet paper, I knew our basement full of freezer and pantry items would carry us through an apocalypse scenario, at least for a few weeks. I have never felt happier to have our Sitka Salmon Shares subscription stocking our freezer. If you are a seafood lover and live in the upper Midwest, I highly recommend the program. The seafood is caught by small boat fisherman in Alaska, processed and flash frozen, then shipped directly to your doorstep. You cannot beat the quality and convenience.
Last month's delivery included halibut. I find halibut tricky to work with since it is low in fat and can be bland. This preparation is flavorful, fast, and fancy enough for a dinner party. Make sure to season the sauce well but salt the fish minimally. The prosciutto provides plenty of saltiness.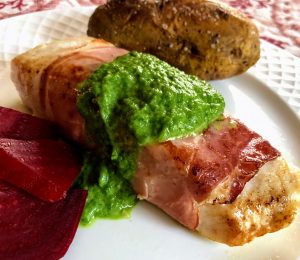 Captain Stu's Halibut with Asparagus
adapted from Sitka Salmon Shares
4 (1/4 lb each) halibut fillets
4 TB butter, divided
3 green onions, roughly chopped
1/2 bunch asparagus, roughly chopped
3 cups baby spinach
8 slices prosciutto
8 small, tender sage leaves
Olive oil
Salt and pepper, to taste
minced chives and lemon wedges, for serving
Preheat oven to 400 degrees.
In a large skillet, melt 2 TB of butter over medium heat. Add the green onions and sauté until softened, about 1–2 minutes. Add the asparagus along with 1/2 cup of water and bring to a simmer. Cook until asparagus is tender and water has been reduced to 2 Tbsp, about 6 minutes. Remove from heat and add the spinach, lightly stirring until wilted. Let cool for a few minutes, then transfer to a blender or food processor and puree until smooth with lid vented. Season well with salt and pepper and set aside.
Arrange prosciutto slices in pairs, overlapping them slightly. Place halibut fillets in the center of each, season with salt and pepper, then top each fillet with two sage leaves. Wrap prosciutto tightly around each fillet.
In a medium pan over medium-high heat, melt the remaining butter and a drizzle of olive oil. Place each prosciutto-wrapped halibut in the pan, searing on both sides until browned, about 2–3 minutes. Transfer to a baking sheet and bake for 5 minutes or until halibut is cooked through. Halibut should be firm when pressed but try not to overcook. Remove the halibut from the oven and top each with asparagus sauce, and a sprinkling of chives. Serve lemon wedge alongside.

Email this post

Print this post