The secret foodie project I've been working on for the past two months with fellow blogger Caroline from Bibliocook is out! When I've been writing these past few weeks that I've been slaving away with work and was practically too busy to cook, that was only part of the story — Caroline and I were also madly working behind the scenes to launch the new Irish Food Bloggers Association at the Food Camp that kicked off the Savour Kilkenny Food Festival last week (if you'd like to read more about Ireland's first-ever Food Camp, visit some of these blogs for their recaps; they were obviously taking better notes than me!). If you're an Irish or Irish-based blogger writing about anything to do with food, please join us! Or just check out the site to explore what we hope will become the definitive list of all the food blogs in Ireland.

This will be my last post from Nigella's new book for awhile, I promise. The one downside to launching the IFBA on October 22 was that I only found out late that night after getting back from Kilkenny that Nigella Lawson was doing a book signing in Dublin at noon the next day, and I was just too tired and too busy to go and have her sign my already well-thumbed copy of Kitchen
. Looks like I'll have to wait until she writes her next book and try to catch her on that tour.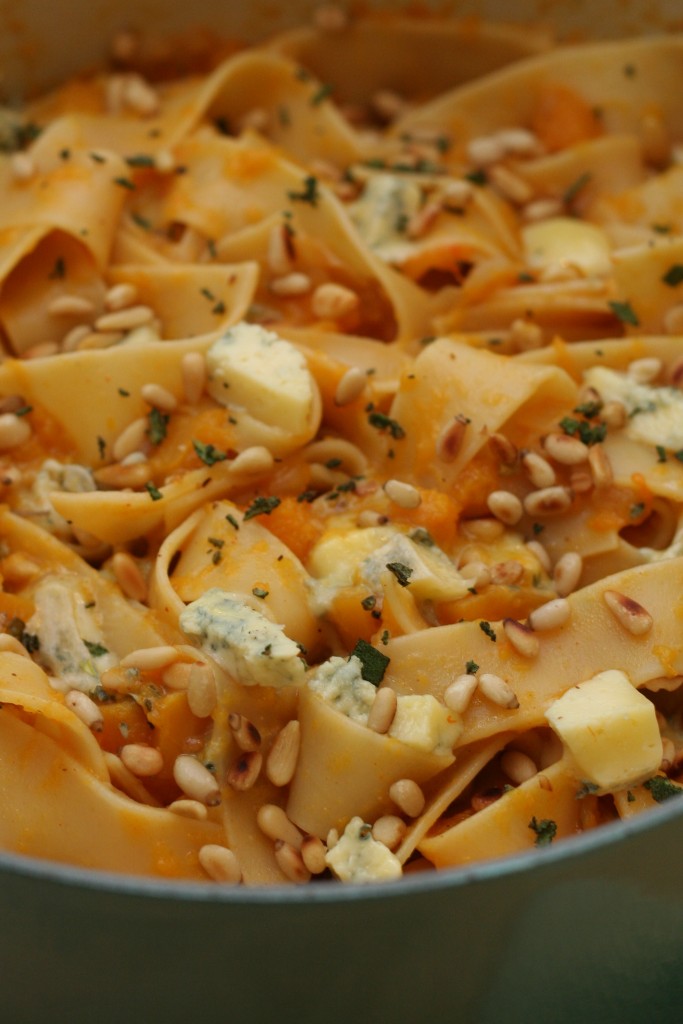 Pappardelle with Butternut Squash, Blue Cheese and Pine Nuts
adapted from Kitchen by Nigella Lawson
Serves 4
This is a first cousin to this risotto with roasted butternut squash, bacon and blue cheese (I wouldn't be averse to adding some bacon to this pasta dish). Nigella notes that the sauce can be made 1 day ahead — simmer until the squash is tender, then transfer to a nonmetallic bowl to cool. Cover and refrigerate, then reheat gently in a saucepan and proceed as directed. The sauce can also be frozen in an airtight container for up to 3 months — just defrost overnight in the fridge and reheat gently.
1 large onion, finely chopped
2 tablespoons olive oil
3/4 teaspoon smoked paprika
1 large butternut squash, peeled, deseeded and cut into 1‑inch cubes
1 tablespoon unsalted butter
3 tablespoons Marsala
1/2 cup (120 ml) water
salt and freshly ground black pepper
6 fresh sage leaves, finely chopped (or 1/2 teaspoon dried sage)
18 oz (500 g) pappardelle or other robust pasta
1 cup (100 g) pine nuts
5 oz (125 g) soft blue cheese, crumbled
Fry the onion in the olive oil over a medium heat in a large, heavy-based pan that can accommodate all the pasta later. After about 10 minutes, add the paprika. Add the cubed butternut squash, then add the butter, stirring everything together well in the pan. Add the Marsala and water. Once the mixture starts to simmer, put the lid on, turn down the heat and simmer for about 20 minutes, or until the squash is tender but still holds its shape. Season to taste (keeping in mind that the cheese will be salty too), then sprinkle the sage into the squash mixture, reserving some to garnish.
Meanwhile, cook the pasta in a large pot of boiling, salted water according to the packet instructions. Toast the pine nuts in a separate hot, dry pan, tip them into a bowl and set aside.
Before you drain the pasta, reserve a mugful of the cooking water. Add the drained pasta to the squash and slowly stir to combine. Add some of the pasta cooking water to help the sauce emulsify, then add the blue cheese and half the pine nuts. Gently combine, then sprinkle the remaining pine nuts and sage on top and serve.

Email this post

Print this post