My kids are crazy about beans. They'd eat them for breakfast, lunch and dinner, which is fine by me. You can't cook many things that are healthier, easier or quicker than a can of beans. While canned beans are great, cooking dried beans is much cheaper and tastes better, too. And then there's the BPA issue to think about. So I'm trying to use dried beans instead of canned and, in the process, finding some great recipes. This white bean recipe may be my favorite so far. Don't be afraid by the amount of sage, it's actually quite subtle tasting when cooked low and slow. If you have leftovers, try pureeing them with some olive oil and Parmesan cheese to make a spread perfect for crackers. I combined this batch with sausages and peppers as per Mark Bittman's suggestion. The last-minute side of plain quinoa was a surprisingly perfect match with the beans.
A quick comment about beans, generally. I usually cook my beans in a slow cooker but the stove top works just as well. Don't be afraid to add salt to the beans during cooking. I add a good teaspoon per pound (450 g) of beans after the beans are just tender, about halfway through cooking. Contrary to popular belief, salt doesn't prevent the bean from cooking properly and results in a much better-tasting bean. And if you're making a pot of beans, you may as well make a double batch. Once cooked, beans will keep in the fridge for several days or in the freezer several months, ready for pasta with chickpeas, eight-layer veggie burritos, or hummus at the drop of a hat.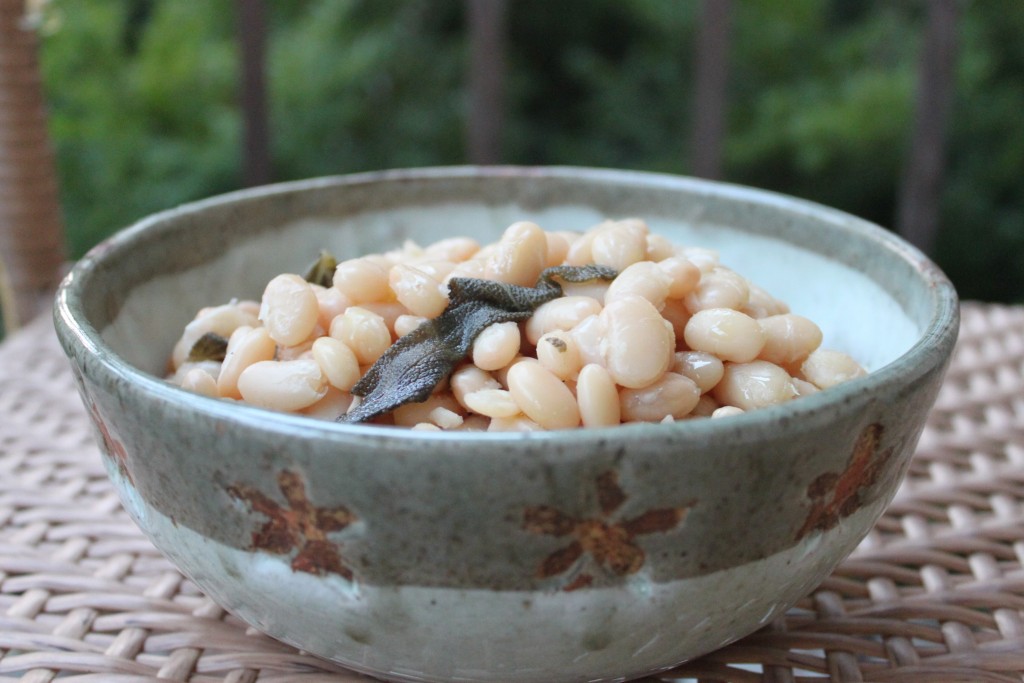 Tuscan-style White Beans
adapted from How To Cook Everything: Simple Recipes for Great Food
by Mark Bittman
Makes 8 servings
1 lb (450 g) dried white beans (cannellini, navy, Great Northern, etc.), washed and picked over
30 fresh sage leaves or 1 heaping tablespoon dried sage
salt and freshly ground black pepper
2 teaspoons minced or grated garlic
3 tablespoons extra virgin olive oil
Place the beans in a pot with water to cover by about 1 inch. Turn the heat to high and bring to a boil. Add the sage. Reduce the heat, cover loosely and simmer, stirring occasionally, until the beans begin to soften. Add about 1 teaspoon of salt and some pepper. Continue to cook until the beans are very tender, adding additional water if the beans dry out. Depending on the size and freshness of the bean, this will usually take 1 to 2 hours. Drain the cooking liquid if necessary, then gently stir in the garlic and olive oil. Season to taste with salt and pepper and serve hot, warm, or even cold.
***
Sausages with Peppers
Serves 6
1 tablespoon olive oil
6 hot and/or mild Italian sausages
2 bell peppers (one green and one red, yellow, or orange), sliced into thin strips
In a large skillet, heat the olive oil over a medium heat. Add the sausages and cook for 10 minutes, turning the sausages halfway through the cooking time. Add the pepper strips and cook until the peppers are soft and the sausages are fully cooked, stirring frequently, about 10 more minutes. If the sausages take on too much color early in the cooking process, lower the heat or cover the skillet with a lid for a few minutes.

Email this post

Print this post