Now that the two big projects that kept me chained to my desk these past few weeks have finally gone off to the printer, I'd love nothing more than to light the turf fire (now that it's cold enough for one) after the kids go to bed and catch up on all the cooking shows I've recorded. But there's no rest for the weary, and I'm just as busy this week as Caroline from Bibliocook and I put the finishing touches to a new foodie project, to be launched at the Savour Kilkenny Food Camp on Friday. The focus is still on fast, fuss-free meals and I'm still leaning heavily on Nigella Lawson's new book despite having acquired five other ones in the past six weeks, mainly because it never seems to leave my kitchen counter and make it back to the bookshelf. This tray bake was just what I needed for an easy midweek dinner, but once Friday's launch is done and dusted and our mystery project goes live, I'm looking forward to some downtime and leisurely baking in the kitchen this weekend after Nigella's book just so happened to fall open to the maple pecan bundt cake recipe…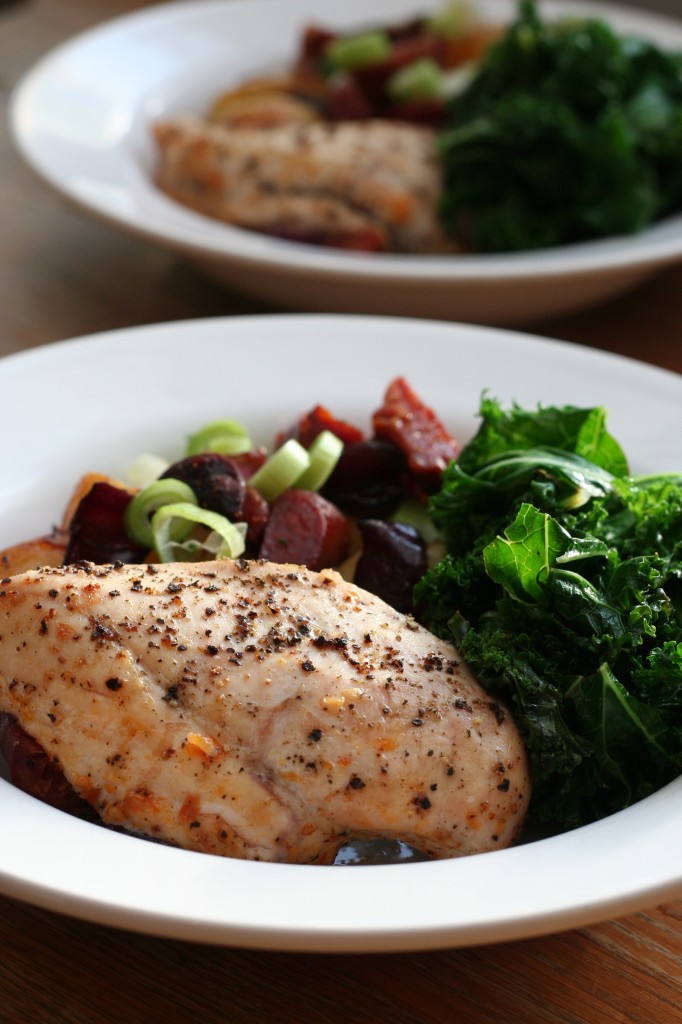 If you like this chicken and chorizo hash, you'll love this. Likewise, if you're a fan of one-tray dinners that you can assemble in five minutes then pop in the oven and forget about, like oven-roasted sausage and sweet potato, cherry tomato and sausage bake, or balsamic roast chicken with roast tomatoes, then this is another recipe to add to that list.
Spanish Chicken with Chorizo and Potatoes
adapted from Kitchen by Nigella Lawson
Serves 6
Nigella's original recipe calls for 12 chicken thighs (bone in, skin on) to be cooked at 425°F (220°C) for 1 hour. She also calls for 2 teaspoons of dried oregano and the zest of 1 orange, both of which I left out. And while her original recipe calls for about 1 3/4 lb (750 g) of chorizo, I easily got away with using only 11 oz (300 g). She suggests dicing up any leftovers to make quesadillas.
6 chicken breasts
2 lb (1 kg) baby potatoes, halved
1 1/2 lb (680 g) chorizo, cut into 1 1/2‑inch pieces
2 or 3 red onions, roughly chopped
olive oil
salt and freshly ground black pepper
Preheat the oven to 400°F (200°C). Place the chicken, baby potatoes, chorizo and onions in a roasting tin (or divide between 2 baking trays). Drizzle with olive oil and season with salt and pepper. Roast in the oven for 30 to 40 minutes, until the chicken is cooked through. Baste the contents with the oil released by the chorizo and serve.
***
Braised Kale
Serves 4
1 lb (450 g) kale (about 2 bunches), large center ribs and stems removed
4 tablespoons extra virgin olive oil
4 cloves garlic, chopped
1/2 red chili, finely chopped, or a pinch of red pepper flakes
1/3 cup (80 ml) dry white wine
zest and juice of 1 lemon
salt and freshly ground black pepper
Rinse the kale well, then cut crosswise into 1/2‑inch slices. Drain in a colander and set aside.
Heat the oil in a large frying pan over a medium-low heat. Saute the garlic the chili or red pepper flakes for 5 minutes, taking care not to let the garlic color. When the garlic has softened, raise the heat and add the kale. Cook for a couple of minutes, until the kale starts to wilt and turn a vibrant green. Add in the wine, lemon zest and juice and salt and pepper to taste. (Try not to cook the kale too long so that it keeps its bright green color.) Serve immediately.

Email this post

Print this post