Earlier this month our family went vegetarian for a week. My husband and I have been wanting to try on vegetarianism for awhile and when our friends mentioned their interest, we made a pact to go meat-free together. To sweeten the deal, we agreed to have each other over for dinner during the week. As you can probably figure out by my posts, we tend to eat (and enjoy) meat a few times per week. But honestly, except for a momentary craving for a turkey sandwich, I didn't miss meat at all. Eliminating meat from our menu gave me the chance to make some of my favorite vegetarian dishes, vegetarian chili on quinoa and fettuccine alfredo, for example, and was good motivation to find some new meatless menus. I tried out this tofu recipe because it sounded different and, more importantly, quick. I never thought to combine mustard and tofu but it somehow works. The sweet potatoes and kale provide an earthy, sweet note to balance the tangy tofu.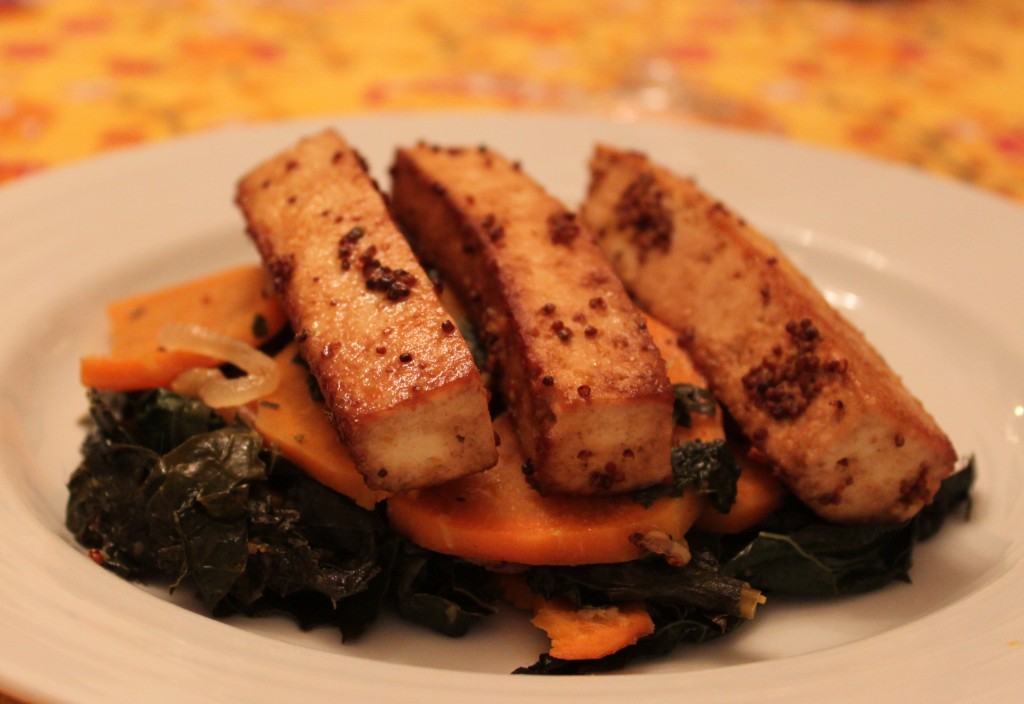 Mustard Crusted Tofu with Sweet Potatoes and Kale
adapted from Bon Appetit, September 2007
Serves 3
1 x 14-oz (400‑g) package firm tofu
1/4 cup (60 ml) whole grain Dijon mustard
4 tablespoons vegetable oil, divided
1/2 medium onion, sliced
1 tablespoon minced peeled fresh ginger
1 bunch kale, stem cut from each leaf, leaves thinly sliced crosswise
1 red-skinned sweet potato (yam), peeled, halved lengthwise, thinly sliced crosswise
2 tablespoons fresh lime juice
soy sauce or tamari, to taste
cooked rice, to serve
Cut the tofu in half lengthwise and place the pieces, side by side, on a clean dishtowel or several pieces of folded paper towels. Fold dish towel (or paper towels) over the tofu. Place the covered tofu in a dish, cover, and let it sit overnight in the fridge. The towels should draw out a considerable amount of moisture from the tofu. If you forget to do this the night before your meal, simply place a large pan or other heavy plate on top of the tofu and let it sit for at least half an hour to press out excess moisture.
Cut the pressed tofu into eight pieces, cubed as in the picture, or in 1/2‑inch-thick slices. Spread the top and bottom sides of each piece with the mustard.
Heat 2 tablespoons of oil in a large nonstick skillet over medium-high heat. Add the onion and ginger; sauté 3 minutes. Add the sweet potato and saute another 5 minutes. Add the kale and lime juice then cover, reduce the heat to low, and cook until the potato is tender and the kale is wilted, about 12 more minutes.
Meanwhile, heat the remaining 2 tablespoons oil in another large nonstick skillet over medium heat. Add the tofu; cover and cook until heated through and crisp, about 2 minutes per side (some mustard seeds may fall off of the tofu).
Arrange the kale and sweet potato mixture on a plate. Place the tofu pieces atop the vegetables. Serve with soy sauce or tamari and rice, if desired.

Email this post

Print this post