Last Tuesday was one of those days that turned out to be warmer than predicted (not that I'm complaining!), so much so that whatever it was that I had planned to cook that night, I suddenly didn't want to anymore. Add to that the fact that I had a plumber and a loss adjuster in my kitchen while I was trying to make dinner, talking about having to rip up and replace all the flooring throughout the house because of a mysterious water leak we have, and I wanted to cry, not cook. But this is one of those recipes that takes almost no time to cook and is made of pantry staples that I always have around, so I was able to quickly change my plans, throw this together and avoid resorting to takeout.
A well-stocked pantry can be a busy cook's best friend, as Anita writes in her Dinner on a Deadline series. (And check out this well-stocked, well-organized pantry — it makes my Virgo heart happy just to look at it.) Some of the things you'll rarely find me without are canned chickpeas, cannellini beans, black beans and tomatoes (whole and chopped), rice, pasta, couscous, tortillas, onions, garlic, lemons, olives, tuna and a jar of pesto in the pantry, as well as a good variety of dried herbs and spices and all the staples for baking; some fresh herbs, chorizo, eggs, Parmesan and cheddar cheese, potatoes, carrots and apples in the fridge; and frozen peas, frozen berries, chicken breasts and homemade chicken stock in the freezer. With just that short list of ingredients, I can make pasta with Marcella Hazan's tomato sauce, pasta e ceci, roasted garlic and pea soup, red chile chicken and rice with black beans, chicken bouillabaisse, a white bean and tuna salad, a ploughman's lunch, homemade pizza, cheese quesadillas, a potato frittata or this dinner with hardly any planning ahead.
What pantry staples do you always have on hand? What are your store cupboard stand-by dinners? Let us know in the comments or come join the discussion on our Facebook page, under the Discussions tab!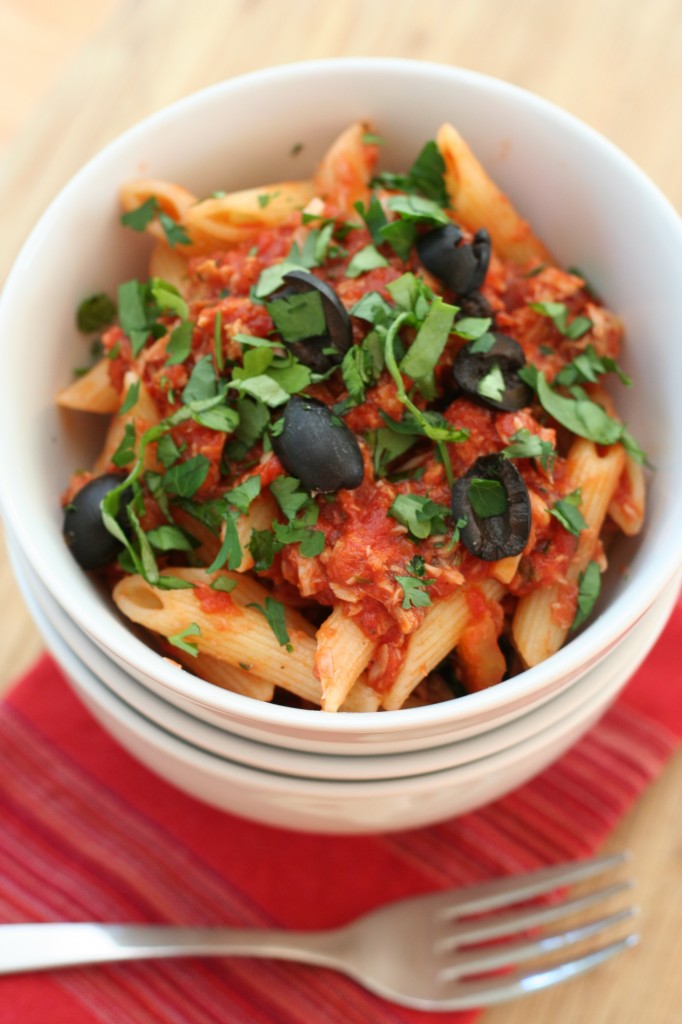 Pasta with Tuna, Tomatoes and Olives
adapted from Apples for Jam
by Tessa Kiros
Serves 4
If you don't have fresh herbs, just use some dried basil instead. Olives can become bitter if cooked too long, so you should add them in at the end of a recipe.
14 oz (400 g) pasta, such as penne, farfalle or spaghetti
2 tablespoons olive oil
2 garlic cloves, finely chopped
1 x 14 oz (400 g) can of chopped tomatoes
salt and freshly ground black pepper
1 x 6 oz (170 g) can of tuna, drained
3 basil leaves, torn
2 tablespoons finely chopped fresh parsley
a few handfuls of black olives, halved
Cook the pasta in a large pot of boiling salted water according to the packet instructions.
Meanwhile, heat the oil in a large saucepan over a medium-low heat. Add the garlic and cook for 1 minute. Add the tomatoes and season well with salt and pepper. Simmer for 10 to 15 minutes, then add the tuna, breaking up any large chunks with a wooden spoon. Add in the basil, parsley and olives and simmer for a few minutes more, then remove from the heat.
Drain the pasta and reserve some of the cooking water. Add the pasta to the sauce. Add some of the pasta cooking water to help the sauce coat the pasta if necessary. Serve immediately.

Email this post

Print this post