One-pot dinners are so popular that entire cookbooks are dedicated to them. The renowned Ballymaloe Cookery School in Ireland even offers a one-day course on them. Their appeal is obvious — they tend to be easy to cook, only using one pot means there's less washing up to do, you can let them simmer away while you get on with other things, and they're ideal for cooking for a crowd. This chicken bouillabaisse is straightforward enough to make as a weeknight meal, yet impressive enough to serve for company. The bright fennel flavors in this stew make for a nice change, especially as we're coming into spring and cravings for heavy foods are waning. I also love the lurid red sauce, which you'll want to mop up with plenty of crusty bread. As one-pot wonders go, this is one of my favorites (plus it's always more fun to cook something with a French name).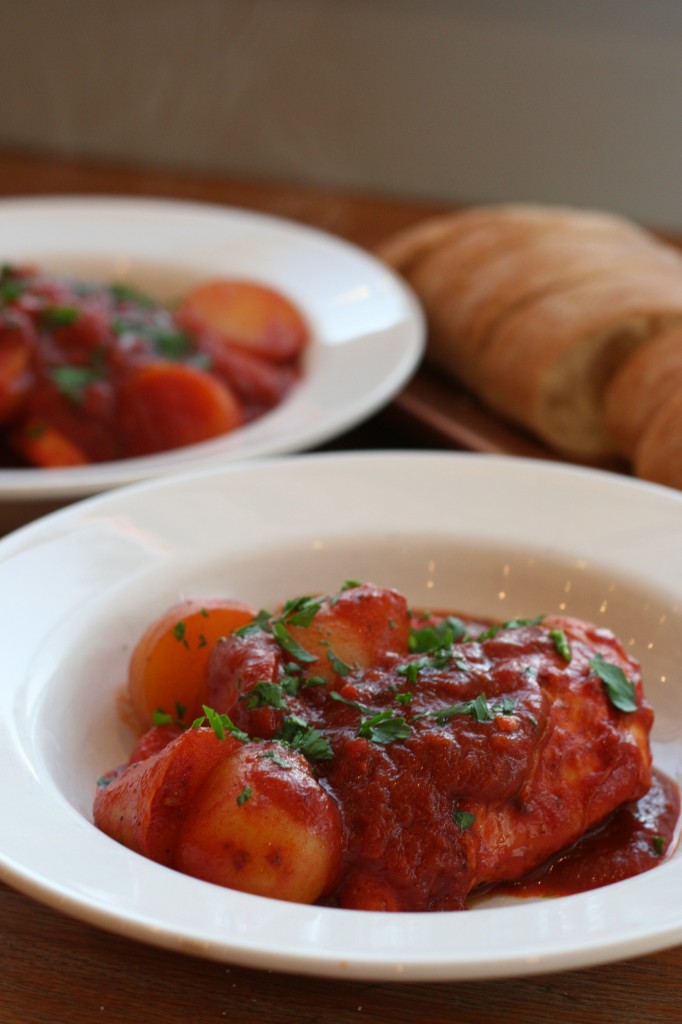 Chicken Bouillabaisse
adapted from Barefoot Contessa Back to Basics by Ina Garten
Serves 4 to 6
I've adapted this quite a bit from the original, most notably by adding in onions, fennel and carrots and cooking it on the stovetop instead of in the oven. It's traditional to serve bouillabaisse with a dollop of rouille and Ina Garten has a recipe for one here, though truth be told I usually skip it. You could make a cheat's version by adding 1 tablespoon freshly squeezed lemon juice, 1/2 teaspoon saffron and 1/4 teaspoon crushed red pepper flakes to 1 cup (240 ml) good store-bought mayonnaise. I've listed the Pernod as optional because there's no need to go out and buy a whole bottle just for 3 tablespoons, and the dish is perfectly delicious without it.
5 large chicken breasts (or a combination of breasts and thighs), either left whole or cut into bite-sized pieces
salt and freshly ground black pepper
1 tablespoon minced fresh rosemary leaves
2 tablespoons extra virgin olive oil
2 large onions, roughly chopped
1 fennel bulb, roughly chopped
3 or 4 carrots, cut into 1‑inch pieces on the diagonal
4 large cloves garlic, finely chopped
1 teaspoon saffron
1 teaspoon whole fennel seeds
11 oz (300 g) tomato puree
2 cups (480 ml) good-quality chicken stock
1 cup (240 ml) dry white wine
3 tablespoons Pernod (optional)
1 lb (450 g) baby potatoes, halved
handful of fresh parsley, chopped, to garnish
crusty bread, to serve
Pat the chicken dry with paper towels and season it generously with salt, pepper, and the rosemary. Heat the olive oil over a medium heat in a large pot and brown the chicken in batches (don't crowd the pot) until nicely browned all over, about 5 to 7 minutes per batch. Transfer the browned chicken to a plate and set aside.
Lower the heat to medium-low and the onion, fennel and carrots. Saute for 10 minutes, until the onions have softened. Add the garlic and saute for 1 minute more. Add the saffron, fennel seeds, tomato puree, chicken stock, white wine, Pernod, 2 teaspoons salt, and 1 teaspoon of pepper to the pot. Stir and scrape up any browned bits on the bottom. Add the browned chicken and their juices back to the pot, along with the baby potatoes.
Cover the pot and simmer for 45 to 55 minutes, until the potatoes are tender (but not falling apart) and the chicken is done. Check the seasoning, then add a dash of Pernod or a splash of white wine at the end if you think it could use a little alcohol edge. Serve hot in shallow bowls with big dollops of rouille (if using), some chopped fresh parsley sprinkled over and plenty of crusty bread to mop up the sauce.

Email this post

Print this post