You couldn't have asked for a better day for a cross-country trip in Ireland. I made the three-hour drive from the east coast to the Midlands under a brilliant blue sky with warm sunshine beating down, passing roadsides covered with wild daises, buttercups and poppies, tractors pulling trailers of turf in the bogs of County Offaly and farmers working to harvest the first cut of silage in fields all along the way. I was heading to Oldfarm in County Tipperary, between Birr and Portumna, to meet up with a few fellow food bloggers and to see some rare-breed pigs.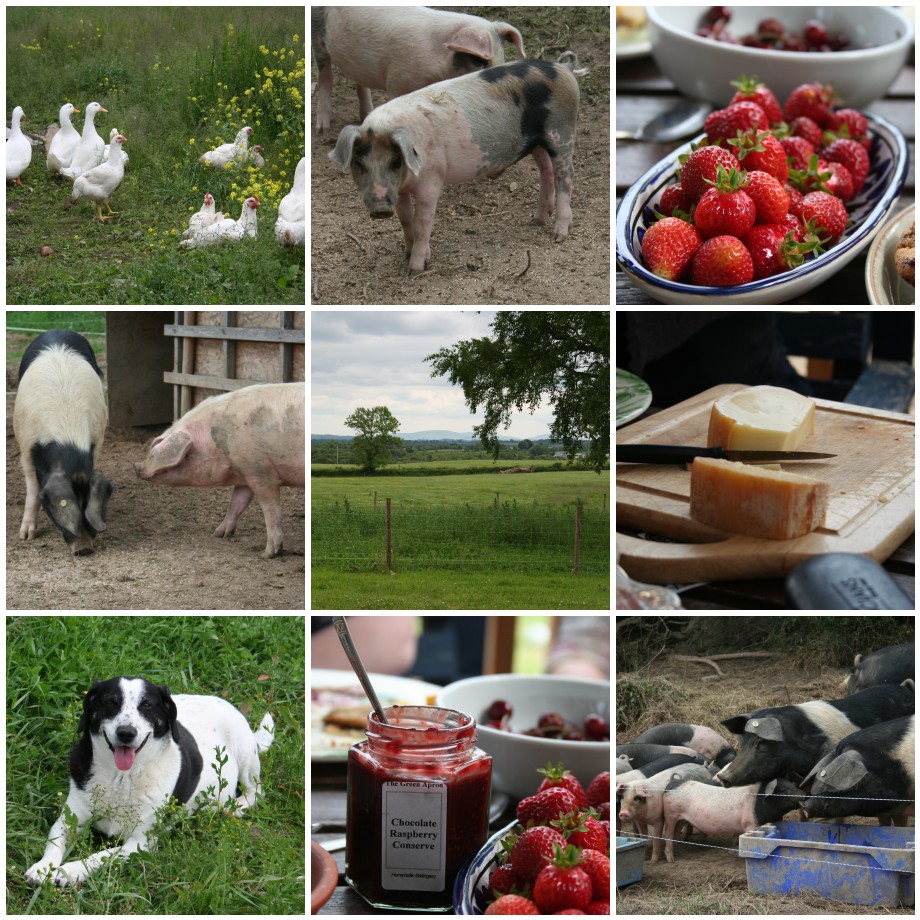 Six years ago, Margaret O'Farrell and Alfie McCaffrey traded in their city life in Dublin and their scuba diving business for life in the country and a new venture raising free-range Saddleback pigs. Last week, they invited a group of strangers to their home for an afternoon of foodie chat and to have a look around their farm. We sat on their fabulous porch (what Margaret calls her "Martha Stewart room") with a view to the Silvermine and Slieve Bloom mountains and drank homemade elderflower cordial while they told us how the two pigs they originally bought – they only wanted one for themselves and one for Margaret's brother – became forty-eight, and without quite meaning to, they found themselves in the pig business.
We headed out then to look at the pigs for ourselves, all happily rooting in the earth in the fresh air, taking little notice of us as we stood next to them and talked shop. Ralph Haslam from Mossfield Organic Farm stopped by later on, coming out to meet us in the fields behind the house. Margaret and Alfie feed the whey left over from his cheese-making to their pigs, as well as locally grown barley and vegetables, and this time he brought a box of his award-winning cheeses for us to try and take home.
After tramping around the farm, we returned to the porch and a table groaning with food — Ralph's cheeses, strawberries and cherries picked that morning from Margaret's garden, two kinds of chocolate chip cookies, muffins, a Barra cake, a strawberry sponge, a mocha tart that we're all still talking about, and a new experiment from Theresa, a chocolate raspberry preserve that was so good we simply ate spoonfuls of it straight from the jar, and all washed down with endless pots of tea.
I was sent home with an armful of rhubarb that Alfie harvested from their garden, which I later turned into rhubarb-strawberry mousse, two kinds of Mossfield cheeses and a jar of fresh pesto from Hey Pesto. After I mentioned that I'd always wanted to try making elderflower cordial myself, Margaret and Alfie cut dozens of elderflower heads for me from their trees, and even though I was tired from the six-hour round trip, I made a batch of this elderflower syrup as soon as I got home.
And, of course, we got sausages. Oldfarm's Saddleback sausages have a stronger flavor than conventional sausages, so they stand up well to being featured as the star of a dinner dish. Sausages, peppers and onions is one of my favorite dinners and is traditionally made with Italian sausages, but since those are hard to come by in Ireland, I make it with good-quality butcher sausages instead, and Oldfarm's are some of the best around.
The day out at Oldfarm showcased many of the things that are so special about artisan Irish food — it's top-class, local, and produced with pride and passion by dedicated, generous people. If you'd like to try some of it for yourself, Margaret and Alfie sell their free-range Saddleback pork and bacon in 5 kg or 10 kg box schemes at €10 per kg, delivered right to your door. You can contact them at margaret.oldfarm@gmail.com or 086 810 0125 for more information, or follow Oldfarm on Facebook, Twitter or Margaret's blog, A Year in Redwood.
Sausages, Peppers and Onions
adapted from Giada Di Laurentiis
Serves 4 to 6
Serve this as a sandwich on fresh rolls, on top of pasta, or on its own in bowls with plenty of crusty bread on the side. If serving as a sandwich, split the rolls in half lengthwise. Hollow out the bread from the bottom side of each roll, being careful not to puncture the crust, then fill the bottom half of the roll with the sausage mixture.
2 tablespoons extra virgin olive oil
1 lb (450 g) Italian sausages or good-quality butcher sausages
2 red peppers, sliced
2 yellow peppers, sliced
2 yellow onions, sliced
1 teaspoon kosher salt
1 teaspoon freshly ground black pepper
1/2 teaspoon dried oregano
1 teaspoon dried basil
4 garlic cloves, thinly sliced
2 tablespoons tomato paste
1 cup (240 ml) red wine or water
1 x 14 oz (400 g) can of chopped tomatoes
1/4 teaspoon red pepper flakes (optional)
a few basil leaves, roughly chopped or chiffonaded, to garnish (optional)
Heat the oil in a heavy large skillet over a medium heat. Add the sausages and cook until browned on both sides, about 7 to 10 minutes. Remove from the pan and drain.
Keeping the pan over a medium heat, add the peppers, onions, salt, and pepper and cook for 10 minutes, until golden brown and softened. Add the oregano, basil, and garlic and cook for 2 more minutes.
Add the tomato paste and stir. Add the wine or water, tomatoes, and chili flakes, if using. Stir to combine, scraping the bottom of the pan with a wooden spoon to release all the browned bits. Bring to a simmer.
Cut the sausages into 1‑inch pieces. Add the sausage back to the pan and stir to combine. Cook for about 20 minutes, until the sauce has thickened. Garnish with fresh basil and serve as desired (see note above).
***
Elderflower Syrup
adapted from Darina Allen's Ballymaloe Cookery Course
by Darina Allen
Makes 2 cups (1 pint)
If you could bottle the essence of summertime, this would be it. Add this syrup to sparkling water or even a glass of champagne or Prosecco. Decant it into clean, sterilized bottles, or freeze the syrup in an ice cube tray. If you can't find unwaxed lemons, lightly scrub them under warm water with a clean scrubbing brush before you zest them.
1 cup (200 g) superfine (caster) sugar
2 cups (1 pint) cold water
6 elderflower heads, in full bloom
zest and juice of 2 lemons, preferably organic and unwaxed
Put the sugar and water into a saucepan over a medium heat. Stir until the sugar dissolves. Add the elderflowers and bring to a boil. Boil for 5 minutes, then remove from the heat and add the lemon zest and juice. Set aside to cool, then cover and leave to infuse for 24 hours. Strain and pour into sterilized, clean bottles. Dilute as desired.

Email this post

Print this post