I always feel better knowing there's a can of chickpeas in the pantry, since I can turn it into a quick lunch with some couscous, lemon and diced feta. Or I can turn it into one of my favorite kitchen cupboard dinners — you know the kind, the ones you pull together from whatever you have lurking in the pantry or at the back of the crisper in the fridge, usually on the night before you do your grocery shopping when there's nothing else in the house — spaghetti with chickpeas, lemon juice, parsley and freshly grated Parmesan, a recipe I picked up from Denis Cotter's Paradiso Seasons. Jamie Oliver calls this a cousin of pasta e fagioli, the traditional Italian peasant dish of beans and pasta, so if you like that dish, chances are good you'll like this one too.
But enough about soup. Let's talk about these cookies. Ina Garten really knows how to make perfect autumn food — first it was her date nut spice bread, and now these cookies. Both recipes use a combination of cinnamon, nutmeg and cloves that creates an atmosphere while you're baking them that you want to wrap yourself up in. I gave one of the cookies to the woman who delivers our organic fruit and veg, and the first thing she did was hold it up to her nose to smell it and sigh appreciatively. I said before that the date nut spice bread might be the best thing I bake this autumn, but these cookies are a close contender.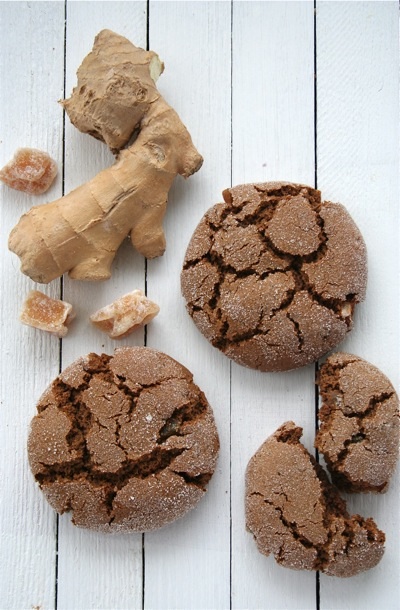 Pasta with Chickpeas (Pasta e Ceci)
adapted from Jamie's Italy
by Jamie Oliver
Serves 4
1 small onion, finely chopped
1 stick of celery, finely chopped
1 garlic clove, finely chopped
extra virgin olive oil
1 sprig of fresh rosemary, leaves picked and finely chopped
2 x 14-oz (400‑g) cans of chickpeas
2 1/4 cups (540 ml) chicken or vegetable stock
3 1/2 oz (100 g) ditalini or macaroni
sea salt and freshly ground black pepper
a small handful of chopped fresh basil or parsley, to serve
freshly grated Parmesan cheese, to serve
crusty bread, to serve
Put the finely chopped onion, celery, and garlic into a saucepan with a little extra virgin olive oil and the rosemary and cook as gently as possible, with the lid on, for 15 to 20 minutes, until all the vegetables are soft, without any color.
Drain the chickpeas well and rinse them in cold water, then add them to the pan and cover with the stock. Cook gently for 30 minutes. Using a slotted spoon, remove half the chickpeas and put them to one side in a bowl.
Puree the soup in the pan using a handheld immersion blender. (If you don't have one, you can whiz it up in a food processor instead, then pour it back into the pan.) Add the reserved whole chickpeas and the pasta, season the soup with salt and pepper, and simmer gently for about 15 minutes, until the chickpeas are tender and the pasta is cooked.
At this point, if the soup is a little thick, pour in some boiling water from the kettle to thin it down, and add more salt and pepper if needed. Serve drizzled with good-quality extra virgin olive oil and sprinkled with some basil or parsley and Parmesan cheese. Serve some warm crusty bread alongside.
***
The Barefoot Contessa's Ultimate Ginger Cookies
adapted from The Barefoot Contessa at Home by Ina Garten
Makes 16 cookies
2 1/4 cups (270 g) all-purpose flour
1 teaspoon baking soda
2 teaspoons ground cinnamon
1 1/2 teaspoons ground cloves
1/2 teaspoon ground nutmeg
1/2 teaspoon ground ginger
1/4 teaspoon kosher salt
1 cup (170 g) dark brown sugar, lightly packed
1/4 cup (60 ml) vegetable oil
1/3 cup (80 ml) unsulfured molasses or black treacle
1 extra-large egg, at room temperature
1 1/4 cups (170 g) chopped crystallized ginger
granulated sugar, for rolling the cookies
Preheat the oven to 350°F (180°C). Line 2 sheet pans with parchment paper.
In a large bowl, sift together the flour, baking soda, cinnamon, cloves, nutmeg, ginger, and salt and then combine the mixture with your hands. In the bowl of an electric mixer fitted with the paddle attachment, beat the brown sugar, oil, and molasses on medium speed for 5 minutes. Turn the mixer to low speed, add the egg, and beat for 1 minute. Scrape the bowl with a rubber spatula and beat for 1 more minute. With the mixer still on low, slowly add the dry ingredients to the bowl and mix on medium speed for 2 minutes. Add the crystallized ginger and mix until combined.
Scoop the dough with 2 spoons or a small ice cream scoop (I used a 1/4 cup measuring cup, which is 90 g of dough). With your hands, roll each cookie into a 1 3/4‑inch ball and then flatten them lightly with your fingers. Press both sides of each cookie in granulated sugar and place them on the sheet pans. Bake for exactly 13 minutes. The cookies will be crackled on the top and soft inside. Let the cookies cool on the sheets for 1 to 2 minutes, then transfer to wire racks to cool completely.

Email this post

Print this post