It's not for nothing that rice and beans is such a staple dish in so many parts of the world (Kelly has already written about this here). Not only is it the ultimate budget food, but when eaten together, rice and beans form a complete protein (you could argue that the inclusion of chicken in this dish is a bit of protein overkill). It's also wide open to interpretation — just have a look at all the variations listed in this article (or see this lentil-rice salad with chorizo). Another option would be to make this smoked paprika roasted chicken from Simply Recipes for dinner one night, then use the leftover shredded chicken in this dish the next day.
Far from being a bland, stodgy bowl of starch, this recipe is full of flavor, not least because of the whopping 2 1/2 tablespoons of ancho chile powder or smoked paprika called for. I was afraid it would be too spicy or overpowering for my small children, but they loved it. We had big bowls of it on its own as a cheap and cheerful midweek meal, but a simple salad of chopped romaine with this tangy avocado dressing or some cheese quesadillas served alongside would round things out nicely.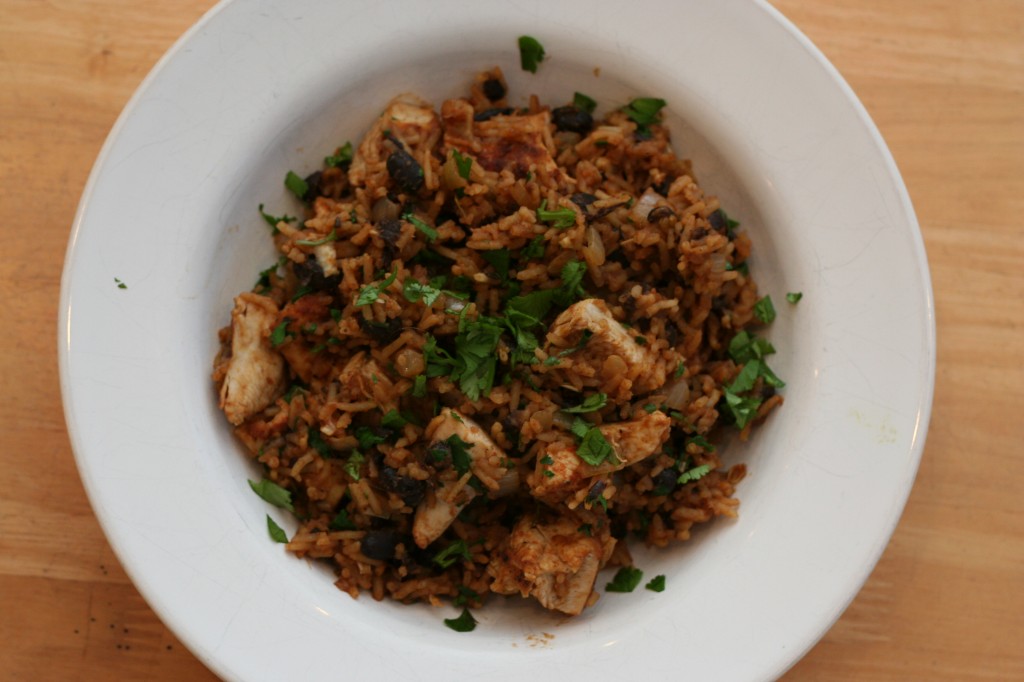 Red Chile Chicken and Rice with Black Beans
adapted from Mexican Everyday
by Rick Bayless
Serves 4
For a vegetarian version, simply omit the chicken and only use 1 1/2 tablespoons of ancho chile powder or smoked paprika; I think next time I'll substitute some feta cheese for the chicken. Rick Bayless says he also sometimes adds a big handful of spinach along with the green onions or herbs.
2 tablespoons vegetable or olive oil
4 skinless chicken breasts
2 1/2 tablespoons ground ancho chile powder or smoked paprika (use less if omitting the chicken; see above)
1 medium white onion, cut into 1/4‑inch pieces
1 cup (180 g) rice
4 garlic cloves, finely chopped
1 1/2 cups (360 ml) chicken (or vegetable) stock
1 teaspoon salt
1 x 14-oz (400‑g) can black beans, drained and rinsed (rinsing will keep them from making the rice sticky)
a few chopped green onions or a handful of chopped cilantro
1/2 to 1 cup (120 to 240 ml) salsa, to serve (optional)
Heat the oil in a medium-large heavy pot over a medium-high heat. Sprinkle both sides of the chicken breasts first with salt, then with 1 tablespoon (yes, tablespoon!) of the ground ancho chile powder or smoked paprika. Place them in the hot oil in a single layer (do this in two batches if need be so you don't crowd the chicken in the pot). Brown for 2 to 3 minutes per side. Remove to a plate to cool, leaving behind as much oil as possible.
Add the onion and rice to the pot. Stir for a few minutes, until the rice turns opaque. Add the garlic and the remaining 1 1/2 tablespoons (again, that's not a typo) ancho chile powder or smoked paprika and cook for 1 minute. Add the stock and salt (use less salt if your stock is already quite salty). Stir well. When the mixture comes to a boil, reduce the heat to medium-low and cover the pot. Cook for 10 minutes.
Meanwhile, cut the chicken breasts into 1‑inch cubes. Uncover the pot and add the chicken and black beans. Re-cover and cook for 12 minutes longer. (Note: I found that my rice didn't need this much time to cook, so just keep a close eye on it, test it and use your judgment.)
Uncover, sprinkle on the green onions or cilantro and test a grain of rice: it should have no more than a hint of chalkiness in the center; if it's still too firm, cook for another 5 minutes or so. Otherwise, simply re-cover the pot, remove it from the heat and let it stand for 5 to 10 minutes to finish cooking the rice in its own trapped steam. Fluff the rice mixture with a fork and serve with the salsa on the side.

Email this post

Print this post