Cranberry oatmeal white chocolate cookies are one of my favorite cookies. They're buttery, not too sweet, and stay softer than your average chocolate chip cookie. The dried cranberries in the cookies tie in nicely with the dried cranberries in this unstuffed version of stuffed cabbage. Stuffed cabbage (cabbage rolls) is one of those dishes that my mother-in-law makes better than I do and that always takes longer to put together than expected. In other words, I usually just wait for her to make it instead of making it myself. This recipe is nearly as good as my mother-in-law's and takes less time to prepare, perfect for when I'm craving stuffed cabbage but don't want to invite myself over for dinner.
Unstuffed Sweet-and-Sour Cabbage
adapted from Gourmet, November 2008
Serves 4
1 medium head green cabbage, quartered lengthwise and cored
2/3 cup (160 ml) reduced-sodium chicken broth
3 garlic cloves, thinly sliced, divided
1 large onion, thinly sliced
1 tablespoon olive oil
1 lb (450 g) ground beef chuck
2 lb (900 g) plum tomatoes, peeled (or 1 x 28-oz/780‑g can whole tomatoes in juice)
1/3 cup (40 g) dried cranberries
3 tablespoons red wine vinegar
1 tablespoon packed dark brown sugar
steamed rice, to serve

Place the cabbage in a deep 12-inch heavy skillet with the broth, 1 garlic clove (sliced), and a rounded 1/4 teaspoon salt. Bring to a simmer over a medium heat, then cook, covered, turning the cabbage occasionally until it's very tender, about 45 minutes. (Add more broth or water if necessary.)
Meanwhile, cook the onion and remaining garlic in the oil in a heavy medium pot over a medium heat, stirring occasionally, until golden, about 8 minutes. Increase the heat to medium-high and stir in the ground beef along with 1/2 teaspoon each of salt and pepper. Cook, stirring and breaking up lumps with a wooden spoon, until the beef is no longer pink, about 3 minutes.
Stir in the tomatoes, cranberries, vinegar, and brown sugar and simmer, uncovered, stirring occasionally and breaking up the tomatoes with a spoon, until slightly thickened, about 30 minutes. Season with salt.
Pour the sauce into the skillet with the cabbage and simmer, uncovered, for 5 minutes. Serve with rice.
***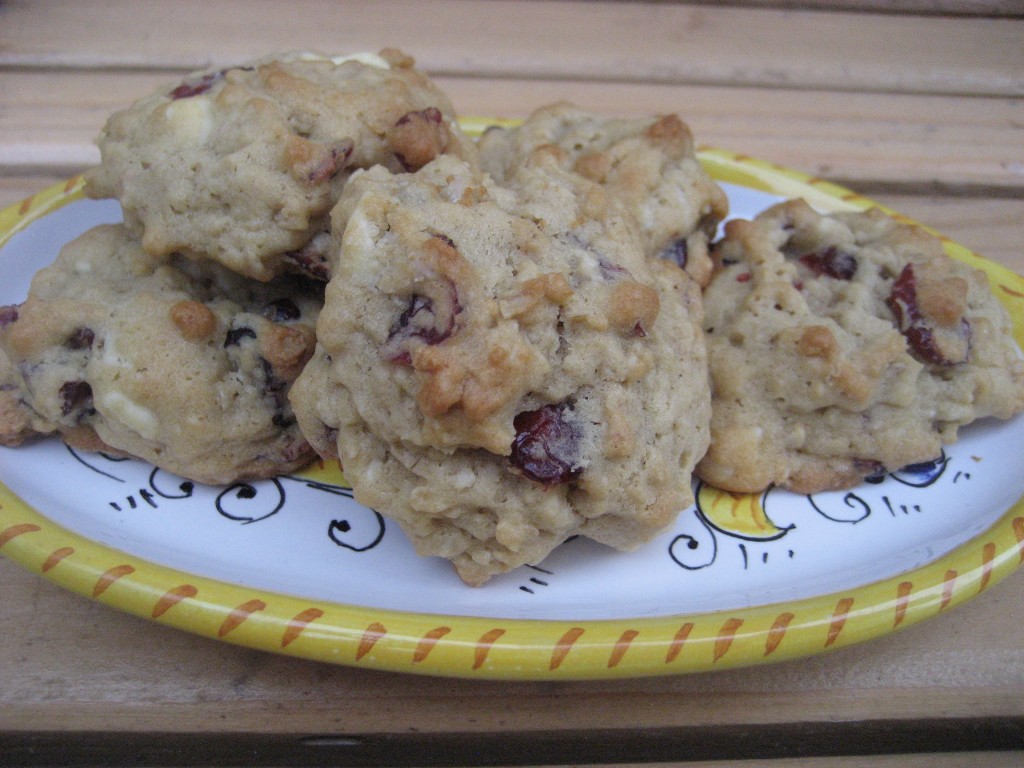 Cranberry Oatmeal White Chocolate Chunk Cookies
adapted from a recipe on the back of a Craisins bag
Makes about 30 cookies
2/3 cup (150 g) butter or margarine, softened
2/3 cup (120 g) brown sugar
2 large eggs
1 1/2 cups (120 g) old-fashioned oats
1 1/2 cups (180 g) flour
1 teaspoon baking soda
1/2 teaspoon salt
4 oz (110 g) dried cranberries
3/4 cup (150 g) white chocolate chunks or chips
1/2 cup (50 g) toasted pecans (optional)
Preheat the oven to 375°F (190°C).
Using an electric mixer, beat the butter or margarine and sugar together in a medium mixing bowl until light and fluffy. Add the eggs, mixing well. Combine the oats, flour, baking soda and salt in a separate mixing bowl. Add to the butter mixture in several additions, mixing well after each addition. Stir in the dried cranberries, white chocolate chunks and nuts, if using.
Drop by rounded teaspoonfuls onto ungreased cookie sheets. Bake for 10 to 11 minutes, or until golden brown. Cool on a wire rack.

Email this post

Print this post