When I was in college in Madison, Wisconsin, every now and then I'd head off with some friends on a Saturday to the small town of New Glarus (a.k.a. America's Little Switzerland, pop. 2,111), about 30 miles from Madison. Our first stop was always to the Maple Leaf Cheese and Chocolate Haus, where I'd get a couple bars of coconut Lindt chocolate, which was otherwise hard to find (though I stopped buying it after learning how bad palm oils are for you in a food science class I later took; ignorance really was bliss). We'd then have dinner at The Glarner Stube, where we'd drink New Glarus Brewing Company beer on tap and share a big pot of cheese fondue and side orders of sauerkraut made with an onion cream sauce. I don't know what else a bunch of vegetarians like us would have eaten there — I can still remember the huge steaks that would come out from the kitchen, so big that they barely seemed to fit on the plates. After dinner, we'd head over to the tiny Swiss Lanes bowling alley and try to get in a few games before the leagues arrived and we got kicked out. I'm telling you, I was wild in my college heyday.
All these memories came flooding back when I took a bite of this dinner, made in honor of Oktoberfest, which is wrapping up this weekend. I'm a sucker for anything with sour cream or paprika in it, and Matt loves sauerkraut, but I wasn't sure what to expect from this recipe, worrying that it might be, well, just a big pile of sausages and sauerkraut. It was fantastic, another one of these more-than-the-sum-of-its-parts type of recipes. We were practically drinking up the sauce when we had it as leftovers for our lunch on Sunday, it was so good, and Matt asked when we could make it again (meaning soon, please). This one will definitely be going into my regular dinner rotation, with the added bonus that it can be pulled together in just half an hour, making it ideal for busy weeknights. I just wish we'd had a few bottles of Spotted Cow to go with it.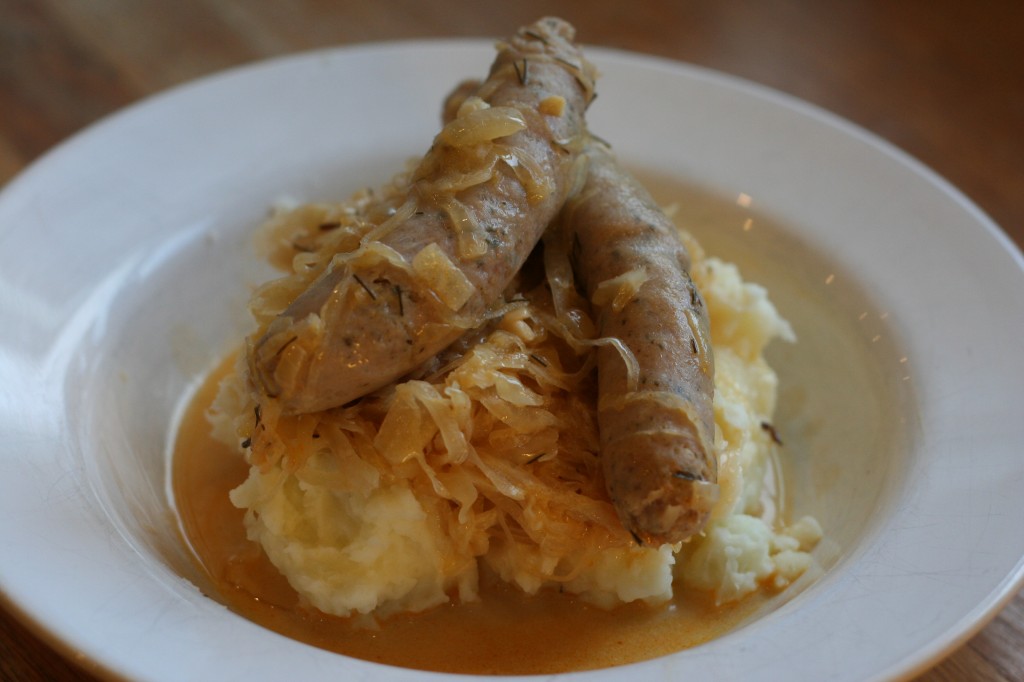 Sauerkraut and Sausage Paprikash
adapted from Serious Eats (which adapted it from Simply Recipes)
Serves 4
2 tablespoons (30 g) butter
2 medium onions, chopped
1 clove garlic, minced
1 teaspoon paprika
1 lb (450 g) frankfurters, kielbasa, or other sausage, cut into slices (I used my butcher's garlic and herb sausages)
1/2 teaspoon dried dill, or 2 teaspoons fresh chopped dill
1/2 teaspoon caraway seed
1 cup (240 ml) beef or chicken broth
16 oz (450 g) sauerkraut, drained
3/4 cup (175 ml) sour cream
mashed potatoes, to serve
Melt the butter in a heavy soup pot (a dutch oven is ideal) and add the onion, garlic, and paprika. Cook over a medium heat until the onion is soft, about 5 to 7 minutes.
Add the sausages and cook for 1 minute to begin rendering their fat. Add the dill, caraway seed and broth. Bring to a boil, then simmer for 15 minutes. Add the drained sauerkraut and stir to combine well. Continue simmering, covered, for an additional 15 minutes.
Add the sour cream and simmer just until hot; avoid letting the soup boil once it's added. Serve immediately with mashed potatoes, or failing that, some crusty bread to mop up the sauce.

Email this post

Print this post