Summer's over, but no one told my tomato plants. After a cool August and September, our tomatoes are finally ripe and in abundance. I feel like every year I struggle to use up our tomato harvest only to plant more tomato plants the following year. This year, in addition to our CSA tomatoes and backyard containers, we (and by "we" I mean my father-in-law) are working a community garden plot. Kristin's already posted wonderful tomato recipes, but here's another to add to the collection.
In addition to the refreshing tomato salad, I rounded off dinner with a tangy broiled salmon dish and a new recipe, which uses quinoa. I recently discovered quinoa and am still experimenting with its possibilities. It's one of the most nutrient-rich ingredients I've eaten, with high protein and lots of fiber. Not a bad carbohydrate choice as I try to shed those last few pregnancy pounds.
Salmon with Lime Butter Sauce
adapted from Gourmet, July 2006
Serves 4
4 pieces center-cut salmon fillet (about 1 inch thick) with skin
1 garlic clove, chopped
1/4 cup (60 ml) fresh lime juice
1/2 teaspoon salt
1/4 teaspoon black pepper
1/4 stick (4 tablespoons/60 g) unsalted butter, melted
Prepare the broiler or grill for cooking over a medium heat. Season the salmon all over with salt and pepper, then broil or grill, skin side down, on a lightly oiled grill rack (if using a grill, keep the lid on) for 8 to 10 minutes, until just cooked through.
While the salmon cooks, puree the garlic with the lime juice, salt, and pepper in a blender until smooth. With the motor running, add the melted butter and blend until emulsified, about 30 seconds.
Remove the salmon from the rack. I usually (but not always) remove the skin before plating; the flesh should slide easily off the skin. Drizzle each fillet with 1 or 2 tablespoons of the lime butter sauce. Serve immediately.
***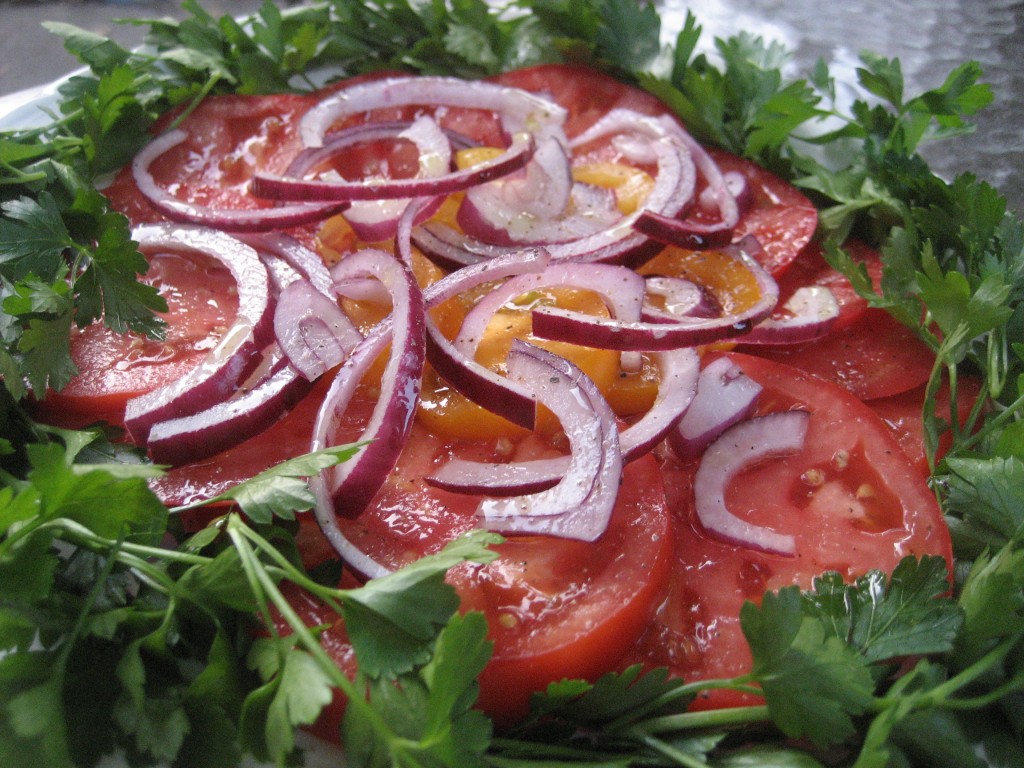 Summer Tomato Salad
adapted from The New Vegetarian Epicure by Anna Thomas
Serves 6 (salad servings)
3 or 4 big, juicy vine-ripened tomatoes
1/2 medium red onion
1 bunch flat-leaf parsley
2 tablespoons olive oil
a few drops of vinegar
salt and freshly ground black pepper, to taste
Wash the tomatoes and slice them thickly crosswise. Arrange them in a single layer on a large platter. Slice the onion crosswise, thinly but not paper thin. Scatter the onion rings over the tomatoes.
Wash the parsley leaves and spin them in a salad spinner. Arrange them in a wreath around the tomatoes. Drizzle the tomatoes with the olive oil and sprinkle them with a few drops of your favorite vinegar. Add salt to your taste, and grind on some black pepper. Serve within the hour. Do not refrigerate!
***
Quinoa and Kidney Beans
adapted from Feeding the Future Cookbook (American Pregnancy Association member recipes)
8 servings
1 teaspoon vegetable oil
1 onion, chopped
3 cloves garlic, minced
3/4 cup (140 g) uncooked quinoa
1 1/2 cups (360 ml) chicken or vegetable broth
1 teaspoon ground cumin
1/4 teaspoon cayenne
salt and freshly ground black pepper, to taste
kernels from 2 ears of corn
1 x 15-oz (425‑g) can kidney or black beans, rinsed and drained
1/2 cup (15 g) chopped fresh cilantro
juice of 1 lime
avocado and/or sour cream for garnish, if desired
Heat the oil in a medium saucepan over a medium heat. Stir in the onion and garlic and saute until lightly browned. Mix the quinoa into the pan and cover with the broth. Season with cumin, cayenne, salt, and pepper. Bring the mixture to a boil. Cover, reduce the heat and simmer for 20 minutes. Stir the corn into the saucepan and continue to simmer for about 5 minutes, until heated through. Mix in the beans and continue to cook over a low heat for 2 or 3 minutes more. Stir in the cilantro. Garnish with avocado and sour cream, if desired.

Email this post

Print this post