It never fails — no sooner do I accept that summer is over and order a delivery of oil for the boiler, get the sweaters out of storage and think about swapping the summer-weight duvets for the winter ones than a spell of sunny, warm weather comes our way. I'm certainly not complaining about getting a break from the relentless rain we've had in Ireland for the third summer in a row, but it's thrown me for a loop in planning out dinners for the week. I had already turned my thoughts to autumn casseroles and stews and Sunday roasts, but now I'm scrambling to make a few last salads and lighter meals while the good weather holds, or even clean off the grill to have one token barbecue this year.
This menu is the best of both worlds, perfect for this in-between time of year. If you've already had your fill of fresh tomato salads or pasta sauces and have canned enough to last you through the winter, this soup makes good use of the abundance of fresh tomatoes that are still available at this time of year. Keep it light but still seasonal by serving it with this salad, with its nod towards autumn in the apples and maple syrup. The honey whole wheat pound cake works perfectly to round off this late summer/early autumn dinner, especially if you dress it up with something like a cinnamon or maple ice cream.
It's National Organic Week in Ireland! Click here for a listing of events throughout the country.
Cream of Fresh Tomato Soup with Parmesan Toasts
adapted from Barefoot Contessa Back to Basics by Ina Garten
Serves 5 to 6
3 tablespoons good olive oil
2 red onions, chopped
2 carrots, chopped
3 cloves garlic, minced
4 lb (1.8 kg) vine-ripened tomatoes, coarsely chopped
1 1/2 teaspoons sugar
1 tablespoon tomato paste
1/4 cup (10 g) packed chopped fresh basil leaves
3 cups (720 ml) chicken or vegetable stock
1 tablespoon kosher salt
2 teaspoons freshly ground black pepper
1/2 cup (120 ml) heavy cream
julienned fresh basil leaves, for garnish
Parmesan toasts, to serve (or croutons)
Heat the olive oil heat in a large, heavy-bottomed pot over a medium-low heat. Add the onions and carrots and sauté for about 10 minutes, until very tender. Add the garlic and cook for 1 minute. Add the tomatoes, sugar, tomato paste, basil, stock, salt, and pepper and stir well. Bring the soup to a boil, lower the heat and simmer, uncovered, for 30 to 40 minutes, until the tomatoes are very tender.
Add the cream to the soup and blend with a hand-held blender until smooth (or transfer to a blender or food processor and blend in batches). Reheat the soup over a low heat just until hot. Serve with julienned basil leaves scattered on top and Parmesan toasts or croutons.
Parmesan Toasts
1 French baguette
good olive oil
salt and freshly ground black pepper
freshly grated Parmesan cheese (grated on a box grater)
Preheat the oven to 400°F (200°C).
Slice the baguette diagonally into 1/4‑inch-thick slices. Make as many slices as you like to serve with the soup.
Place the slices on a sheet pan lined with parchment paper. Brush with olive oil and sprinkle with salt and pepper. Sprinkle a thick layer of grated Parmesan on the toasts and bake for 5 to 10 minutes, until the toasts are lightly browned. Allow to cool to room temperature. The toasts can be made a few hours in advance and crisped for a few minutes in a warm oven.
***
Cape Cod Chopped Salad
adapted from Barefoot Contessa Back to Basics
by Ina Garten
Serves 4 as a starter or 2 as a main course with soup
for the salad:
8 oz (225 g) thick-cut bacon
8 oz (225 g) baby arugula (or spinach)
1 large Granny Smith apple, peeled and diced
1/2 cup (50 g) toasted walnut halves, coarsely chopped
1/2 cup (80 g) dried cranberries (or raisins)
6 oz (170 g) blue cheese, such as Roquefort, crumbled
for the dressing:
3 tablespoons apple cider vinegar
1 teaspoon grated orange zest
2 tablespoons freshly squeezed orange juice
2 1/2 teaspoons Dijon mustard
2 tablespoons pure maple syrup
salt and freshly ground black pepper
2/3 cup (160 ml) good-quality olive oil
Preheat the oven to 400°F (200°C).
Place a baking rack on a sheet pan and lay the bacon slices on the rack. Roast the bacon for about 20 minutes, until nicely browned. Allow to cool, then chop into bite-sized pieces.
In a large bowl, toss together the arugula, apple, walnuts, cranberries, and blue cheese. Add the chopped bacon to the salad.
For the dressing, whisk together the vinegar, orange zest and juice, mustard, maple syrup, salt and pepper in a bowl or shake to combine in a screw-top jar. Slowly whisk in the olive oil (or shake to combine in a screw-top jar).
Toss the salad with just enough dressing to moisten. Sprinkle with 1/2 teaspoon salt and toss well. Serve immediately.
***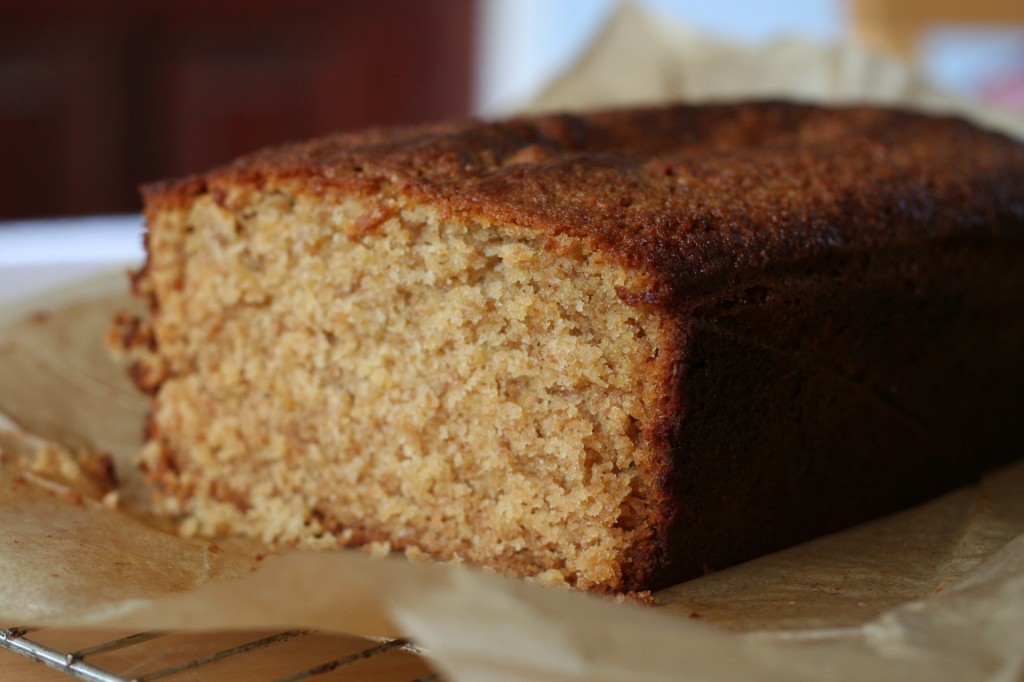 Honey Whole Wheat Pound Cake
adapted from Joy the Baker
Makes 1 loaf cake
The original recipe calls for 2 1/4 cups white whole wheat flour or whole wheat pastry flour. I can't get either of those in my supermarket, so I used a combination of white and wholemeal flours instead. I had also just been looking at the Barefoot Contessa's recipe for honey vanilla pound cake, which is similar to this but with lemon zest too, so I added it in here and it worked well.
1 cup (120 g) white flour
1 1/4 cup (200 g) wholemeal flour
2 teaspoons baking powder
3/4 teaspoon salt
1 1/2 sticks (170 g) butter, softened
1 cup (200 g) sugar
1/2 cup (120 ml) honey
2 teaspoons vanilla extract
zest of 1 lemon
3 large eggs
1 cup (240 ml) buttermilk (shake it well first)
Preheat the oven to 350°F (180°C). Butter and flour a 9 x 5‑inch loaf pan.
Sift the flours, baking powder and salt together in a small bowl and set aside.
Cream the butter, sugar and honey together until light and fluffy, about 3 to 4 minutes. Add the vanilla extract and lemon zest. Add the eggs one at a time, beating for about 1 minute after each addition. Scrape down the sides of the bowl as needed.
Add the dry mixture and buttermilk in three additions, beginning and ending with the dry ingredients. Scrape the bottom of the bowl with a spatula to make sure everything is evenly incorporated.
Pour the batter into the prepared loaf pan. Smooth the top and bake the cake for 50 to 60 minutes, until the cake is a lovely golden brown and a tester inserted into the center of the cake comes out clean.
Let the cake cool in the pan for 20 minutes before transferring to a wire rack to cool completely.

Email this post

Print this post