I had originally planned on making an autumn fish stew today, but with the sun splitting the stones, as they say here, for the past week, all thoughts of such wintry food went out the window. There will be plenty of time for that later. Considering that it rained almost every day of July and August, I'm going to enjoy every minute of this Indian summer for as long as it lasts, which means spending as much time playing outside with my poor pale kids as I can, instead of standing in front of the stove in the kitchen.
For anyone looking for something quick and easy to throw together after a long day at work or still easing their way into back-to-school routines, this is a no-cook dinner made up of kitchen cupboard staples that comes together in the time it takes to boil the pasta. It's also the perfect recipe for hot days when you don't want to turn on the oven or heat up the kitchen — or when you're trying to hold onto the last few days of summer before making stews.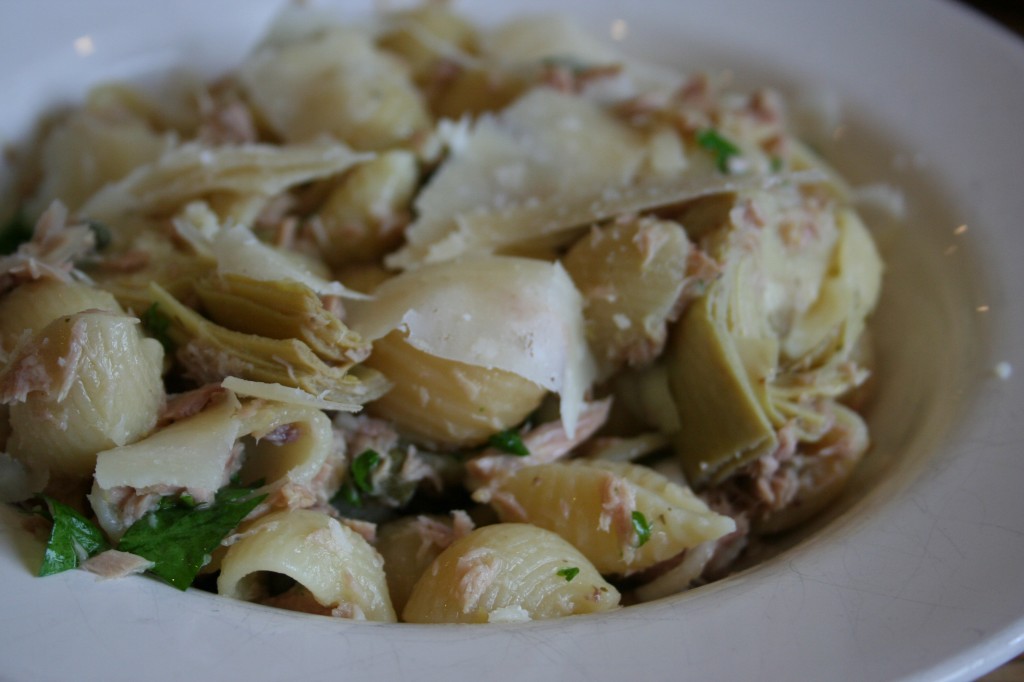 Don't forget, it's National Organic Week in Ireland! Click here for a listing of events throughout the country.
Pasta Shells with Lemon, Tuna and Artichokes
adapted from Epicurious, August 1999
Serves 4
Looking around at other versions of this recipe, sun-dried tomatoes also seem to be a common addition.
1 lb (450 g) medium pasta shells (or other short pasta shape such as farfalle)
2 x 6‑oz (170‑g) cans tuna in olive oil, any bigger pieces broken into bite-sized chunks
1 x 6‑oz (170‑g) jar artichoke hearts, roughly chopped; reserve the oil they come in
6 green onions, finely chopped
1/2 cup pitted and chopped Kalamata olives
1/4 cup (60 ml) capers, drained
1/4 cup (60 ml) dry white wine (optional)
zest and juice of 1 lemon
1/2 cup (15 g) chopped fresh flat-leaf parsley
freshly grated Parmesan cheese, to serve
Bring a large pot of water to boil and cook the pasta according to the package instructions, until al dente. Meanwhile, mix all the other ingredients except the Parmesan in a large bowl. Add the oil that the artichoke hearts (and/or the tuna) came in to the bowl as well. (Or if you prefer, drain the tuna and artichokes and add 1/2 cup (120 ml) extra virgin olive oil instead.)
Drain the pasta, then add to the bowl and toss with the tuna mixture. Season to taste. Divide into 4 pasta bowls or plates. Grate Parmesan cheese over each bowl and serve.

Email this post

Print this post