If you've ever been invited to dinner at my house, chances are this is what I served you. The dishes always turn out well. Even people who think they don't like Indian food like this meal. The tikka masala is an adaptation from a Chicago Tribune recipe. It's probably not even an ounce authentic, but I still love it. The accompaniments, raita and chutney, are traditionally served with Indian meals. I'd say the chutney is optional. My husband loves chutney but I'm not a fan. But don't skip the raita, it really makes the meal come together.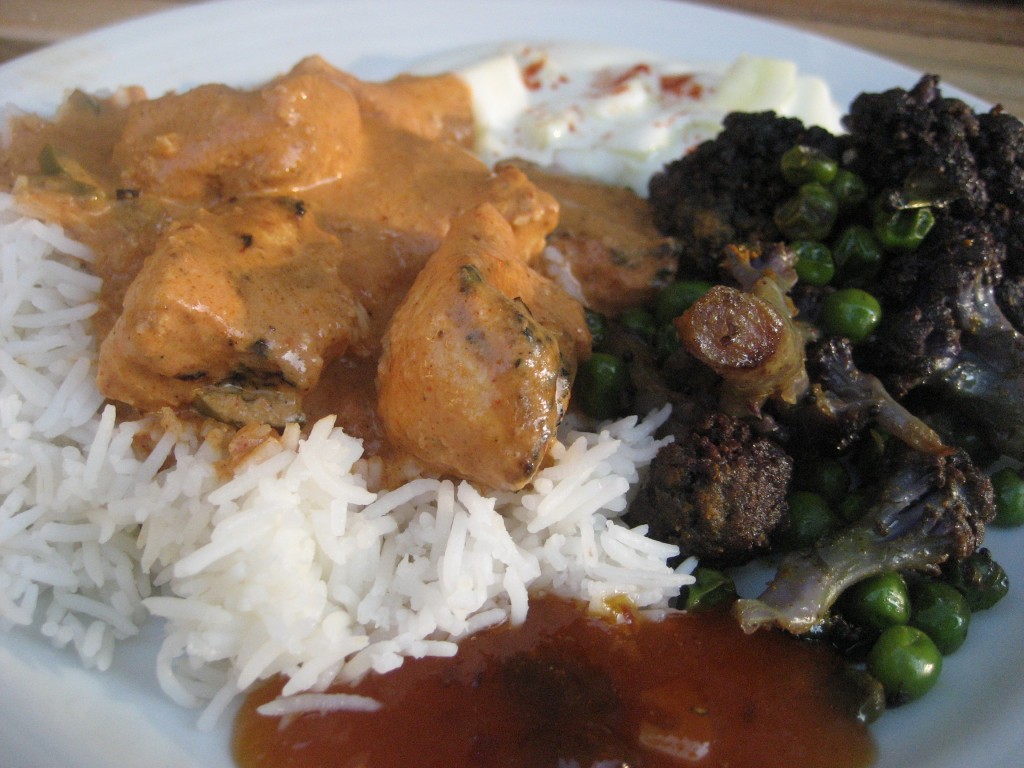 If you like this menu, you might also like to try tandoori chicken with Bombay potatoes.
Chicken Tikka Masala
adapted from Chicago Tribune
Serves 4
for the marinade:
1 cup (240 ml) plain yogurt
2 tablespoons lemon juice
2 teaspoons ground cumin
2 teaspoons cayenne pepper
2 teaspoons freshly ground black pepper
1 teaspoon cinnamon
1 teaspoon salt
1 x 1‑inch piece ginger root, minced or grated
1 1/2 lb (680 g) boneless, skinless chicken breasts, cut into 1‑inch cubes
for the sauce:
2 tablespoons (30 g) unsalted butter
3 to 4 cloves garlic, minced
2 jalapeños, minced
3 teaspoons ground coriander
1 1/2 teaspoons ground cumin
1 1/2 teaspoons paprika
1 1/2 teaspoons garam masala
1/2 teaspoon salt
12 oz (340 g) tomato sauce
1 1/2 cups (350 ml) half and half (or whipping cream)
1/2 oz (15 g) chopped fresh cilantro (optional)
For the marinade, combine all the marinade ingredients (except chicken) in a medium bowl or food-safe plastic bag. Stir in the chicken and cover. Marinate in the refrigerator for 1 to 3 hours. Meanwhile, soak bamboo skewers in enough water to cover them for 30 minutes (unless using metal skewers).
For the sauce, melt the butter in a large, deep skillet over a medium heat. Add the garlic and jalapeño and cook for 1 minute. Stir in all the sauce spices and cook for 1 to 2 minutes, until fragrant. Stir in the tomato sauce (I usually use about 12 oz (340 g) of the 14 oz (400 g) can). Simmer for 15 minutes. Stir in the half and half (or cream) until the sauce has the desired color/consistency (sometimes I use up to 2 cups (480 ml), depending on how much tomato sauce I used). Simmer for 5 minutes, until the sauce thickens. Add in the chopped cilantro, if using.
Meanwhile, heat the grill (or broiler). Remove the chicken from the refrigerator. Thread the chicken onto skewers and discard the marinade. Grill or broil the chicken, turning at least 2 times, until cooked through, about 8 to 12 minutes. Remove the chicken from the skewers and add to the sauce. Simmer for 5 minutes. Serve with basmati rice or naan bread.
***
To cook this side dish, I like to use a thinner wok with a cover instead of a kadhi, which is traditionally used. The cauliflower will cook without liquid for a long time — you'll want to use a lidded pan thick enough not to scorch the cauliflower but thin enough to allow it to "roast."
Pan-roasted Curried Cauliflower and Peas
Serves 4
3 tablespoons vegetable oil
1/2 teaspoon mustard seeds
1 or 2 green chiles, such as jalapeño or serrano, minced
1 head cauliflower, cut into florets (white or purple, as shown above)
1 teaspoon kosher salt
1/2 teaspoon ground cumin
1/2 teaspoon ground coriander
1/2 teaspoon turmeric
1/2 teaspoon garam masala
1 cup (110 g) peas (defrosted if frozen or blanched if fresh)
1/2 oz (15 g) cilantro, chopped (optional)
Heat the oil in a large, lidded skillet, wok, or kadhai. Add the mustard seeds. Once the mustard seeds start crackling, add the chiles. After 1 minute, add the cauliflower florets and salt. Lower the flame and cover with a lid. Cook for 25 to 40 minutes, stirring frequently, until the cauliflower is caramelized in spots and almost cooked through.
Stir in the spices and peas. Cook for 3 to 5 minutes over a medium-high heat until the peas and cauliflower are cooked. Stir in the cilantro if using and serve.
***
Cucumber Raita
Serves 4
1 1/2 cups (360 ml) plain yogurt
1/4 cup (60 ml) milk
1/2 cucumber, peeled, seeded, and diced small
1/2 teaspoon salt
1/2 teaspoon freshly ground black pepper
Beat together the yogurt and milk with a whisk until very smooth. Stir in the remaining ingredients. Sprinkle with cayenne or garam masala and chill. Serve this as a side dish to any spicy Indian dish.
***
Apricot Chutney
adapted from Indianfoodforever.com
Makes about 2 cups (480 ml)
1 lb (450 g) apricots
2 cups (480 ml) water
8 long strips of ginger
1 clove garlic, chopped
4 teaspoons raisins
1 cup (240 ml) apple cider vinegar
9 oz (250 g) sugar
2 teaspoons salt
2 big cardamom seeds, crushed
1/2 level teaspoon red chili pepper
Cook the apricots in boiling water till soft, then peel and mash them. Strain the pulp and wash the apricot stones with 1 cup (240 ml) of water. Reserve this water.
Cook the apricot pulp, ginger, garlic, 1 cup (240 ml) of fresh water plus the water from the washed stones, and raisins until all the water is absorbed. Add the vinegar, sugar, salt, cardamom seeds and chili and cook until the mixture is thick and golden brown (2 to 3 hours). All to cool, then transfer to a clean jar. This can be kept in the refrigerator for 1 year.

Email this post

Print this post