I subscribed to Cooking Light for years after I graduated college. Looking back, I'm not exactly sure why I continued my subscription. I rarely remade any recipes that I tried with a couple of exceptions, one being this Drunken Stir-fried Beef with Green Beans. I make this dish often, though it's best in August, when the green beans, tomatoes, and basil are in abundance. Besides being tasty, this dish also reminds me of my son's first real meal. When he was about 10 months old, after months of trying to get him to eat baby food, I decided to give him a bite of the flank steak in this dish. He devoured it and from then on we stopped trying to convince him to eat baby food and served him whatever we were eating.
Enough about the stir-fried beef. The real highlight of this meal was dessert. I've been craving these chocolate-covered coconut macaroons all summer and finally had a chance to make them. "Wow" is all I can say. Truly, truly, a fantastic cookie. And you can freeze them, too, for future decadent nibbles.

Drunken Stir-fried Beef with Green Beans
adapted from Cooking Light
1/2 teaspoon kosher salt
5 garlic cloves, minced
1 minced Serrano chili (or 1 teaspoon sambal)
2 teaspoons grated fresh ginger
zest and juice of 1 lime
1 tablespoon canola or peanut oil
1 lb (450 g) flank steak, trimmed and cut into 1/4‑inch strips
1 lb (450 g) 1‑inch diagonally cut green beans
1 carton halved cherry tomatoes
1 tablespoon sugar
3 tablespoons Thai fish sauce
1 teaspoon cider vinegar
1 cup Thai basil leaves
Combine the salt and minced garlic in a mortar and pestle, and pound to form a paste. Add the chili, ginger, and lime zest, one at a time, until each ingredient is incorporated into the paste.
To prepare the stir-fry, heat the oil in a wok or large nonstick skillet over a medium-high heat. Add the paste, and stir-fry for 30 seconds (fumes may cause eyes and throat to burn slightly). Add the beef and stir-fry for 2 minutes. Add the beans and stir-fry for 4 to 5 minutes, until the beans are almost tender. Add the tomatoes, sugar, fish sauce, vinegar and lime juice. Stir-fry for 1 minute or until the beef reaches your desired degree of doneness. Stir in the basil. Serve with rice.
***
Simple Cucumber Salad
Serves 4
2 tablespoons soy sauce
2 tablespoons rice wine vinegar
2 teaspoons sesame oil
pinch of sugar
pinch of red pepper flakes
2 cucumbers, peeled and thinly sliced (1/8 inch thick)
Mix the first 5 ingredients until the sugar is dissolved. Toss with the cucumber slices. Chill for up to 2 hours, mixing occasionally.
***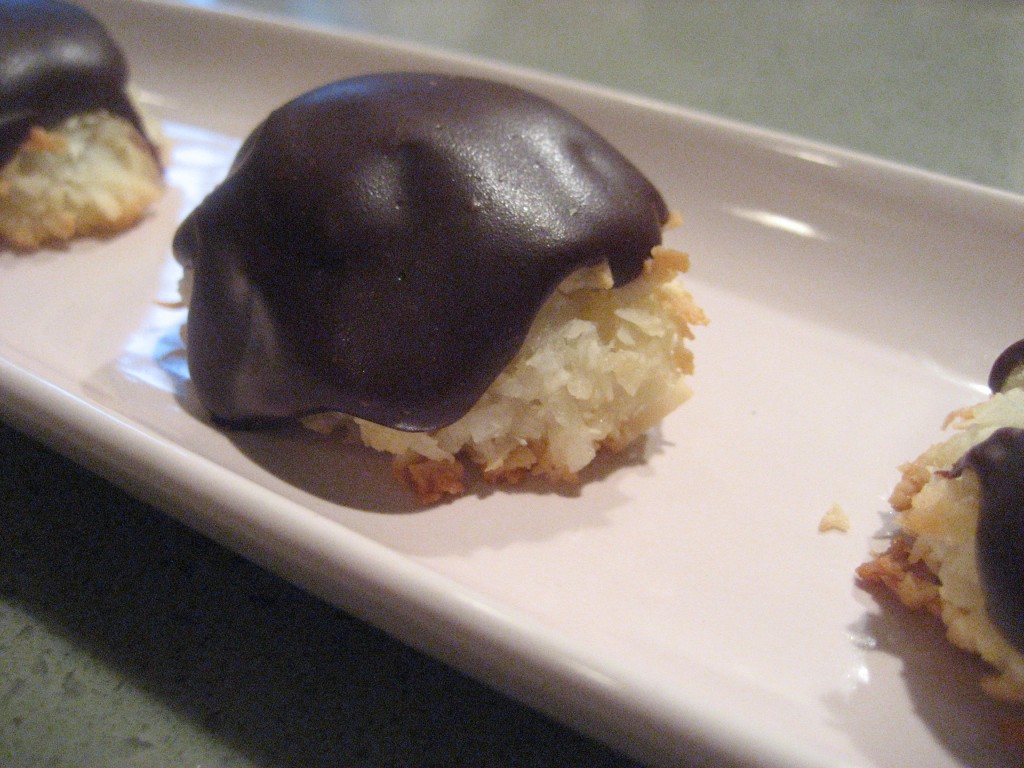 Chocolate-covered Coconut Macaroons
from Orangette
Makes 12 to 15 cookies
3 cups (250 g) lightly packed sweetened shredded coconut
3/4 cup (150 g) granulated sugar
3/4 cup (150 ml) egg whites (about 5 large)
1 1/2 teaspoon pure vanilla extract
1/4 teaspoon almond extract
8 oz (225 g) bittersweet or semisweet chocolate, finely chopped
3/4 cup (150 ml) heavy cream
Place the coconut, sugar and egg whites in a large, heavy saucepan, and stir to combine well. Cook over a medium-low heat, stirring regularly, for about 10 to 12 minutes, until the mixture is pasty but not dry. (The uncooked mixture will look sort of granular at first, then creamy as it heats, and then it will slowly get drier and drier. You want to stop cooking when it no longer looks creamy but is still quite gluey and sticky, not dry.) Remove from the heat. Mix in the vanilla and almond extracts. Spread out the coconut mixture on a large baking sheet. Refrigerate until cold, about 30 minutes.
Preheat the oven to 300°F (150°C). Line another baking sheet with parchment paper or a Silpat baking mat. Using a ¼‑cup measuring scoop, scoop and pack the coconut mixture into domes, and place them on the baking sheet. You should wind up with about a dozen. Bake the macaroons until golden, about 30 minutes. Transfer to a rack and cool.
Set the cookies on a rack over a rimmed baking sheet. Place the chopped chocolate in a medium bowl. Heat the heavy cream in a small saucepan until it is very hot and steamy (not boiling), remove from the heat, and pour it over the chocolate. Whisk until the mixture is smooth and the chocolate is thoroughly melted. Spoon the glaze over the macaroons, covering them almost completely and allowing the chocolate to drip down the sides. (You will have leftover glaze, which can be refrigerated or frozen.) Refrigerate the macaroons until the glaze sets, at least 2 hours. Transfer the macaroons to an airtight container, and refrigerate or freeze.

Email this post

Print this post