"So what do you do with parchment paper?" My mom asked me this last week after noting how easy the paper made removing carrot cake from its pan. I'm sure there are 1,001 uses for it, but personally, I only use it for lining pans when baking and for cooking fish. Steaming fish in parchment paper packets keeps it moist and locks in all the flavors you add to it. After a few days of thinking nonstop about fish en papillote, I decided to make it. In this version, leeks and truffle oil turn mild (a.k.a. boring) tilapia into an elegant dish.
Reuben's grandma and mom joined us again for dinner and graciously agreed to be my guinea pigs as I experimented with roasting figs. Until this week, I had never eaten fresh figs. They looked beautiful at the grocery store so I decided to take a chance and buy a carton. I'm glad I did. The slight sourness of the yogurt in my recipe/experiment nicely balanced the sweetness of the figs and honey. As with most of my favorite desserts, the roasted figs dish is great for breakfast.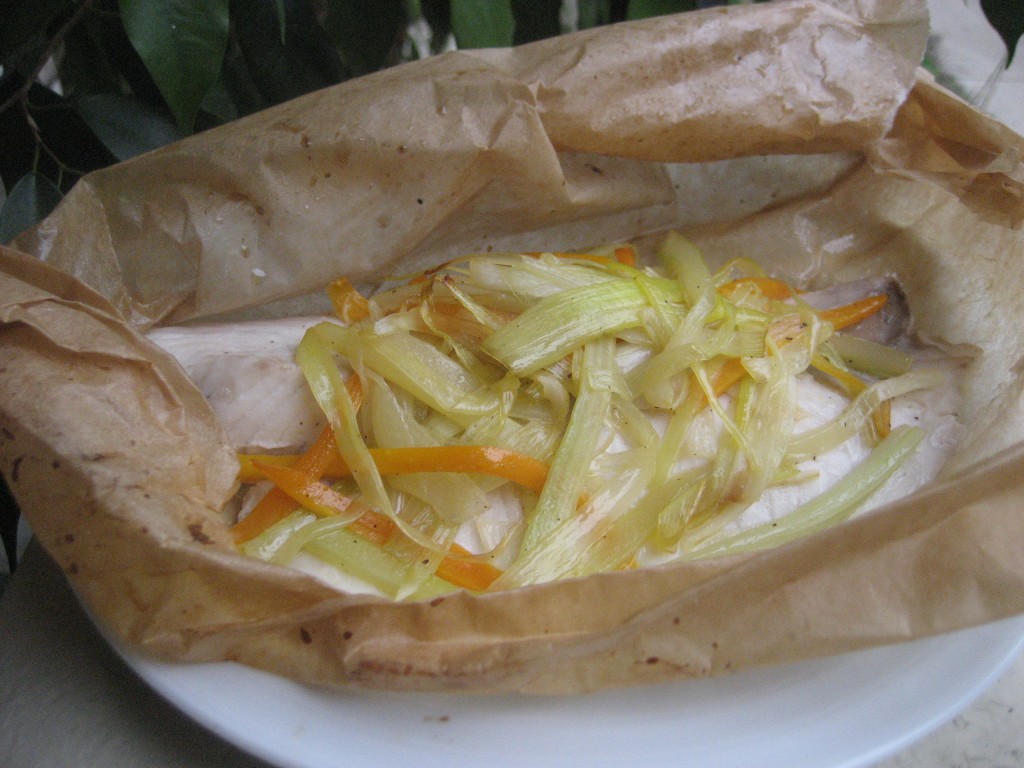 Fish en Papillote with Julienned Vegetables and Truffle Oil
adapted from Sara Moulton Cooks at Home

by Sara Moulton
Serves 4
1 1/2 tablespoons plus 2 teaspoons unsalted butter
2 carrots, julienned
1 large leek, julienned
1 celery rib, julienned
kosher salt and freshly ground black pepper, to taste
vegetable oil, for brushing (or spray canola oil)
4 x 6‑oz (170‑g) thin fish fillets, no thicker than 1/3 inch each, such as tilapia or flounder, skin removed
4 teaspoons fresh lemon juice
4 teaspoons white truffle oil
Melt 1 1/2 tablespoons of the butter in a large heavy skillet over medium heat. Add the carrot, leek, and celery. Season with salt and pepper. Cook gently, stirring often, until softened, 5 to 7 minutes. Remove from the heat and set aside to cool.
Preheat the oven to 425°F (220°C). Cut out a parchment paper rectangle, about 10 inches by 12 inches. Fold in half, then reopen. Brush the whole rectangle lightly with some oil (or spray lightly with canola oil). Lay a fish fillet on one half of the oiled parchment, skinned side down, and season with salt and pepper. Drain the vegetables of as much liquid as possible and place 1/4 of the mixture on top of the fillet. Drizzle with 1 teaspoon lemon juice. Top the vegetable mound with 1 teaspoon butter and drizzle with 1 teaspoon of the truffle oil. Repeat with the remaining 3 fillets.
To close the parchment packages, fold the other half of the paper over the fillet and, starting with the top, make 1/4‑inch folds all around the perimeters and press to crimp and seal. Close the final crimp with a paper clip. Place the packets on baking sheets (2 packets on each sheet) and bake until puffed and lightly browned, 10 to 12 minutes. Transfer to warmed serving plates and serve at once, preferably while the packets are still puffed. Serve with rice, mashed potatoes, or french bread to soak up the juices.
***
Cauliflower Gratin
Serves 6

1 large head cauliflower, cut into large florets
2 tablespoons unsalted butter, divided
3 tablespoons all-purpose flour
2 cups (480 ml) milk
1/2 teaspoon freshly ground black pepper
4 oz (110 g) grated cheddar, divided
2 oz (50 g) grated Parmesan
Preheat the oven to 375°F (190°C). Bring a large pot of salty water to boil. Boil the cauliflower florets for about 5 minutes, until just tender. (It's better to undercook than to overcook the florets.) Drain the florets and pour into a greased casserole dish.
In a saucepan, melt the butter over a medium heat. Whisk the flour with the butter to make a paste. Cook the paste for about 1 minute, until it smells nutty. Take care not to let the paste brown. Slowly whisk in the milk. Bring just to a boil, the reduce the heat and simmer for 2 to 3 minutes, until the sauce thickens. Remove from the heat and stir in half the cheddar cheese.
Pour the cheese sauce over the cauliflower so that all the florets are covered. Sprinkle with the remaining cheddar and the Parmesan. Bake for 30 minutes, until lightly browned and bubbly.
***
Roasted Figs with Yogurt, Honey, and Walnuts
Serves 4
8 black or mission figs
14 oz (400 g) Greek-style yogurt
6 tablespoons honey, divided
4 oz (110 g) chopped walnuts
Preheat the oven to 425°F (220°C). Cut the figs in half lengthwise. Place the figs cut side up in a baking dish. Brush 2 tablespoons of honey over the cut side of the figs. Bake for 12 minutes, until just softened and heated through. Let cool 5 to 10 minutes.
For each serving, lay 4 fig halves on a serving plate. Spoon about 1/2 cup (90 g) yogurt on top of the figs. Drizzle 1 tablespoon of honey over the yogurt and figs. Sprinkle 1 oz (30 g) of walnuts on each serving.

Email this post

Print this post