One of my best college memories is the summer I spent canning with my co-op housemate Rich. (What, you mean you didn't spend your college summers putting up garden produce?) The house had a CSA subscription, our own small backyard garden plus a plot in a community garden, so there was a lot of produce to be had in the summer, even more than the 30 to 40 people who ate at the house every night could use up in a week. So on Sunday nights throughout that summer, armed with a battered copy of Stocking Up
and Nina Simone playing on the radio, Rich and I would meet in the kitchen around 8 or 9 at night, when the heat of the day had eased a bit, and get to work, usually not finishing up till around midnight, when we would stand back and admire the finished row of jars cooling on the windowsill. These past few weeks I've been reading about the Canvolution in the US and remembering that summer, so when I saw that Clodagh McKenna suggested pairing a cucumber pickle with her salmon recipe, I took the opportunity to make a homemade batch. It's not canning per se — you don't need sterilized jars with preserving lids or hot water baths — but it's a true pickle that will keep for weeks in the fridge. It only takes 10 minutes to make, so if you've never preserved food before, this is a quick and easy way to give it a try.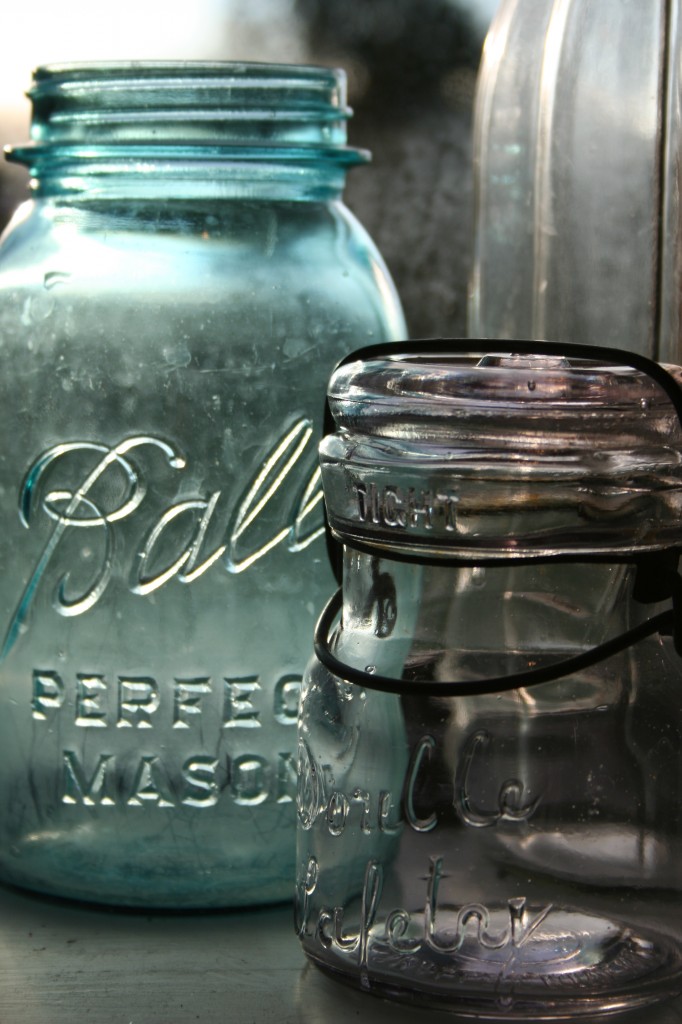 If you've made jam and are giving some away as gifts or just want to dress up your own jars, check out this free download for some stylish labels you can print out.
Salmon Marinated in Lemon and Mint
adapted from Fresh from the Sea by Clodagh McKenna
Serves 4
4 x 7‑oz (200‑g) salmon fillets, skinned and deboned
juice of 2 lemons
4 mint sprigs, leaves roughly chopped
1 red chili, finely chopped (optional)
sea salt and freshly ground black pepper
2 tablespoons olive oil
Place the salmon fillets in a bowl and pour over the lemon juice, chopped mint and chili (if using) and season with salt and pepper. Mix well, cover and place in the fridge for 1 to 3 hours.
Place your griddle pan (or frying pan or barbecue) over a medium heat and add the olive oil. When the oil is hot, remove the salmon from the fridge and place it straight on the griddle. Cook for 3 to 5 minutes on each side.
***
Homemade Cucumber Pickle
from Rachel's Favourite Food at Home by Rachel Allen
Makes about 4 x 14-oz (400‑g) jars
This is the recipe the famous Ballymaloe Cookery School in County Cork has been using for over 30 years. Make the perfect ploughman's lunch by serving this with some brown bread, apples and a good mature Cheddar. Otherwise, this is good on burgers and all kinds of sandwiches, cold sliced meats and smoked fish, or barbecued or roasted meat and fish. If you have a food processor, using the slicing attachment will make short work of this recipe.
2 lb (900 g) unpeeled cucumber, thinly sliced (2 to 3 cucumbers)
3 small onions, peeled and thinly sliced (optional)
1 3/4 cups (350 g) sugar
1 tablespoon salt
1 cup (240 ml) cider vinegar or white wine vinegar
Mix the cucumber and onion in a large bowl. Add the sugar, salt and vinegar and mix well to combine. Make at least 1 hour ahead if possible, and store in a jar or bowl in the fridge.
***
Creamy Lemon and Herb Potato Salad
Serves 6
Instead of potatoes, try using cooked, shredded chicken to make a tasty summertime chicken salad.
2 lb (900 g) new potatoes
zest and juice of 1 large lemon (about 3 tablespoons lemon juice)
1/2 cup (150 ml) mayonnaise or crème fraîche
4 scallions, thinly sliced
2 celery stalks, diced
a handful of fresh parsley, chopped
a handful of fresh basil, chopped
2 tablespoons chopped fresh dill
salt and freshly ground black pepper
Bring the potatoes to boil in a large pot of water. Reduce the heat to medium-low and simmer until the potatoes are tender, about 10 to 15 minutes (check after 10 minutes – you don't want them to be too soft, as they need to hold their shape in the salad). Drain well and allow to cool slightly.
Cut the potatoes into halves or quarters, depending on how big they are (you want them to be in bite-sized pieces) and put into a large bowl. Whisk the lemon zest and juice with the mayonnaise or crème fraîche. Pour over the potatoes and toss well to coat. Add all the remaining ingredients and gently toss together. Season to taste with salt and pepper.

Email this post

Print this post