Happy Spring dear readers! If you've had enough Easter ham, Passover brisket, or just want to try a tasty vegetarian main course, here's one of our newest "Meatless Monday" faves. Good friend and reliable recipe sharer, Leah, sent this recipe to me a few weeks ago, remembering that my kids love beans. My kids do love beans and adored this dish. It is quite similar to their other favorite Pasta with Chickpeas but instead of chickpeas and ditalini, this recipe uses white beans and a larger pasta. The sizzling garlic-rosemary oil elevates this dish above the chickpea version, in my opinion. This may even be the dish to win over the bean-phobic in your life (Dad, I'm thinking of you…)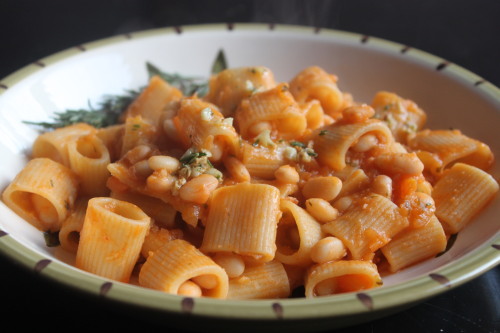 Pasta and White Beans with Sizzling Garlic-Rosemary Oil
adapted from Bon Appétit
Like Leah, I use white beans that I cook myself instead of canned beans. The Tuscan-style White Beans post gives some instructions on cooking dried white beans. Actually, the cooked Tuscan-style white beans would taste amazing in this recipe.
Serves 6
For the pasta with white beans:
1 medium onion, cut into big chunks
1 medium carrot, cut into big chunks
1 celery stalk, cut into big chunks
4 garlic cloves, peeled but left whole
1/2 cup (15 g) fresh flat-leaf parsley leaves
1/4 teaspoon crushed red pepper flakes (or to taste)
1/4 cup (50 ml) olive oil
salt and freshly ground black pepper
2 to 3 tablespoons tomato paste
3 1/2 cups (about 500 g) cooked, drained white beans (save cooking liquid for water in recipe, if desired) or 2 x 14 oz (400 g) cans of white beans, rinsed
1 lb (450 g) short tube pasta, such as ditalini, macaroni, penne or rigatoni
For the garlic-rosemary oil:
1/4 cup (50 ml) olive oil
2 garlic cloves, finely chopped
1 tablespoon minced fresh rosemary
Pulse the onion, carrot, celery, whole garlic cloves, parsley and red pepper flakes in a food processor until finely chopped.
Heat the oil in a large, heavy pot over a medium heat. Add the chopped vegetables and season with salt and pepper. Cook for 8 to 10 minutes, stirring often, until golden (wipe out the food processor bowl while the vegetables are cooking). Stir the tomato paste and 1 cup (250 ml) water in a small bowl to combine, then add to the pot. Scrape up any browned bits from the bottom of the pot and bring to a boil. Reduce the heat and simmer for 5 to 8 minutes, until the liquid has almost evaporated.
Add the chickpeas and 2 cups (500 ml) water to the pot and simmer for 15 minutes to let the flavors meld. Transfer 1 cup (250 ml) of the chickpea and vegetable mixture to the food processor. Purée until smooth, then stir back into the sauce to thicken it.
Meanwhile, cook the pasta in a large pot of boiling salted water, stirring occasionally, until al dente. Drain the pasta, reserving 1 1/2 cups (375 ml) of the pasta cooking liquid.
Add the pasta and 1/2 cup (125 ml) of the pasta cooking liquid to the sauce and stir to coat. Increase the heat to medium and continue stirring, adding more pasta cooking liquid as needed, until the sauce coats all the pasta.
To make the garlic-rosemary oil, heat the oil in a small sauce­pan over a medium-low heat. Add the chopped garlic and rosemary and cook for about 1 minute, until it stops sizzling. Divide the pasta among bowls and drizzle with the garlic-rosemary oil.

Email this post

Print this post