I think most people by now have heard Michael Pollan's famous advice: "Eat food. Not too much. Mostly plants." One way of reaching this goal is to adopt the Meatless Monday approach. In a nutshell, it's an international campaign to try to "reduce meat consumption 15% in order to improve personal health and the health of our planet." Who can argue with that? I think the problem is that many people think vegetarian food is bland and boring — and let's face it, some of it is. But if all vegetarian recipes tasted as outstanding as this one, I guarantee you wouldn't even miss the meat in the dinner just once a week. My mom's turkey meatball recipe is one of my all-time favorites, but I have to admit that I like this vegetarian version even better. They're light, tender and have even more flavor than regular meatballs. And because they're vegetarian, I didn't feel at all guilty about sneaking a fourth polpette (I figured I'd work on that "not too much" part of the Pollan mantra some other time).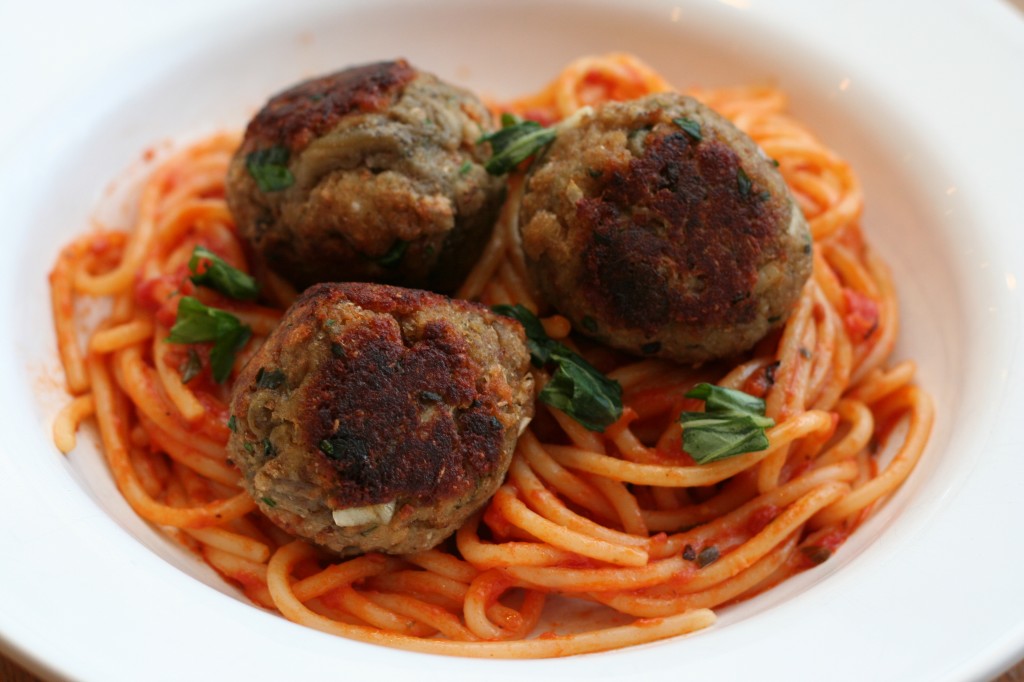 Polpette di Melanzane
adapted from Catherine Fulvio via the Good Food Channel; you can watch Catherine making these here and see just how easy it is
Serves 4 (makes 14 to 16 balls)
The original recipe calls for 2 teaspoons chopped mint and 1 teaspoon oregano, but I used basil and parsley simply because it's what I had in my fridge. I used a modified version of Marcella Hazan's tomato sauce here, but feel free to use your own favorite tomato sauce recipe or even a good-quality store-bought one. The polpette can be frozen, so you might even want to make a double batch. I certainly will the next time I cook this.
for the polpette:
2 large eggplants, cut in half
extra virgin olive oil
salt and freshly ground black pepper
4 large cloves garlic, finely chopped
2 cups (200 g) breadcrumbs
1 1/4 cups (125 g) freshly grated Parmesan or Pecorino cheese
2 egg yolks
1 tablespoon chopped basil
1 tablespoon chopped parsley
a pinch of grated nutmeg
1 lb (450 g) spaghetti, to serve
for the tomato sauce:
5 tablespoons (75 g) unsalted butter
3 cloves garlic, finely chopped
1 x 28 oz can (or 2 x 400 g cans) whole plum tomatoes, with their juices
1 medium yellow onion, peeled and cut in half
salt, to taste
6 basil leaves, chopped
To make the tomato sauce, melt the butter in a large saucepan. Add the garlic and sauté gently for 1 minute. Add the tomatoes along with their juices and the onion halves. Add a pinch or two of salt. Place over a medium heat and bring to a simmer, mashing up the tomatoes gently with the back of a wooden spoon. Cook, uncovered, at a very slow but steady simmer, adjusting the heat as necessary, for about 45 minutes, or until droplets of fat float free from the tomato and the sauce has reduced and thickened. Stir occasionally, continuing to mash any large pieces of tomato with the wooden spoon. Shortly before serving, stir in the chopped basil. Taste and add salt as needed. Discard the onion.
Meanwhile, to make the polpette, preheat the oven to 350°F (180°C). Rub the halved eggplants with olive oil and sprinkle with salt and pepper. Place them on a baking tray and roast for 25 to 30 minutes. Remove from the oven and leave to cool slightly.
Scoop out the flesh of the eggplants, place in a sieve and press gently to squeeze out the excess liquid. In a mixing bowl, mash the garlic and eggplant together, then stir in the breadcrumbs, Parmesan, egg yolks, basil, parsley and nutmeg. Add salt and pepper to taste.
Shape the eggplant mixture into golf ball-sized 'meatballs'. Heat some olive oil in a pan and fry the balls in batches until golden, turning from time to time and taking care not to crowd the pan. Place on a paper towel to drain.
When the sauce is done, add the polpette and simmer gently for 10 to 15 minutes.
Meanwhile, cook the spaghetti in a large pot of boiling salted water. Drain well and serve with the polpette and tomato sauce.

Email this post

Print this post