You all know I love make ahead meals (remember this and this and this). And I have a soft spot for casseroles. Well, here's the recipe that is now both my favorite make ahead meal and my favorite casserole. I've kept a batch of this on hand in my freezer continually since I discovered the recipe this fall. It hails from the new What's for Supper cookbook from Southern Living. While not overly impressed by some of the recipes in the book (too many prepared processed foods for my taste), I knew I would try this recipe for the name alone. Green Bay Packer coach Vince Lombardi holds a special place in the hearts of most Wisconsinites and if the casserole performed even half as well as the coach, it was worth a try. Touchdown!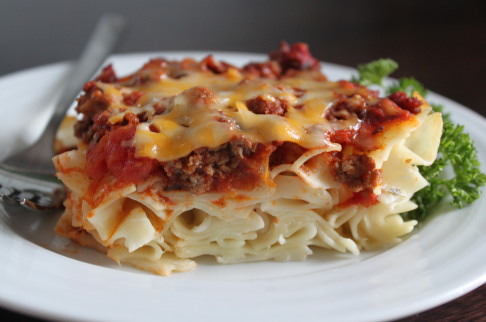 Beef Lombardi
adapted from Southern Living What's for Supper
This is an easily adaptable recipe. I usually use more egg noodles than called for and then add an extra tablespoons of cream cheese. Since my daughter is currently green onion adverse, I cut back on those or use only the white parts so she doesn't notice them as much. Feel free to experiment according to your own tastes.
Serves 8
10–12 oz (280–340 g) medium egg noodles
1 lb (450 g) lean ground beef
1½ teaspoons salt, divided
½ teaspoon dried Italian seasoning or dried oregano
1 x 6‑oz (170 g) can tomato paste
1 x 14-oz (400 g) can diced tomatoes
4 oz (110 g) cream cheese, softened
½ cup (120 ml) sour cream
4 green onions, chopped
1 cup (4 oz/110 g) shredded Italian six-cheese blend or mozzarella cheese
Preheat the oven to 350°F (180°C). Prepare the egg noodles according to package directions.
Meanwhile, sprinkle the ground beef with 1 tsp. salt and the Italian seasoning. Cook the beef in a large skillet over medium heat, stirring often, 5 to 6 minutes or until meat crumbles and is no longer pink.
Stir in the tomato paste, and cook 2 minutes; stir in the tomatoes, 1/2 cup water, and remaining 1/2 tsp. salt; reduce the heat to medium-low, and simmer 8–10 minutes until thickened a bit.
Microwave the cream cheese in a microwave-safe bowl at HIGH 20 seconds. Stir in the sour cream and green onions into the warm cream cheese, then gently stir the cream cheese mixture into the hot cooked noodles.
Spread the noodle mixture in the bottom of a lightly greased 11- x 7‑inch baking dish. Top the noodles with the beef mixture then sprinkle the shredded cheese evenly over the mixture.
Bake the casserole at 350° for 25 minutes or until hot and bubbly.
To make ahead: Freeze the unbaked casserole, tightly covered, for up to 1 month. Thaw in the refrigerator overnight, then bake at 350°F (180°C), loosely covered in aluminum foil for 25 minutes. Remove the foil and continue baking about 15 minutes more until the cheese is melted and the casserole is hot.

Email this post

Print this post