I vowed to post more recipes in 2013 and, like so many other New Year's resolutions, find myself failing miserably by the end of January. Despite my blog negligence, I have been cooking up a storm. I now realize that the prospect of free time on the weekends thrills me because I know I will have time to spend a few hours on my feet in front of the stove, my desire to stand around and stir pots all afternoon the result of working a desk job, I guess!
Though these delicious chicken cakes aren't the best thing I've made this month, they were cooked during our sunniest (most photo friendly) weather. I love the rich umami taste of these succulent little meat cakes and the fact that the homemade teriyaki glaze cooks in the pan along with the chicken, requiring no separate sticky pot to wash later. Though we all enjoyed them, Anabelle scarfed hers down fastest with a nod of approval and an it-tastes-like-sausage compliment. If you know my kids, no bigger praise can they bestow on food.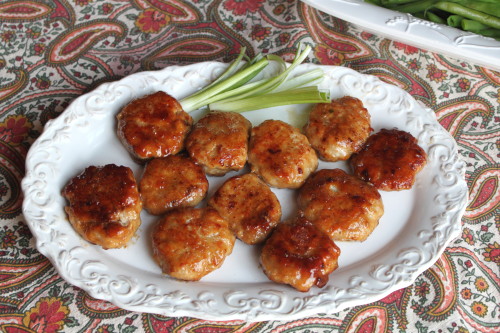 Chicken Cakes with Teriyaki Sauce
adapted from The Cookbook Junkie's adaption from Around The World in 450 Recipes by Sarah Ainley (editor)
I paired this Japanese inspired dish with a cucumber salad and string beans. A side of rice would also be nice, but don't expect to have extra sauce to flavor it. The teriyaki "sauce" is really a glaze. These would make awesome appetizers.
makes 1 dozen
For the chicken cakes:
1 lb (450 g) ground chicken
1 large egg [optional, I forgot to add the egg and my cakes turned out just fine]
1/2 small onion, grated
1 ½ teaspoons sugar
1 ½ teaspoons soy sauce
Cornstarch or tapioca starch, for coating
2–3 scallions, cut in half, white/light green ends shredded and green parts chopped
2 tablespoons vegetable, canola, or sunflower oil
For the teriyaki sauce:
2 tablespoons sake or dry white wine
2 tablespoons sugar
2 tablespoons mirin
2 tablespoons soy sauce
Mix the ground chicken with the egg, grated onion, sugar and soy sauce until the ingredients are thoroughly combined and well bound, about 2 minutes. The mixture will be quite sticky, which makes for good texture. Shape the mixture into 12 small, flat, round cakes and dust them lightly all over with cornstarch. Since the mixture is very sticky, I found it easiest to coat my fingers in cornstarch then drop the semi-formed cake into the cornstarch. Once it was covered in cornstarch I was able to properly form it.
Soak the white/light green part of the scallions in ice water for 5 minutes and drain well. The ends should curl slightly.
Heat the oil in a frying pan. Place the chicken cakes in a single layer, and cook over medium heat for 3 minutes. Turn the cakes over and cook for 3 minutes longer, until cooked through.
Mix the ingredients for the sauce and pour it into the pan. Turn the chicken cakes occasionally until they are evenly glazed. Move or gently shake the pan to prevent the sauce from burning.
Arrange the chicken cakes on a plate and top with the scallions. Serve immediately.

Email this post

Print this post