Sometimes I love being on the "mommy track" but recently juggling kids and a career seems like the craziest idea I ever had. The last few months have been terribly stressful at work. I've barely had time or energy to cook. You might have noticed this downward culinary slide due to my lack of recent posts (sorry, Kristin). Luckily, I have a handful of make ahead recipes to help me through these rough patches. This is my newest — and favorite.
Lamb might seem pretty rich for a weeknight springtime meal, but the lentils lighten up this dish and the cucumber salad lends just the right amount of tangy freshness. I like to cook the lentil and lamb stew the night before, after I put the kids to bed and pour a generous glass of wine. You can cool and refrigerate the stew right in the pan you cooked it in. A programmable rice cooker can take care of the rice for you the next day while you work. All you have to do when you arrive home is throw together the salad and reheat the stew. And that is how I managed (at least for one night) to put a healthy, incredibly tasty dinner on the table in 10 minutes.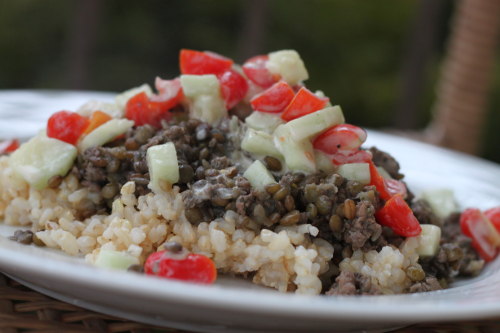 Spiced Lamb and Lentils with Cucumber-Tahini Salad
adapted from Whole Foods Market
Serves 6
3 cups (700 ml) low-sodium chicken broth, divided
1 medium yellow onion, chopped
3 cloves garlic, minced
1 lb (450 g) ground lamb
1 3/4 teaspoons dried dill, divided
1/2 teaspoon dried oregano
1/4 teaspoon ground cinnamon
1 cup (175 g) green lentils
1 tablespoon sesame tahini
1/2 teaspoon salt
1 tablespoon lemon juice
1 cucumber, peeled, seeded and diced
2 plum tomatoes, chopped
cooked brown rice, to serve
Bring 1/2 cup (125 ml) broth to a simmer in a large pot or high-sided skillet over a medium-high heat. Add the onion and garlic and cook for 5 minutes, or until tender and translucent. Add the lamb, dill, oregano and cinnamon and cook for 6 to 8 minutes or until browned, stirring to break up the lamb. Stir in the lentils and remaining 2 1/2 cups (625 ml) broth. Bring to a boil, then reduce the heat to low. Cover and simmer, stirring occasionally, until the lentils are tender, about 45 minutes. If serving the next day, cool the stew then refrigerate it.
To make the salad, in a small bowl, combine the tahini, salt and lemon juice, then stir in the cucumber and tomato. If the lamb and lentils have been chilled, rewarm over a medium heat. Spoon the warm lamb and lentils over rice and top with the cucumber tomato salad.

Email this post

Print this post