We've been hosting my in-laws for Christmas dinner — and Christmas Eve, and St. Stephen's Day, and usually one or two more days besides — for years now, which means I spend a lot of my time happily wearing a path between the stove, sink and fridge in the days before and after Christmas Day itself. But in that busy week before the main event, when I'm feeling overwhelmed with shopping lists or last-minute presents or the cards I always procrastinate about writing, or when I'd rather be baking some cookies than fussing too much over dinner, I just want to put something on the table without too much effort or expense. And if it can be something that's still in keeping with the holidays, like this recipe, then even better. As much as there's nowhere I'd rather be than my kitchen, sometimes a quick, simple supper can feel like a gift.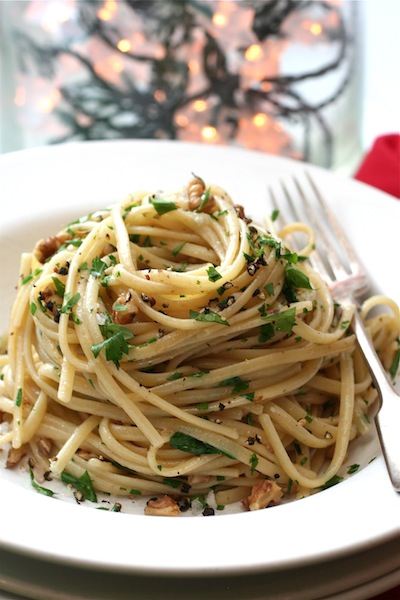 Neapolitan Christmas Eve Spaghetti with Walnuts (U Spaghetti' Anatalina)
adapted from Eat Like an Italian by Catherine Fulvio
Serves 4
This recipe comes from Catherine Fulvio's latest book, Eat Like an Italian. Catherine says, "During the weeks before Christmas, wonderful fresh walnuts arrive in the shops. This was a recipe for 'poor folks' and it illustrates how Italians respect their ingredients."
1 lb (450 g) spaghetti
1/2 cup (125 ml) good-quality extra virgin olive oil
4 garlic cloves, very finely sliced
6 tinned anchovies, drained and roughly chopped
1 1/2 cups (150 g) walnuts, lightly toasted and chopped
salt and freshly ground black pepper
2 tablespoons chopped fresh flat-leaf parsley, to garnish
Put a large pot of salted water on to boil. Cook the pasta according to the instructions on the package.
Meanwhile, gently heat the oil in a large saucepan (one that's big enough to also hold all the cooked pasta later) over a low heat. Add the sliced garlic and cook for 1 minute, taking care not to burn the garlic or it will turn bitter and ruin the dish. Add the anchovies and cook for a few minutes more, stirring until they dissolve in the oil.
Reserve a mugful of the cooking water, then drain the pasta and add it directly to the sauce in the pan. Stir in some of the cooking liquid to loosen the pasta and return to the heat. Stir through the walnuts and cook for a further 1 to 2 minutes, then season to taste. Divide the pasta between 4 plates or shallow pasta bowls and garnish with the parsley.

Email this post

Print this post