This year, I decided to forgo the store-bought, China-manufactured, last-minute purchased gifts that I usually give out at holidays. I had the bright idea (insert sarcasm here) to make homemade food gifts this year. I figured, why not? I like to hang out in the kitchen. I like buying ingredients. I like one-of-a-kind treats. Well, readers, here is why not. I have about 30 people who need gifts this year (my kids attend schools with lots of teachers in each room). Christmas is less than a week away and I'm still searching for packaging materials, running out of ingredients, and trying out new recipes with limited success. On the upside, this weekend the kids and I made up a few batches of spice rub and a half dozen quart jars of soup mix and they turned out amazingly cute. I tried out a couple other gift ideas (salted caramel sauce and hand-chopped garlic herb salt) but the end products, though tasty, didn't justify the the work involved in making them. So, if you are looking for a unique gift that you can make with minimal fuss, I highly recommend one of these instead.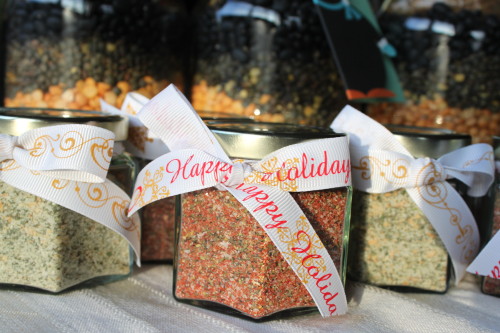 All-purpose Spice Rub
from Everyday Food, July/August 2006
I found lovely little jars at a reasonable price at specialtybottle.com. This recipe easily double or triples so you can mix up a big batch and fill a dozen small jars at one go.
Makes about 1 1/4 cups
1/3 cup (75 g) coarse salt
1/4 cup (40 g) packed light-brown sugar
1/4 cup (30 g) paprika
2 tablespoons ground black pepper
2 tablespoons dried oregano
2 tablespoons dried thyme leaves
1 tablespoon cayenne pepper (optional, I used 1/2 teaspoon per batch)
In a small bowl, combine all the ingredients, using your hands to break up the sugar. Store in an airtight container, away from heat and light, up to 6 months.
***
Rainbow Bean Soup Mix
adapted from food.com
Makes 1 quart jar
3/4 cup (150 g) dried red beans
3/4 cup (150 g) dried great northern beans
2/3 cup (125 g) dried split peas (yellow or green)
2/3 cup (115 g) lentils (brown, green, or red)
2/3 cup (130 g) dried black beans
Seasoning bag:
2 tablespoons dried onion flakes
2 tablespoons beef or chicken bouillon granules (sold in soup section)
2 tablespoons dried parsley flakes
2 teaspoons dried basil
2 teaspoons sweetened lemonade drink mix
1 1/2 teaspoons chili powder
1/2 teaspoon garlic powder
1/2 teaspoon pepper
1 teaspoon dried oregano
Use a quart jar that has a wide mouth, but if you can't find one any quart jar will work. Place each type of bean in jar in the order listed above.
Mix the seasoning ingredients and seal in a small baggie. Place the seasoning bag on top of the beans, gently flattened so it can be seen from all sides.
Seal the jar, decorate, and attach the soup directions (below).
DIRECTIONS TO MAKE RAINBOW BEAN SOUP:.
Remove seasoning packet from the jar and set to the side. Rinse beans and place beans in large microwave-safe dish. Cover with water 1″ to 2″ over top of beans. Cover dish loosely with plastic wrap. Microwave on high for 15 minutes, rotating after 7 minutes. Drain and rinse beans very well; place in a large pot. Add 8 cups water, one 15 ounce can crushed tomatoes and seasonings from packet. Cover, bring to boil. Lower heat, cover pan and simmer 1 1/2 hours or until beans are tender. Stir occasionally.

Email this post

Print this post