As we gear up for the holiday season, here's my gift to you: a healthy recipe with three ingredients and five minutes of prep time. New York Mouth sent me some freebies last month and in preparation for their package, I spent some time scouring (more like falling in love with) their website. They distribute handcrafted, small batch, "indie" food fare. The site's Tin Mustard description contained this open faced sandwich idea. I originally tried the "recipe" because I couldn't imagine it would be edible much less delicious. But it is. I swear! Make sure to use ripe avocado, hearty bread, and good quality mustard. Tin Mustard's whole grain mustard was amazing. Actually, all the products sent were delicious. For those looking for gift ideas for your favorite foodie (or food blogger, hint, hint), it's worth a look.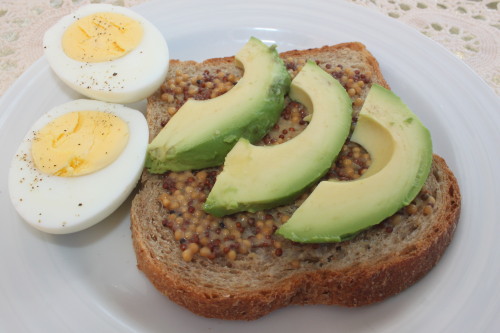 Toast with Avocado and Mustard
from New York Mouth
In my book, open faced sandwiches alone constitute more of a snack than a dinner so I rounded out the meal with hard boiled eggs and steamed green beans, making a kind of deconstructed salad nicoise. I think it would also taste great with some simply dressed greens or sharp cheddar on the side.
whole grain bread
avocado
whole grain mustard
Toast the bread to your taste. While the bread toasts, slice the avocado.Spread a tablespoon or so of mustard on the toasted bread. Place the sliced avocado on top of the mustard. Eat.

Email this post

Print this post