A couple weeks ago I was at The Tannery in County Waterford having lunch with a few other bloggers and food writers to celebrate the launch of the Cook with Avonmore site, which features Tannery chef Paul Flynn as their first guest chef. On the menu that day there was a choice of crab crème brûlée or this bacon and butterbean chowder as a starter. I went for the crab not only because it's The Tannery's signature dish, but because I knew I had the recipe for the chowder in my press pack. What I didn't know, though, was what a fantastic recipe it is. From just a few ordinary ingredients, this soup is more than the sum of its parts.
Paul Flynn says, "A chowder for me is something that's really rich and comforting. It's something that you eat in front of the fire or just after a lovely long walk and you're cold and you want something hot and heart-warming to eat." Serve this with some good crusty bread, a nice cheese and a glass of red wine — either with or without the long walk beforehand — and I'm willing to bet it will be one of the nicest meals you'll make this autumn.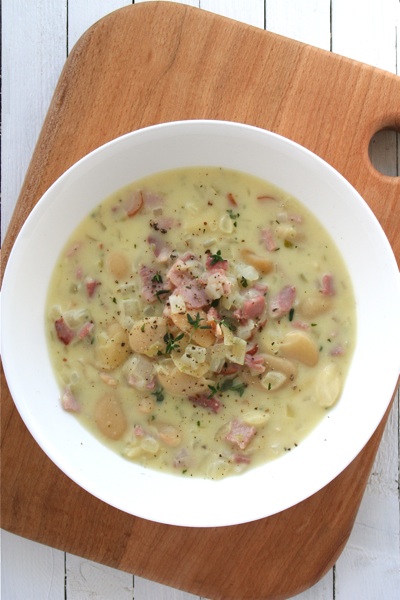 Bacon and Butterbean Chowder
adapted from Paul Flynn via cookwithavonmore.ie
Serves 2 as a main course or 4 as a starter
Paul Flynn says that "when you use beautiful ingredients like butter and cream, you've got to realize that if you put just enough in, it gives you that lovely, luxurious richness that you're looking for, and that will really comfort you on a cold night", but you can use a little less cream if you don't want the chowder to be quite as rich. You can also use a handful of fresh parsley instead of thyme.
knob of butter
olive oil
1 large onion, finely chopped
pinch of salt
1 garlic clove, finely chopped
6 pieces of smoked bacon or dry cure streaky bacon, finely diced
1 tablespoon flour
2 teaspoons chopped fresh thyme leaves, plus extra to garnish (or 1/2 teaspoon dried thyme)
1 teaspoon Dijon mustard
freshly ground black pepper
2 cups (500 ml) chicken stock
1 x 14 oz (400 g) can of butterbeans, rinsed
1/2 cup (125 ml) cream
crusty bread, to serve
Melt the butter in a pot over a medium heat along with a splash of olive oil so the butter doesn't burn. Add the onion and a pinch of salt to prevent the onion from colouring. As Paul Flynn says, "The real key to this is that what you do inside this pot with the onions will provide you with the whole base flavour for the soup. If you rush this, it's not going to be right." So turn the heat down a little to medium-low, put the lid on and "let the magic happen". Cook the onion for about 10 minutes, until it's translucent. Raise the heat back to medium, add in the garlic and cook for 1 minute more, then add in the bacon and cook for about 5 minutes (though note that the bacon won't go crispy because of the juice from the onions). Sprinkle the flour over the onions and bacon and give it all a stir, then allow it to cook for 2 minutes. Add in the thyme and mustard and a generous grinding of black pepper, then pour in the stock. Bring to the boil, then reduce the heat to a simmer and add in the butterbeans. Continue to simmer the soup for a few minutes, until the beans are warmed through, then stir through the cream. Taste the soup and adjust the seasoning if you think it needs more salt, though be careful because the bacon and stock are already salty. Ladle the soup into bowls, garnish with some of the reserved thyme leaves and serve with crusty bread.

Email this post

Print this post