Madeleines are my new favorite thing to bake. I don't normally go for recipes that call for hard-to-find ingredients or specific equipment, but a madeleine pan
is a little luxury and even the tiniest kitchen could surely squeeze one in. They take only minutes to pull together and 10 minutes to bake, yet people are invariably impressed by them. They're perfect with tea or coffee and also make an excellent treat for a play date, seeing as how they don't have that much sugar and are just the right size for little hands to hold.
They're also open to endless variations — in my own cookbook collection, I have recipes for hazelnut lemon madeleines, rosewater madeleines and butterscotch madeleines — but I've fallen in love with these honey spiced ones and have made them three times in the past three weeks. There's something about the spices, just right for autumn, and the soft, cake-like texture when they're still warm from the oven that remind me of a doughnut, and in my book it doesn't get better than that.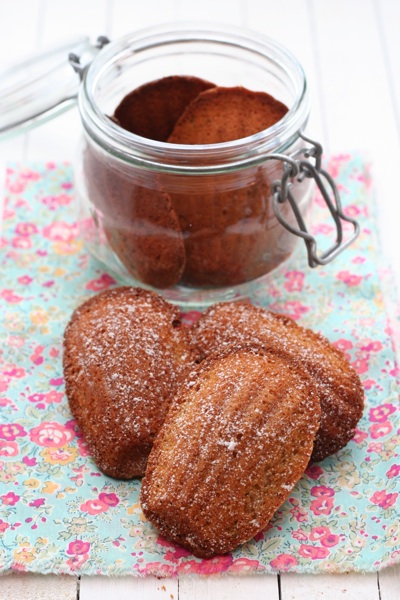 Honey Spiced Madeleines
adapted from Around My French Table
by Dorie Greenspan (recipe available online here)
Makes 12 madeleines
There are all sorts of tips and tricks for how to make the perfect madeleine — letting the batter rest, putting the tin in the freezer, piping the batter into the moulds, not using baking powder — but I don't worry about any of that and they still turn out perfectly fine and perfectly delicious.
3/4 cup (90 g) all-purpose flour
1/2 teaspoon baking powder
1/2 teaspoon ginger
1/4 teaspoon cinnamon
1/8 teaspoon ground cloves
1/8 teaspoon ground nutmeg
pinch of salt
pinch of freshly ground black pepper
1/3 cup (75 g) sugar
grated zest of 1/2 orange
2 large eggs, at room temperature
2 tablespoons honey
1 teaspoon pure vanilla extract
6 tablespoons (90 g) unsalted butter, melted and cooled
powdered sugar (icing sugar), to dust (optional)
Whisk together the flour, baking powder, spices, salt and pepper and set aside.
Working in a mixer bowl, stir the sugar and orange zest together. Fit the mixer with the whisk attachment, add the eggs to the bowl and beat for about 2 minutes, until the mixture is light, fluffy and thickened. Add in the honey, then the vanilla. Switch to a rubber spatula and gently fold in the dry ingredients followed by the melted butter. You can use the batter now, but Dorie Greenspan says it's better if you can give it a little rest. Press a piece of plastic wrap against the surface of the batter and chill for 3 hours or, if you have the time, overnight. Making the batter in advance also means you can have madeleines that are fresh from the oven and still warm if you're serving them to guests, or make them in the morning and bake them after the kids get home from school for a little treat.
When you're ready to bake them, centre a rack in the oven and preheat the oven to 400°F (200°C). Butter 12 full-size madeleine molds (or 36 mini-molds), dust the insides with flour and tap out the excess. If you have a non-stick madeleine mold, butter and flour it anyway or give it a light coating of vegetable cooking spray. (If your pan is silicone, you can leave it as is.) Place the pan on a baking sheet.
Spoon the batter into the molds, filling each one three-quarters full (if you overfill the molds, they'll spill out over the sides a bit and won't be quite as pretty when they're done). Bake the large madeleines for 11 to 13 minutes and the minis for 8 to 10 minutes, or until the madeleines are golden and the tops spring back when prodded gently. Remove the pan from the oven and release the madeleines from the molds by rapping the edge of the pan against the counter. Gently pry any stuck madeleines from the pan using your fingers or a butter knife. Transfer the cookies to a rack to cool to just-warm or room temperature. Dust with powdered sugar (icing sugar) if you like.

Email this post

Print this post