This is the fifth year we've had a vegetable garden at our house in the country, but I quickly learned the first year that basil doesn't grow well (if at all) outdoors in Ireland. We have a small greenhouse this year, but all the space is taken up with tomatoes, Kirby cucumbers and peppers, so the basil plants had to make do with our kitchen windowsill, where they're going gangbusters. I'd already made a few batches of regular pesto and was starting to get tired of it when I remembered bookmarking this recipe for pesto Trapanese last year, and it's a new favorite, not to mention a nice change. Try it at least once this summer.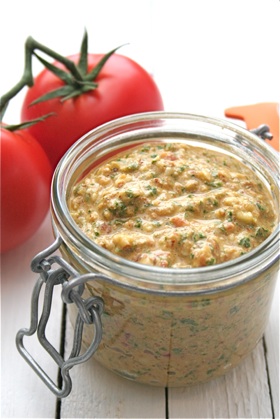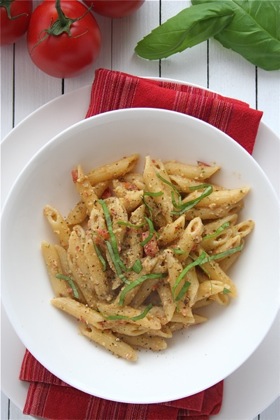 Pesto Trapanese
adapted from Catherine's Italian Kitchen
by Catherine Fulvio
Makes 2 cups (500 ml)
Use 1 cup (250 ml) of the pesto for dinner to serve 4 to 6 people and freeze the other half for another time. Alternatively, this will keep in the fridge, tightly covered, for up to 1 week with a thin layer of olive oil poured on top of the pesto to prevent the basil from turning black.
1 lb (425 g) spaghetti, linguini, penne or your favorite pasta
1 cup (125 g) whole almonds
3 large ripe tomatoes, quartered, or 10 ripe cherry tomatoes
2 garlic cloves, roughly chopped
2 oz (50 g) fresh basil leaves (about 2 large handfuls)
1/2 cup (125 ml) good-quality olive oil
salt and freshly ground black pepper
Cook the pasta in a large pot of boiling salted water according to the instructions on the packet.
To make the pesto, place the almonds in a food processor and whizz until they're reduced to nibs (don't overprocess them to a paste). Add in the tomatoes, garlic, basil, olive oil and a generous seasoning of salt and pepper and whizz again until everything is well combined. Add more olive oil if you want the consistency of the pesto to be thinner. Stir 1 cup (250 ml) of the pesto into the drained pasta and serve right away.

Email this post

Print this post