A few months ago, a friend asked me how I keep track of all the recipes I want to try from my ever-expanding cookbook collection. "Don't laugh," I said, "but I have a spreadsheet." I have separate sheets divided into categories like quick weeknight dinners, pasta, seafood, vegetarian mains and desserts and in each sheet I have a column where I'll list a season if it's a recipe that lends itself to a certain time of year, so I can sort recipes that way too. You might be laughing now, but it's how I remembered this recipe for sweetcorn fritters that I'd bookmarked sometime last year after summer had already come and gone. You'll thank me for my nerdy organization once you try these. I've already made them three times this summer.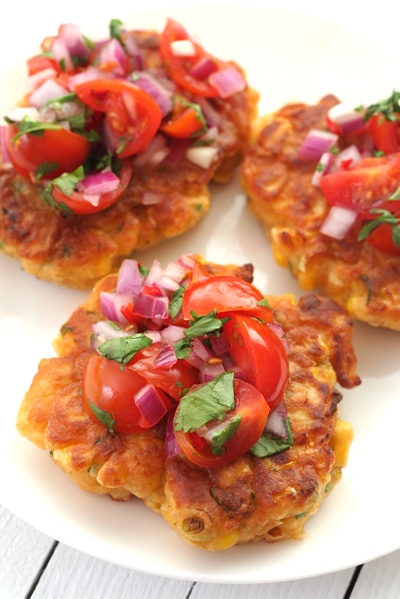 If you like the sound of these sweetcorn fritters, you might also like these zucchini fritters with feta and dill.
Sweetcorn Fritters with Tomato Salsa
adapted from Itsa Cookbook by Domini Kemp
Serves 4 for a light dinner
These lend themselves to all kinds of adaptations. Adding in some chopped cooked bacon was, unsurprisingly, the first thing I thought of, or you could try making a Mexican-influenced version by using chipotle powder instead of paprika, adding some chopped jalepeno or red chilli and serving the fritters with a dollop of sour cream and a tomatillo salsa. These would also be good served for brunch alongside bacon and eggs or packed for a picnic.
For the sweetcorn fritters:
2 cups (250 g) flour
1 x 11 oz (320 g) can of sweetcorn, drained
2 eggs, beaten
1 bunch of scallions, roughly chopped
1 small bunch of cilantro (a.k.a. coriander), roughly chopped
1/2 cup (125 ml) milk
1 teaspoon baking powder
1/2 teaspoon smoked paprika
1/4 teaspoon salt
sunflower oil, for frying
For the tomato salsa:
9 oz (250 g) cherry tomatoes, quartered
1 small red onion, very finely diced
1 small red chilli, deseeded and chopped
1 teaspoon sweet chilli sauce (optional)
1/2 teaspoon sugar
juice of 2 limes
1 small bunch of cilantro (a.k.a. coriander), finely chopped
salt and freshly ground black pepper
To make the salsa, mix all the ingredients together and leave for 30 minutes at room temperature before serving to allow all the flavors to marry together.
To make the fritters, place everything in a bowl except the sunflower oil and mix together well.
Heat the sunflower oil in a frying pan over a medium heat. Plop large spoonfuls of the mixture into the hot oil. Fry the fritters for 2 or 3 minutes on each side, until golden. Pat them down slightly while they're cooking in the pan, since they'll cook better if they're a bit thinner. Set aside on a plate and repeat with the remaining batter. Serve the fritters warm with the tomato salsa.

Email this post

Print this post