My husband makes pancakes with the kids every Saturday morning without fail, so it should have been no surprise that my daughter said these zucchini fritters looked like green pancakes when she saw me frying them in the pan. I immediately played it up: "Yes, you're right, that's just what they look like. It's like we're having pancakes for dinner!" I'll do whatever it takes to get the kids to be enthusiastic about eating vegetables (including slathering them with ketchup), and after all the talk of them being pancakes, they happily devoured these fritters. Grown-ups will need no such convincing.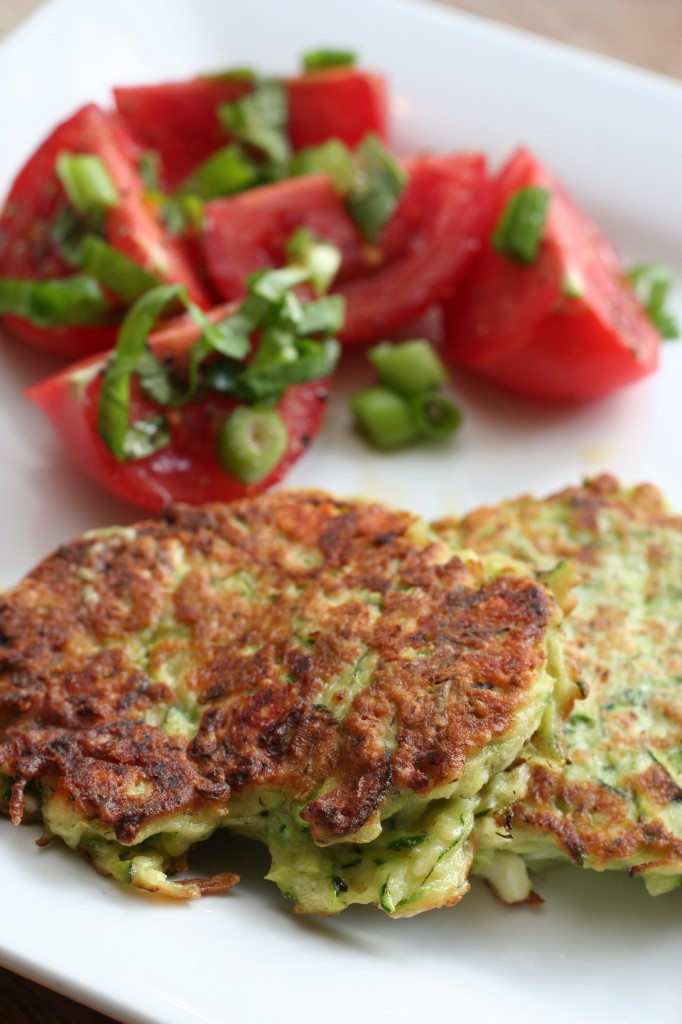 If you like the sound of these zucchini fritters, you might also like these sweetcorn fritters with tomato salsa.
Zucchini Fritters with Feta and Dill
adapted from Forever Summer by Nigella Lawson
Makes about 16 large fritters or 25 small ones
I've taken a page out of Nigel Slater's book and used dill here instead of Nigella's parsley and mint. You can watch a video of Nigella herself making her original herby version of the fritters here. You could also use Bon Appétit's idea to serve these with a green goddess dressing.
4 zucchini (about 1 1/2 lb/750 g)
5 or 6 scallions, white and light green parts only, finely chopped (save the dark green tops for the tomato salad)
9 oz (250 g) feta cheese
1 1/2 tablespoons dried dill
1 cup (120 g) flour
salt and freshly ground black pepper
3 eggs, beaten
2 or 3 tablespoons olive oil
Greek or natural yogurt, to serve (optional)
Coarsely grate the zucchini using a box grater, food processor or mandoline slicer. Transfer to a colander, sprinkle with salt and leave to drain in the sink for about 30 minutes to get rid of the excess water.
Put the chopped scallions in a bowl and crumble in the feta. Add the dill and flour and season well with salt and pepper. Gradually add the beaten egg and mix thoroughly before adding in the drained zucchini.
Heat the olive oil in a large frying pan over a medium heat and drop heaped spoonfuls of the mixture into the pan (an ice cream scoop works well here), flattening them with the back of a spoon. Cook for 3 to 4 minutes on each side, until golden, then transfer to a plate lined with a paper towel. Serve with dollop of Greek or natural yogurt, either hot from the pan or at room temperature.
***
Tomato Salad
Serves 4
If you have really good, fresh tomatoes, then I would only use a drizzle of extra virgin olive oil to dress them. If they need a little boost, though, then add 1 tablespoon of lemon juice or balsamic vinegar.
8 to 10 vine-ripened tomatoes
good-quality extra virgin olive oil
sea salt and freshly ground black pepper
dark green tops from the scallions used in the fritters above, finely sliced
a handful of fresh basil, cut into strips (chiffonade)
Quarter the tomatoes and place in a bowl. Drizzle lightly with olive oil, then season generously with salt and pepper. Scatter over the sliced scallion tops and the basil.

Email this post

Print this post