When I was growing up, my mom would cook us whatever we wanted for dinner on our birthday. The only thing I remember asking for a few years in a row when I was a kid was pineapple ham. This was in the days before it became a derided pizza topping combo, and I'm sure I thought it was something fancy and special — at any rate, I loved it. Carrying on the tradition, I now cook special requests for my family on their birthdays too, and almost every year for the past 13 years that I've known him, my husband has requested an even more unglamorous dinner — meatloaf. Is there an uglier dish than meatloaf? Once or twice he's gone more upmarket and asked for steak au poivre, but the humble meatloaf with mashed potatoes and gravy will always be his favorite. Kelly has already shared Mark Bittman's basic meatloaf recipe, but I like this one because it's made with turkey mince instead, which makes it a little lighter than meatloaf made with beef. It might not win any beauty pageants (which doesn't stop Nigella Lawson from waxing poetic about it), but I have to admit it's really good and the kids love it too, so everyone wins.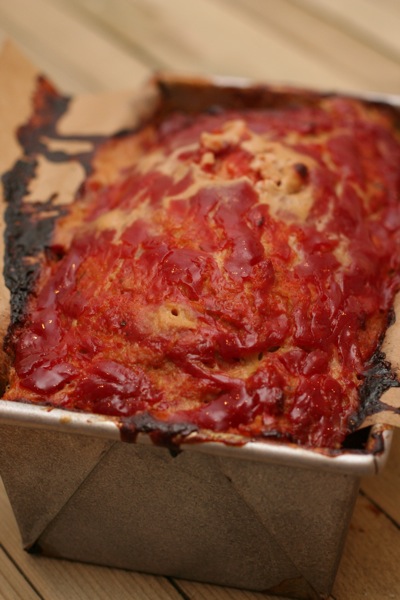 Turkey Meatloaf
adapted from The Barefoot Contessa Cookbook by Ina Garten
Serves 4
I've modified this a bit to decrease the amount of meatloaf made. I also prefer to cook it in a loaf tin instead of free forming it on a baking sheet. Meatloaf and mashed potatoes go together like bread and butter — just add your favorite veg dish to round out the supper.
olive oil
2 onions, chopped
salt and freshly ground black pepper
1/2 teaspoon dried thyme
1/4 cup (50 ml) Worcestershire sauce
1/2 cup (125 ml) chicken stock
1 1/2 teaspoons tomato paste (or you could just use ketchup)
2 lb (1 kg) ground turkey breast
1 to 1 1/2 cups (100 to 150 g) plain dry breadcrumbs
2 large eggs, beaten
1/2 cup (125 ml) ketchup
Preheat the oven to 325° F (160°C). Line a loaf tin with parchment paper or foil so that it hangs over the sides, which will make it easy to remove the meatloaf from the tin after it's cooked.
Heat a splash of olive oil in a medium saute pan over a medium-low heat. Cook the onions with a generous amount of salt and pepper and the thyme for about 15 minutes, until translucent but not browned. Add the Worcestershire sauce, chicken stock, and tomato paste and mix well. Allow to cool to room temperature.
Combine the ground turkey, 1 cup (100 g) bread crumbs, eggs, and onion mixture in a large bowl. Add in the extra 1/2 cup (50 g) of breadcrumbs if you think the mixture looks too wet (alternatively, if you think it looks too dry, add another splash of stock). Mix well and place into the lined loaf tin. Spread the ketchup evenly on top. Bake for 1 1/2 hours, until the internal temperature is 160°F (70°C) and the meatloaf is cooked through. (A pan of hot water in the oven under the meatloaf will keep the top from cracking.) Serve hot, at room temperature, or cold in a sandwich.
***
Caramelized Onion Gravy
adapted from How to Cook: Book One by Delia Smith
Delia's original recipe is for a roasted onion gravy, but since I was making this at the same time as the meatloaf, which needs a low temperature, I couldn't roast the onions and decided to caramelize them instead. You can caramelize the onions ahead of time and store them in an airtight container in the fridge for a few days.
2 teaspoons groundnut or other flavorless oil
a knob of butter (optional)
2 large onions, thinly sliced
a generous pinch of sugar (optional)
1 tablespoon Worcestershire sauce
1 level teaspoon mustard powder, such as Colman's
15 fl oz (425 ml) vegetable stock
1 rounded tablespoon plain flour
salt and freshly ground black pepper
Coat the bottom of a wide pan with olive oil, or a mixture of olive oil and butter (about 1 teaspoon per onion). Heat the pan on medium high heat until the oil is shimmering. Add the onion slices and stir to coat the onions with the oil. Spread the onions out evenly over the pan and allow them to cook, stirring occasionally, for 10 minutes. Sprinkle some salt over the onions and add a pinch of sugar to give the carmelization process a boost (optional). Cook for around 30 minutes, stirring every few minutes. Keep an eye on the temperature — you may need to lower it if the onions look like they're on the verge of burning, not browning — and add a little more oil if they're sticking to the pan too much. As the onions cook down, you may find you need to scrape the pan every minute instead of every few minutes. As the sugar in the onions caramelizes, they'll go from light tan to golden to deep brown. Don't cook past a mahogany color, because then they might burn.
When the onions are ready, add the Worcestershire sauce and mustard powder to the stock. Add the flour to the onions, stir them together and cook for 1 minute. Gradually add the stock mixture to the pan, whisking all the time, until it's all incorporated. Bring it up to a simmer and let it gently bubble away for 5 minutes. Taste to check the seasoning, then pour into a warmed serving jug.

Email this post

Print this post