It was bound to happen sometime — we had our first trip to the emergency room with one of the kids last weekend after my five-year-old daughter fell off the slide at home and fractured her collarbone. She spent the week propped up on the sofa watching DVDs, and after letting her eat ice cream for dinner on the day it happened, I spent the rest of the week making all her favorite foods — spaghetti Bolognese, roast chicken, risotto, banana bread — and these Parmesan chicken fingers and a rice pudding full of milk to help that bone heal.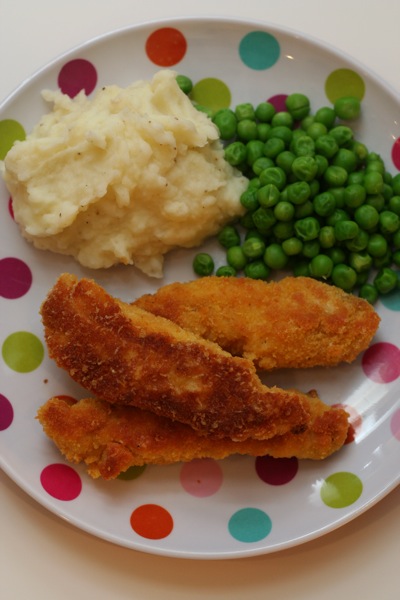 Homemade Parmesan Chicken Goujons
adapted from Rachel's Favourite Food at Home by Rachel Allen
Serves 4
In most pubs or restaurants with a kids menu you'll see chicken goujons on the menu — it took me awhile after moving to Ireland to figure out it was a fancy way of describing what we call chicken strips or chicken fingers in the US. I served the goujons with ketchup for the kids and a quick lemon mayo for the grown-ups (made by mixing in some lemon zest and juice, salt and pepper), but a sweet chili sauce would also be good for dipping. When making breaded chicken, you might find that you'll need some extra flour, eggs and/or breadcrumbs.
4 large boneless, skinless chicken breasts
1 cup (120 g) flour
salt and freshly ground black pepper
2 large eggs, beaten
1 cup (100 g) breadcrumbs or panko
1/2 cup (50 g) finely grated Parmesan
3 tablespoons sunflower oil
Cut the chicken into strips the size of a big fingers. Place the flour in a bowl or a large shallow plate and add in some salt and pepper. Place the beaten eggs in another bowl/plate. Mix together the breadcrumbs and Parmesan in a third bowl/plate.
Toss each chicken strip first in the seasoned flour and shake off any excess. Dip into the beaten egg, letting the excess drip off, then roll in the breadcrumb mix until it's evenly coated. Shake off the excess breadcrumbs and place the coated strips on a plate.
Heat the oil in a large frying pan over a medium to high heat. When the oil is hot, add the chicken strips in a single layer, making sure you don't crowd the pan (cook the chicken in batches). Cook on one side for 3 or 4 minutes, until golden, then turn down the heat and flip the pieces over. Cook on the other side for a further 4 minutes, or until cooked through and golden. Place on a baking sheet and keep the finished strips warm in a low oven while you cook the remaining chicken.
***
Rice Pudding
adapted from How I Cook by Skye Gyngell
Serves 4 to 6
Skye Gyngell serves this rice pudding with stewed prunes. I made this dried fruit compote to spoon on top and the leftovers are equally as good on granola and porridge for breakfast.
1 1/2 cups (250 g) risotto rice, such as Arborio
4 cups (900 ml) whole milk
1 vanilla pod, split lengthways
zest of 1 lemon
small pinch of salt
1 1/4 cup (150 g) sugar
3/4 cup (200 ml) cream
Rinse the rice well under cold running water, then tip it into a heavy-bottomed saucepan. Add the milk, vanilla pod, lemon zest and salt and bring almost to a simmer over a medium heat. Now turn down the heat as low as possible and put the lid on, placing it slightly off center so it isn't quite covering the pan. Cook for about 20 minutes, stirring occasionally, or until the rice is cooked but still retains a slight bite. When it's al dente, stir in the sugar and cream and cook for a further 10 minutes. The pudding should be soft and creamy and should easily drop from a spoon. Allow to stand for 5 to 10 minutes and serve warm.

Email this post

Print this post