The first time I ever tried black pudding (a.k.a. blood pudding), I spit it out. I had only been living in Ireland for a few weeks and was at a fancy book launch for my new publishing job. One of the canapés being passed around was circles of pan-fried black pudding with a fancy relish on top, and not wanting to lose face in front of my new colleagues, not to mention my boyfriend, I was determined to try some. When in Rome, right? But I just couldn't get over the fact that it was made from blood and I couldn't even bring myself to chew it. Growing up in suburban Illinois, where an egg roll from the Chinese takeout was the most exotic thing I'd ever eaten, it was too much of a culture shock.
I was telling this story to my friend Caroline a few hours before we were due to go to the Clonakilty by Candlelight dinner last week. "Are you sure you want to go?" she asked, looking worried. "You know they're bound to serve it there." "Oh, I'm over it now," I said. "I even ordered a black pudding and goat cheese tart at a restaurant last year."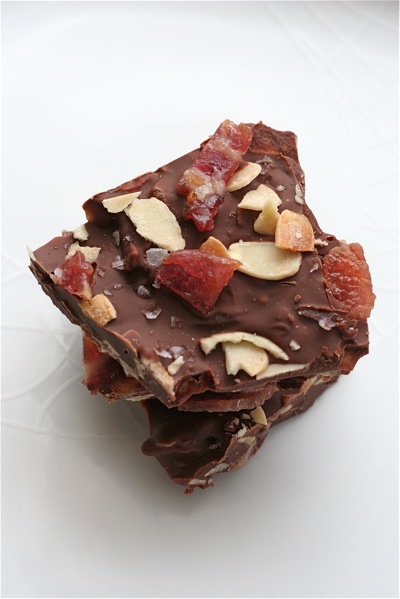 I was lucky to get a place at the free dinner on its second night, which was run as a pop-up restaurant by Clonakilty Blackpudding for only six nights. The location was kept secret until the day before, which turned out to be a Georgian house on Dublin's north side. Caroline and I were the first to arrive (fellow food blogger Aoife was there that night as well) and we were handed a glass of Prosecco and directed towards the biggest turf fire I've ever seen, stacked eight briquettes deep at least. We also got a sneak peek of the room next door that we'd be eating in – along with 2,000 creepy china dolls crammed into floor-to-ceiling shelves that lined the room – and a look at the menu, which did indeed include a main course of black pudding with scallops and a carrot puree.
Because I'd won some Clonakilty black and white pudding, sausages and bacon by correctly answering the question "What is entomophagy the consumption of?" (insects), I made this white bean and sausage soup, an old cheap and cheerful stand-by. And feeling inspired by the chocolate-covered bacon, bacon praline and 12-year-old Jameson whiskey with a bacon and rosemary twist that we were served, I made this almond and candied bacon bark. This dessert seems to divide people firmly into two camps – people who have never heard of such a thing and think it sounds downright weird (they must have somehow missed the bacon mania boat), and people who think it sounds delicious and can't wait to make it themselves. If you're the former, then all I can say is don't knock it till you've tried it – and then once you've tried it, try to stop yourself from eating all of it.
White Bean and Sausage Soup
adapted from The Barefoot Contessa Cookbook by Ina Garten
Serves 6
I've adapted the Barefoot Contessa's original recipe to add sausages, but I make it just as often without them for a vegetarian version.
1 lb (450 g) dried white cannellini beans
olive oil
6 to 8 good-quality sausages
3 large onions, sliced
2 garlic cloves, minced
1 large branch fresh rosemary
2 quarts (2 liters) chicken or vegetable stock
1 bay leaf
salt and freshly ground black pepper
In a medium bowl, cover the beans with water by at least 1 inch and leave them in the refrigerator for 6 hours or overnight. Drain.
In a large stockpot over a low to medium heat, heat some olive oil and cook the sausages for about 10 or 15 minutes, until they're browned on all sides and cooked through. Remove the sausages to a plate and set aside. Add the onions to the pot and saute for 10 to 15 minutes, until they are translucent. Add the garlic and cook for 1 more minute. Add the drained white beans, rosemary, chicken stock, and bay leaf. Cover, bring to a boil, and simmer for 30 to 40 minutes, until the beans are very soft. Remove the rosemary branch and the bay leaf. Pass the soup through the coarsest blade of a food mill or place in the bowl of a food processor fitted with a steel blade and pulse until coarsely pureed. Return the soup to the pot over a medium heat. Slice the sausages and add to the soup to reheat. Add salt and pepper to taste and serve hot.
***
Almond and Candied Bacon Bark
adapted from Ready for Dessert
by David Lebovitz
David Lebovitz says it's best to make the candied bacon the same day you plan to use it. If you want to play around with flavors (though this almond and candied bacon combo is insanely addictive), check out this list of top 10 chocolate bark mix-ins from the Big Girls, Small Kitchen blog for some inspiration.
1 1/4 lb (565 g) good-quality chocolate, broken into pieces
1/2 cup (50 g) flaked almonds, toasted
5 pieces of bacon, pancetta or streaky rashers
3 tablespoons brown sugar
flaky sea salt, such as Maldon (optional)
Preheat the oven to 400°F (200°C) and line a baking try with foil (shiny side down) or parchment paper. Place the strips of bacon on the tray and sprinkle each strip with about 2 teaspoons of brown sugar. Bake for 12 to 15 minutes, turning the strips over halfway through baking and dragging them through the melted sugar on the tray. They're done when they're mahogany colored. Cool on a wire rack until crisp, then crumble or roughly chop. Set aside.
While the bacon cools, place a piece of parchment paper on a baking tray or stretch a piece of cling film taught across a baking tray instead. Add the chocolate to a large heatproof bowl. Set the bowl over a pot of simmering water and stir often until the chocolate is almost melted.
Remove the bowl from the heat, wipe off the bottom, then continue to stir the chocolate until it's all melted and smooth. Mix in two-thirds of the toasted almonds and two-thirds of the bacon.
Scrape the mixture onto the prepared baking tray and use a spatula to spread it to the desired thickness. Add the remaining almonds and bacon to the top of the chocolate, pressing them in lightly so they'll adhere. Sprinkle bits of salt, if using, across the top. Refrigerate the baking sheet until the chocolate sets. Once the bark is firm, break it into pieces. Store the bark in the fridge, where it will keep for 3 days.

Email this post

Print this post