Meatloaf reminds me of falling in love with my husband. Romantic, isn't it? I can clearly remember the moment I sheepishly admitted to him that I love meatloaf, and could we please have it for dinner. The aged paperback cookbook containing 101 recipes for ground beef that sat on Reuben's shelf for as long as I can remember also brings back good, and hilarious, memories of our early cooking days together. I think half of those 101 recipes were meatloaf recipes. I remember paying special attention to these recipes, thinking they would make an ideal meal for us impoverished college students — except for the odd and numerous ingredients listed in most of the recipes. Do people still put anchovies, olives, Cheese Whiz or tomato soup in their meatloaf? Eventually, Reuben and I gave up on meatloaf recipes and developed our own odd list of ingredients to make a decent one. This week, in a fit of open-mindedness, and perhaps in subconscious recognition of our 14-year dating anniversary, I decided to try out another meatloaf recipe. And as with every other recipe in Mark Bittman's How To Cook Everything
, I was thrilled with the results.

Basic Meatloaf
adapted from How To Cook Everything: Simple Recipes for Great Food
by Mark Bittman
Serves 6 to 8
fresh breadcrumbs made from 1 or 2 slices of good-quality white bread
2 lb (900 g) ground beef (you can also use veal, lamb, and/or pork combined with beef)
1 egg, lightly beaten
1 clove garlic, minced
1 small onion, minced
1 small carrot, peeled and minced
1/2 cup (50 g) freshly grated Parmesan cheese
1/4 cup (10 g) minced fresh parsley
1/2 teaspoon minced fresh thyme
salt and freshly ground black pepper
Preheat the oven to 350°F (180°C).
Mix together all of the ingredients. Shape the meat into a loaf in a baking pan (free-form meatloaf baked in a larger baking pan will be less greasy than meatloaf baked in a loaf pan). Bake for 50 to 60 minutes, basting occasionally with the rendered pan juices. When done, the meatloaf will be lightly browned and firm, and an instant-read thermometer inserted into the center of the loaf will read 160°F (70°C).
***
Roasted Parsnips
Serves 4 to 6
1 1/2 lb (680 g) parsnips, peeled
4 tablespoons olive oil
1 clove garlic, minced
3 sprigs fresh thyme
salt and freshly ground black pepper
Preheat the oven to 375°F (190°C).
Cut the parsnips into 2‑inch-long pieces, halving or quartering large parts of the parsnips so that each piece is about 1/2 inch thick. Toss the parsnips with the olive oil, garlic, thyme, salt and pepper. Spread the parsnips onto a large baking sheet in a single layer. Roast for about 45 minutes, until the parsnips are tender, turning once or twice to prevent scorching. Remove the thyme sprigs before serving.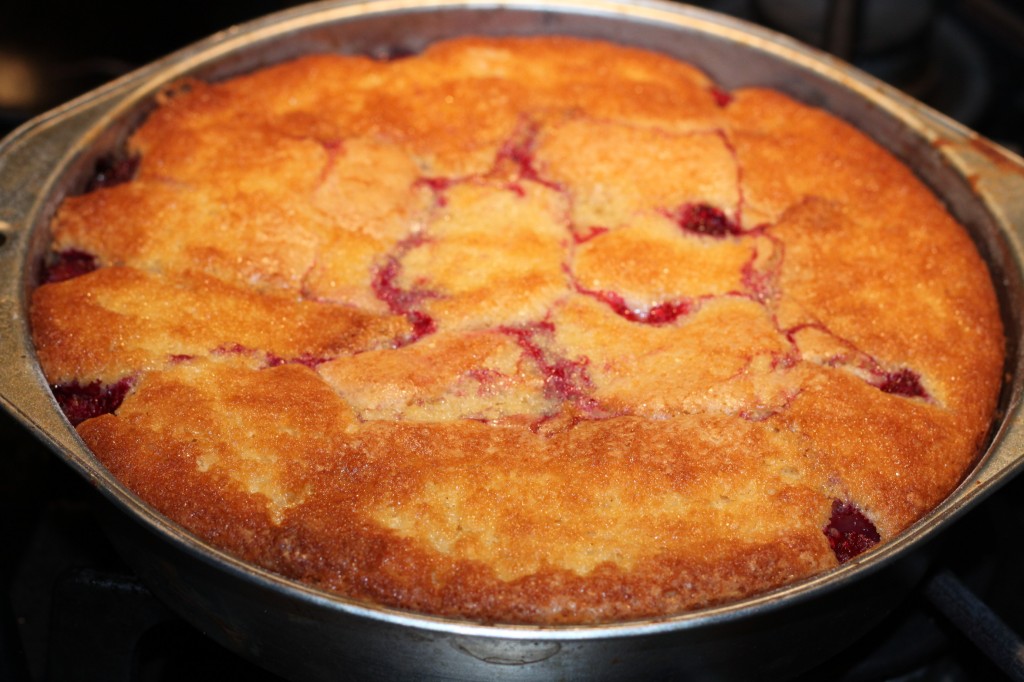 Raspberry Buttermilk Cake
adapted from Smitten Kitchen
Makes 1 x 9‑inch cake
1 cup (120 grams) all-purpose flour
1/2 teaspoon baking powder
1/2 teaspoon baking soda
1/4 teaspoon salt
1/2 stick (60 g) unsalted butter, softened
2/3 cup (150 g) plus 1 1/2 tablespoons sugar, divided
1/2 teaspoon pure vanilla extract
1/2 teaspoon finely grated lemon zest (optional)
1 large egg
1/2 cup (120 ml) well-shaken buttermilk
1 cup raspberries (about 5 oz/140 g)
Preheat the oven to 400°F (200°C) with a rack in the middle. Butter and flour a 9‑inch round cake pan.
Sift or whisk together the flour, baking powder, baking soda, and salt and set aside. In a larger bowl, beat the butter and 2/3 cup (150 g) sugar with an electric mixer at medium-high speed until pale and fluffy, about 2 minutes, then beat in the vanilla and zest, if using. Add the egg and beat well.
At low speed, mix in the flour mixture in 3 batches, alternating with the buttermilk, beginning and ending with flour. Mix until just combined. Spoon the batter into the prepared cake pan, smoothing the top. Scatter raspberries evenly over the top and sprinkle with the remaining 1 1/2 tablespoons sugar.
Bake for 20 to 25 minutes, until the cake is golden brown and a tester inserted into center comes out clean. Cool in the pan for 10 minutes, then turn out onto a rack and cool until it's just warm, 10 to 15 minutes more. Invert onto a plate.

Email this post

Print this post