Inevitably after most holiday meals, I find myself walking to my car with a plastic grocery bag of slightly gooey, unattractive, and lukewarm bag of bones and meat scraps. Perhaps no one else wants to carry home such an odd parcel, or perhaps everyone knows of my frugality. Whatever the reason, I'm happy to turn the humble carcass into a hearty broth at home. If you browse through the recipes on this site, you'll find that both Kristin and I use broth frequently. Although I've found a good store-bought brand (Swanson's Organic Chicken Broth), nothing beats homemade. It's really cheap and easy to make.
For this year's turkey broth I threw the leftover bones (with scraps attached) into a large stock pot and poured in water to cover. I roughly chopped and added one onion, one carrot, one celery stalk, and a handful of fresh parsley. For added zip, I threw in a pinch of dried thyme, a bay leaf, and about a tablespoon of salt. After bringing it to a boil, I let the liquid barely simmer for about three hours, strained it, and poured it into quart jars. After a night in the fridge, you can skim off any fat that rises to the top and pour the broth into whatever size container you wish. It will keep in the fridge for a few days and frozen for several months. I like to freeze it in muffin tins, then put the small broth-circles into larger storage bags, perfect for adding to sauces and stir-frys. I didn't freeze all my broth this year, instead sacrificing a quart for this quick and kid-friendly meal. For extra cuteness, serve in bunny bowls as pictured below.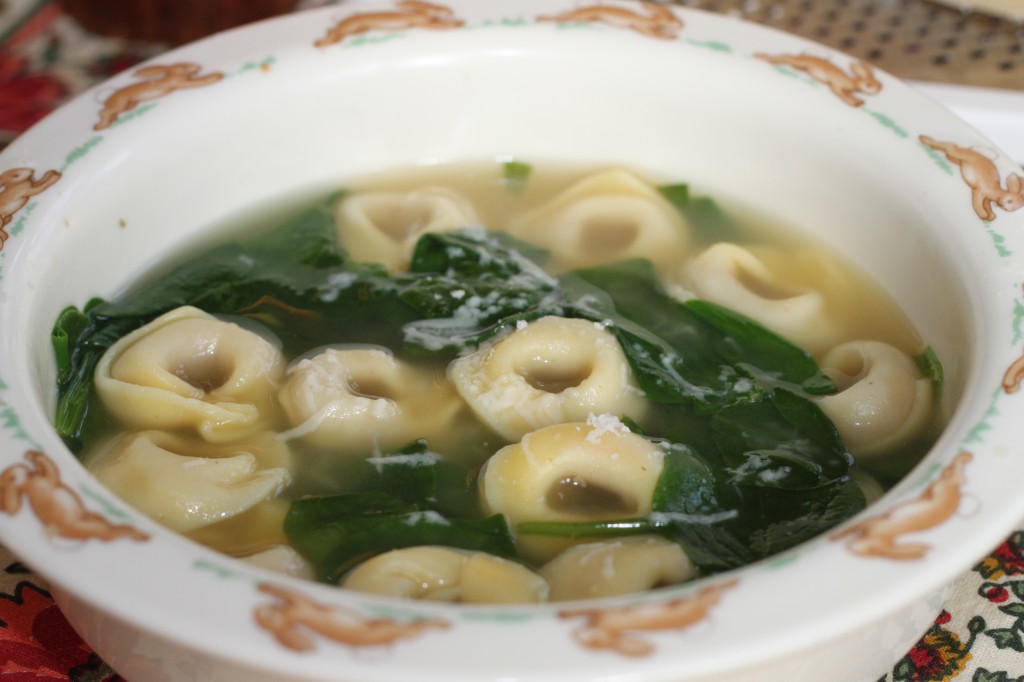 Tortellini in Broth with Spinach
Serves 4 as main course, 6 as first course
14 oz (400 g) dried tortellini
1 quart (1 liter) chicken or turkey broth
12 oz (340 g) fresh baby spinach
grated Parmesan cheese, to serve
Cook the tortellini according to the package directions. Drain the tortellini and set it aside.
While the pasta cooks, bring the broth to a simmer. Depending on the broth you are using, you may need to add salt or pepper to taste.
After the tortellini is cooked, add the spinach to the broth and cook for about 2 minutes, stirring gently, until the spinach is wilted. To serve, divide the broth, spinach, and tortellini between bowls. Top each bowl with grated Parmesan, if desired.

Email this post

Print this post