I'd never heard of Catalina chicken before coming across this recipe for it a few years ago in the Cooks Academy Cookbook. This recipe is from the author's grandmother, but after doing a quick online search to see if I could find out more about it, I found recipes with nothing but chicken, dried onion soup mix and a bottle of Catalina salad dressing as ingredients — the kind of "recipe" you often see on the back of food packaging or in a full-page ad for said soup mix or dressing in American women's magazines. Given that this recipe comes from a Dublin cooking school and a country where Catalina dressing isn't even sold, this version doesn't take any prepackaged shortcuts — and is all the better for it. Besides, anything with hard cider in it is bound to be better than something that comes from a jar. The author says her grandmother always served this with homemade chips that she cut by hand with a crinkle cutter, but I like it with plenty of crusty bread to mop up the delicious sauce.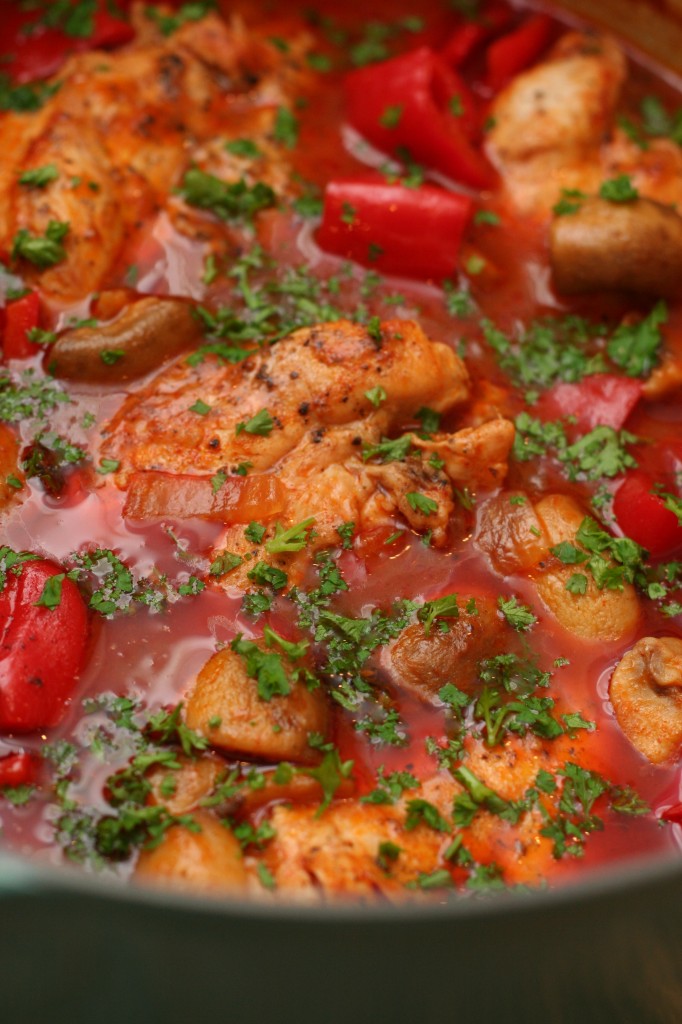 Catalina Chicken
adapted from Cooks Academy Cookbook by Vanessa Greenwood
Serves 4
If you don't have a casserole pot (a.k.a. Dutch oven), then start off by cooking the food in a heavy-based frying pan instead, then transferring to an ovenproof dish with a lid or an ovenproof dish that you can cover tightly with foil. I've modified the original recipe to start off by browning the chicken to improve its flavor and appearance, but if you're in a bit of a rush, you can skip this step and just add the chicken to the sauce along with the mushrooms and peppers.
olive oil
4 boneless, skinless chicken breasts
salt and freshly ground black pepper
2 tablespoons (30 g) butter
7 oz (200 g) mushrooms, quartered
1 large onion, diced
1 tablespoon plain flour
2 cups (500 ml) dry cider (hard cider)
3/4 cup (200 ml) chicken stock
1 tablespoon tomato puree
1 teaspoon white wine vinegar
1 teaspoon sugar
1 teaspoon paprika
1/2 teaspoon chili powder
2 red peppers, deseeded and cut into bite-sized pieces
chopped fresh parsley, to garnish
crusty bread, home fries, baked potatoes or mashed potatoes, to serve
Preheat the oven to 350°F (180°C).
In a heavy-based casserole pot, heat the olive oil over a medium-high heat. Season the chicken breasts and brown in the oil, then set aside.
Add the butter to the pot, then saute the mushrooms over a high heat until they turn golden on the outside. Set aside.
Lower the heat, add a little more olive oil and sweat the onions for 10 minutes with a pinch of salt (to help prevent them from browning too much) before stirring in the flour and cooking for 2 minutes more. Increase the heat, add the cider and stock and simmer for 10 minutes to reduce the liquid slightly.
Meanwhile, mix together the tomato puree, vinegar, sugar, paprika and chili powder and stir through the cider sauce. Season to taste with salt and pepper.
Add the chicken back to the pot in a single layer. Scatter over the peppers and mushrooms. Cover and cook in the oven for 1 hour, stirring halfway through. Garnish with the chopped parsley and serve.

Email this post

Print this post