The Irish Independent recently ran an article about cheap casseroles coming back into fashion in these penny-pinching times. Cuts of meat that people turned their backs on during the Celtic Tiger boom are now reappearing on shopping lists and in casserole pots — cuts like lamb shanks, oxtails and beef shins. I discovered this recipe while watching Channel 4's show Food: What Goes in Your Basket, where UK food critic Jay Rayner made it with shin of beef. I've modified it to use regular stewing beef, which is also much less expensive than prime cuts.
But just because a dish is economical doesn't mean it can't be delicious too, like this stew. In fact, I liked it so much that I made it twice in two weeks — once after watching the Food program and again because it was too perfect to pass up as an entry to November's Irish foodies cookalong, which had a winter warmers theme. It might also have something to do with the fact that after coveting one for ages, I bought a Le Creuset casserole pot as a birthday present for myself back in September and loved the fact that I could actually cook it in the oven. But no matter which way you cook this — in the oven, on the stovetop or in a slow cooker — you'll love it.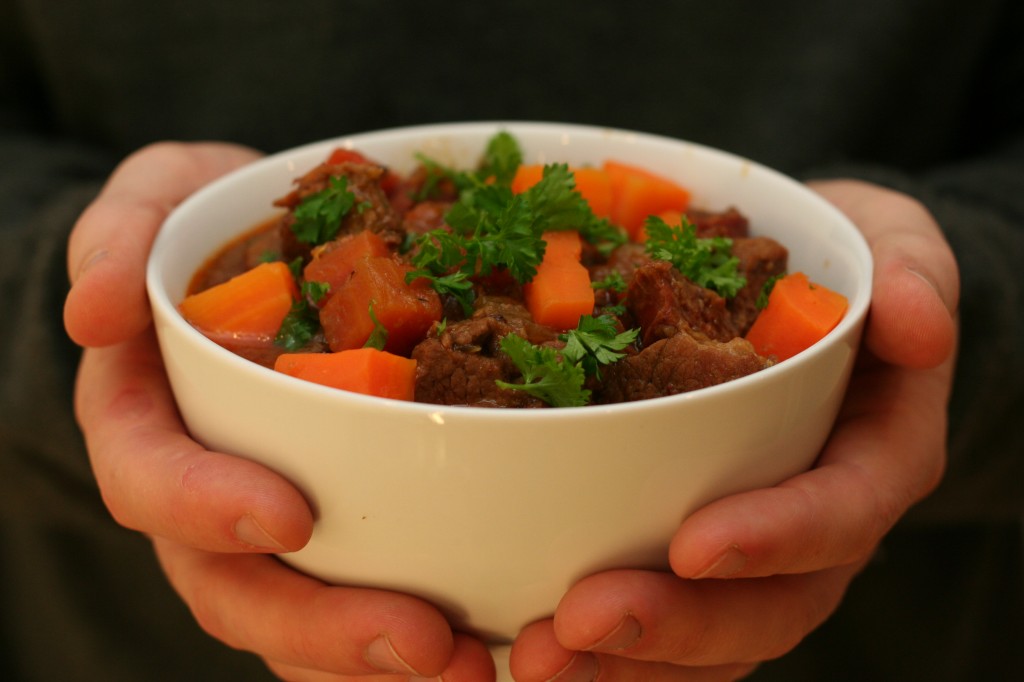 Beef, Chorizo and Ale Stew
adapted from Jay Rayner's shin of beef recipe from Food: What Goes in Your Basket
Serves 8
If you don't have a casserole pot (a.k.a. Dutch oven), you can simmer the stew on the stovetop instead. Alternatively, you could make this in a slow cooker (see below). I used O'Hara's Irish Red Ale for this stew.
2 lb (1 kg) stewing beef, cut into cubes
salt and freshly ground black pepper
2 tablespoons flour
olive oil
1 x 7 oz to 11 oz (200 g to 300 g) chorizo ring, cut into bite-sized pieces
3 red onions, roughly chopped
3 carrots, roughly chopped
2 celery stalks, roughly chopped
3 cloves garlic, chopped
1 bottle of ale
2 cups (1 pint) beef or chicken stock
1 bouquet garni (bay leaves, thyme sprigs and parsley, tied with kitchen string), or 1 teaspoon mixed dried herbs
1 tablespoon brown sugar
chopped fresh parsley, to garnish (optional)
mashed potatoes or crusty bread, to serve
Preheat the oven to 270°F (130°C).
Season the beef with salt and pepper and toss in the flour until the beef pieces are evenly coated. Heat some olive oil in a casserole pot (Dutch oven) and brown the beef in batches, making sure not to crowd the pot, or the meat won't brown properly. Remove from the pot and set aside. Add in the chorizo and cook for a few minutes, until it has started to release its oils. Add in the onions, carrots and celery and cook for 10 minutes, until the vegetables have softened. Add in the garlic and cook for 1 minute more.
Deglaze the pot with a small glass of the ale and simmer until it has reduced and thickened. Add the rest of the bottle and bring back to a simmer. Return the beef to the pot, and if it's not fully covered, top up with the stock. (Add the whole pint of stock if you like a thinner stew, add less if you like a more concentrated broth.) Add the bouquet garni or dried herbs and stir in the sugar.
Cover and put in the oven for 3 to 4 hours (or simmer on the stovetop on a low heat), stirring a few times. The meat is ready when it shreds apart. As an optional extra if you want to intensify the flavor, you can strain off all the liquid into another pot and reduce the liquor by half, then return the liquid to the casserole pot. Serve with lots of chopped fresh parsley and mashed potatoes or crusty bread.
Slow cooker variation: Follow the recipe above until you've deglazed the pot, then transfer the stew to your slow cooker. Add the beef, stock, herbs and sugar to the slow cooker — though you should use less liquid because it won't reduce as much as it does on the stovetop or in the oven. Cover and cook on a low heat for 8 hours, or until the meat shreds apart with a fork.

Email this post

Print this post