As a bit of a self-confessed cookbook addict (six new cookbooks in the last six weeks, ahem!), I know what Domini Kemp is talking about when she said in her column last Saturday, "Who needs another cookbook? I know if the amount I have on my shelves is anything to go by, then I certainly don't. But yet, I love flicking through cookbooks any chance I get." Her own beautifully styled new book, Itsa Cookbook, is a compilation of over 100 of the best-loved, most-cooked recipes from her weekly Irish Times column, with photographs that make you wish you could pull up a chair and tuck in. Recipes I've already made from Domini's column over the years that are now included in her book are chickpea, sweet potato and chorizo stew; beans and bacon; coriander chicken with chickpea, feta and coriander salad; and salmon en croute with dill and pistachio pesto. A short list of recipes from the book I'm looking forward to trying include sweet corn fritters with tomato salsa, lemon and garlic poached chicken, baked sweet potatoes with lemon and chilli, and chocolate sorbet.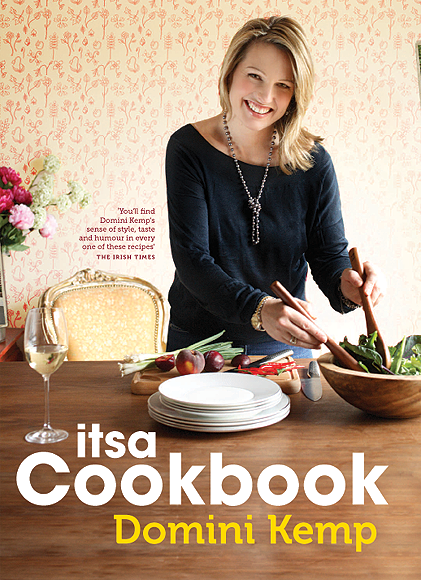 Domini is not only a food writer with a weekly column in the Saturday Irish Times Magazine, but is also a professionally trained chef and restaurateur (she and her sister, Peaches, own and run the Itsa Food Company). Yet for all that, Domini says in her introduction, "But every day I cook at home, where time, nutrition, satisfaction and taste are all key factors. I love to take a recipe, tear it apart, try to make it simpler and tastier and eliminate anything that isn't utterly critical." What this has resulted in is a book filled with foolproof recipes aimed at the everyday cook who still wants to eat well — and which one of us doesn't fit that description?
You can't get more foolproof than this recipe for balsamic roast chicken with rocket (that's arugula to those of you in the States), cherry tomatoes and Parmesan. It literally takes 5 minutes to put together and cooks for 30 minutes in the oven — how's that for an effortless midweek meal? It's a fantastic recipe to have up your sleeve.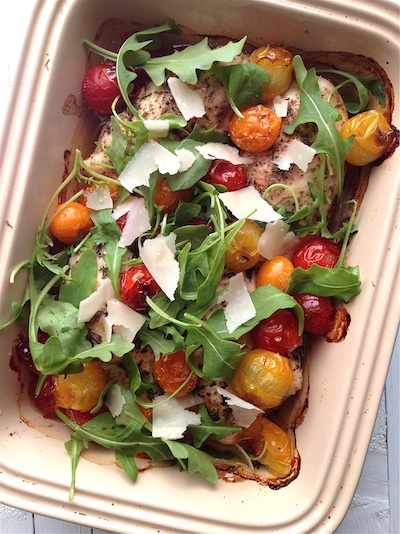 Balsamic Roast Chicken with Rocket, Roast Tomatoes and Parmesan
adapted from Itsa Cookbook by Domini Kemp
Serves 4
This takes only minutes to pull together, but is tasty and sophisticated enough to serve for guests. The flavors are very similar to Jamie Oliver's cherry tomato and sausage bake, not to mention the same effortless cooking method, so if you like that, you'll love this too.
4 chicken breasts or supremes, skin on or off
a few tablespoons olive oil
a few tablespoons balsamic vinegar
a few cloves garlic, peeled
fresh thyme or rosemary if you have it
salt and freshly ground black pepper
9 oz (250 g) cherry tomatoes, sliced in half
4 handfuls rocket (arugula)
a few chunky shavings of Parmesan or Pecorino
crusty bread, to serve
Preheat the oven to 400°F (200°C).
Place the chicken in a roasting tray or baking sheet and pour over the olive oil and balsamic vinegar. Add in some garlic, herbs and season well, then add in the cherry tomatoes. Roast for about 30 minutes, or until the chicken is fully cooked through, basting the chicken with the cooking juices once or twice.
Arrange the arugula (rocket) on 4 plates. Top with the chicken and some tomatoes and loads of cooking juices (which is like a warm and simple vinaigrette). Top with some Parmesan shavings and serve with plenty of crusty bread to mop up the juices.

Email this post

Print this post