With over 80 cookbooks in my collection, the last thing I need is another one, but that didn't stop me from getting Nigella Lawson's new book, Kitchen: Recipes from the Heart of the Home, hot off the presses two weeks ago (in America, you'll have to wait until October 12 to get your hands on a copy). A lifesaving new feature in this book is a separate index of express recipes that can be made in 30 minutes or less, and with a recent bottleneck of work deadlines requiring lots of late nights chained to my desk with little time to spare for cooking, let alone meal planning, I've already been turning to it a lot. This is one of the first recipes I made from the book, and I can see it being a firm favorite in my repertoire of store cupboard dinners that I can pull together when time is short and the kids are hungry.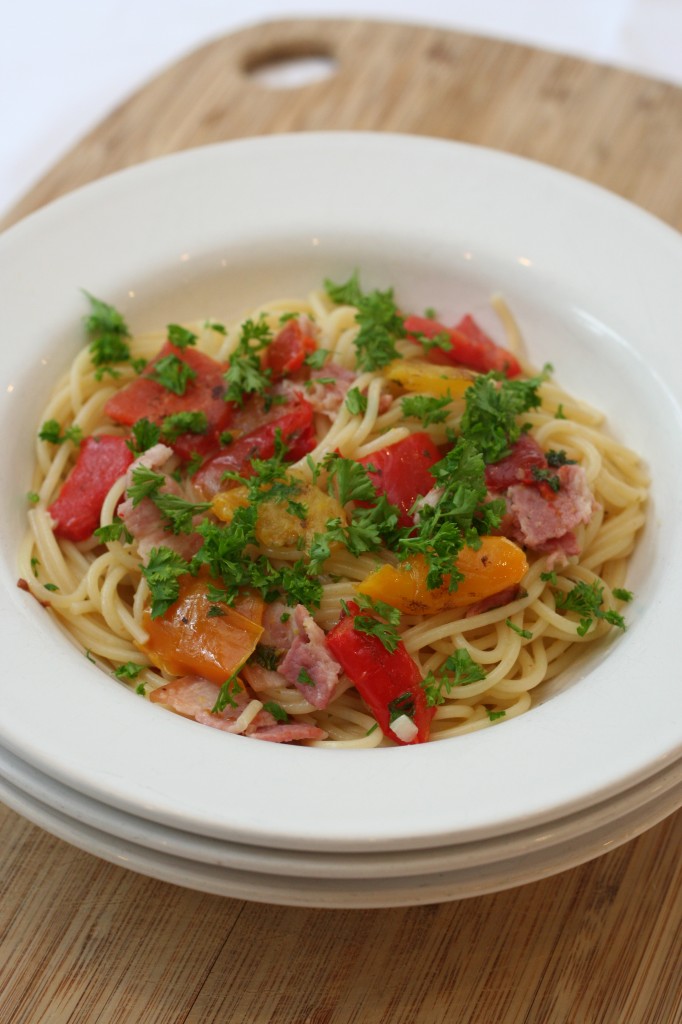 Pasta with Pancetta, Peppers and Parsley
adapted from Kitchen by Nigella Lawson
Serves 4
1 lb (450 g) spaghetti
1 tablespoon olive oil
11 oz (300 g) pancetta cubes or streaky bacon
3 cloves garlic, chopped
1 teaspoon dried chili flakes (optional)
zest and juice of 2 lemons
1/4 cup (60 ml) cold water
about 14 oz (400 g) (drained weight) roasted peppers from a jar, chopped into bite-sized pieces
1 large bunch of parsley, chopped
salt and freshly ground black pepper
Cook the pasta in a large pot of boiling salted water according to the packet instructions.
Meanwhile, heat the oil over a medium heat in a heavy-based pan, one that's big enough to eventually add all the cooked pasta to later. If you're using regular bacon, chop it into bite-sized pieces first. Fry the pancetta or bacon until crisp, then add the garlic, dried chili, lemon zest and juice and the water. Cook for 1 minute, then add the peppers and half the chopped parsley.
When the pasta has finished cooking, reserve 2 cups (480 ml) of the cooking water, then drain. Add the pasta to the sauce in the pan. Toss everything together well and add some of the pasta cooking water if it needs it, then season to taste and sprinkle with the remaining parsley.

Email this post

Print this post