I'm a born and bred Midwesterner, so corn is practically part of my heritage. "Corn should be knee high by the fourth of July," my dad used to say out of the blue sometimes while driving alongside the cornfields of northern Illinois, and no summer picnic or barbecue was complete without me or my brother or sister being sent out to the patio to shuck a bag full of sweetcorn picked up from the tumbledown farm stand on the corner of Route 45 and 173. When I was back in the States last month, my friend and I went grocery shopping to pick up supplies for that night's barbecue, and I insisted we get a few ears of sweetcorn. Back home in Ireland, though, where whole ears of corn tend to only come pre-shucked in shrink-wrapped packages (and that's in the rare instance when you can even find them), I make do with frozen corn. In this cheddar corn chowder, though, it's so full of flavor that I don't think you'd even know the difference.
Now that the back to school drive is in full swing, it's worth saying that these ham and cheese muffins not only work well served alongside soup, but are also a great alternative to the usual sandwich in a school lunchbox. The 15 minutes you spend making them one day will be repaid during the week if you stash them in the freezer. You can then grab as many as you need from the freezer the night before, pop them into a reusable plastic container and stow them in the fridge – they'll be thawed by lunchtime the next day.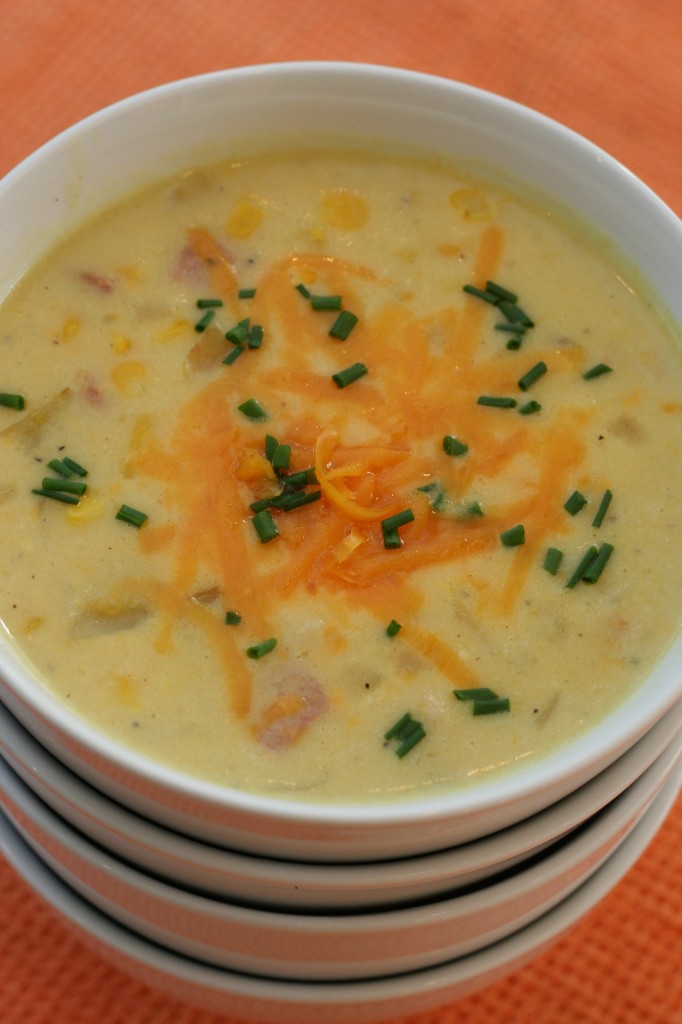 Cheddar Corn Chowder
adapted from The Barefoot Contessa Cookbook by Ina Garten
Serves 6
For a gourmet touch, you could serve this soup with a dollop of Wolfgang Puck's jalapeño crema on top instead of grated cheese. Instead of using a mix of cream and milk, you could just use 1 cup (240 ml) half and half in the US, or if you want to make it a little less fattening, just use 1 cup (240 ml) milk and no cream. Leave out the bacon and use vegetable stock to make a vegetarian version of this.
2 tablespoons olive oil
4 oz (110 g) bacon, chopped
2 large yellow onions, chopped
2 tablespoons (30 g) unsalted butter
1/4 cup (30 g) flour
1/2 teaspoon salt
1/2 teaspoon freshly ground black pepper
1/4 teaspoon ground turmeric
6 cups (1 1/2 liters) chicken stock
1 lb (450 g) baby potatoes, unpeeled and diced
1.5 lb (680 g) fresh or frozen corn kernels (about 5 ears of corn if using fresh)
1/2 cup (120 ml) cream
1/2 cup (120 ml) milk
4 oz (110 g) sharp/mature cheddar cheese, grated, plus extra to garnish
chopped chives, to garnish (optional)
Heat the olive oil in a large stockpot over a medium-high heat and cook the bacon for about 5 minutes, until crisp. Remove the bacon with a slotted spoon and set aside to drain on a paper towel-lined plate. Reduce the heat to medium, add the onions and butter to the rendered fat and cook for 10 minutes, until the onions are translucent.
Stir in the flour, salt, pepper and turmeric and cook for 3 minutes. Add the chicken stock and potatoes, bring to a boil and simmer, uncovered, for 10 to 15 minutes, until the potatoes are tender. If using fresh corn, cut the kernels off the cob and blanch them for 3 minutes in boiling salted water, then drain. (If using frozen corn, you can skip this step.) Add the corn to the soup, then add the bacon back in. Add the cream, milk and cheddar. Cook for 5 more minutes, until the cheese has melted. Season to taste with salt and pepper. Serve hot with a little grated cheddar and chopped chives sprinkled on top.
***
Savory Ham and Cheese Muffins
Makes 12 muffins
These muffins have some whole wheat flour to give them a little boost of wholegrain goodness, but you could use all plain flour (2 1/2 cups/300 g) instead. You can also adjust the seasonings to your children's tastes, so feel free to leave out the paprika, black pepper, Worcestershire sauce, mustard or scallions, or use a mild cheddar instead of a mature one.
1 3/4 cup (200 g) plain flour
3/4 cup (100 g) whole wheat flour
2 1/2 teaspoons baking powder
1/2 teaspoon paprika
1/4 teaspoon salt
freshly ground black pepper
1 cup (240 ml) milk
6 tablespoons (90 g) unsalted butter, melted and cooled
1 egg
1 teaspoon Worcestershire sauce
1/2 teaspoon Dijon mustard
2 cups (200 g) grated mature cheddar
6 slices ham, chopped into small pieces
6 scallions, finely chopped
Preheat the oven to 375°F (190°C). Grease a muffin tin or line with silicone or paper cases.
Sift together the flours, baking powder, paprika, salt and a little black pepper in a large bowl.
In a separate bowl or measuring jug, whisk together the milk, melted butter, egg, Worcestershire and mustard. Add to the dry ingredients and stir until just combined (don't overmix or the muffins will be tough). Stir in the grated cheese, ham and scallions, again taking care not to overmix.
Spoon the batter into the prepared muffin tin and bake for 20 to 25 minutes, until the muffins are golden and a tester inserted into the center comes out clean. Set aside on a wire rack to cool. If freezing, allow them to cool completely first.

Email this post

Print this post