When I go out to eat, I love to deconstruct the menu and take away all the adjectives. Things that sound fancy are oftentimes actually pretty basic. Pan-fried and corn-fed? That's all well and good, but it's still just chicken. Likewise, this dish sounds impressive, but is a cinch to make. For example, the tomato confit is nothing more than a can of chopped tomatoes that's simmered for an hour to reduce it down. The very title of the cookbook it comes from — Keeping It Simple by the L'Ecrevain chef Derry Clarke — goes to show how easy it really is. (But don't tell that to the other food bloggers who took part in the seafood cookalong* earlier this month, which is what I made this dish for.) Served with an equally impressive-sounding French apple tart, this would make an elegant, but easy, dinner party menu.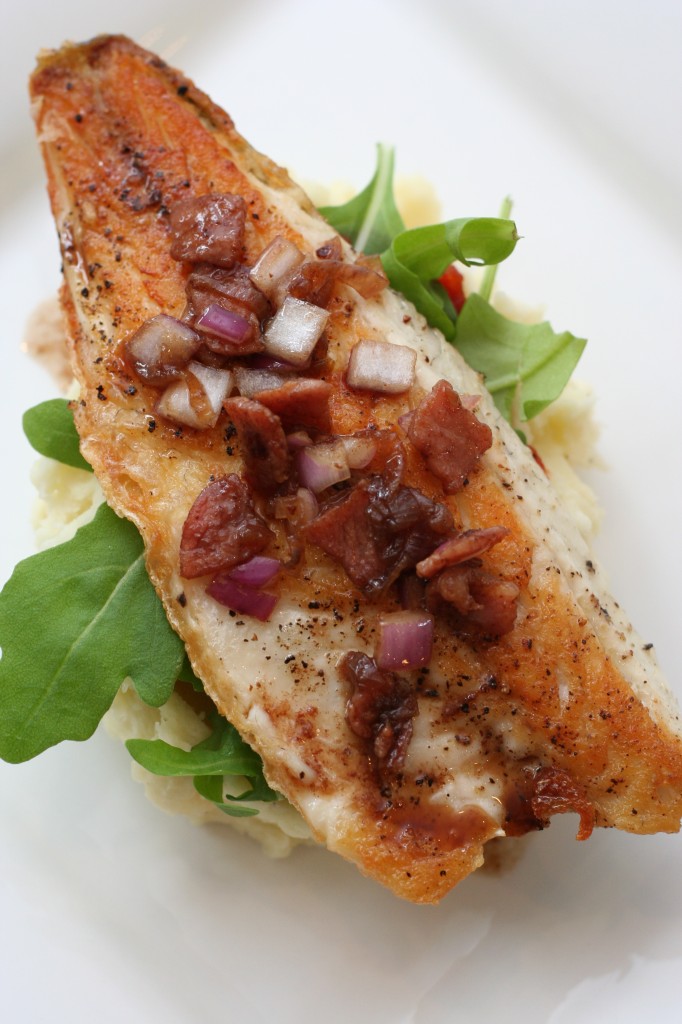 *The Irish food bloggers and foodies have a cookalong on the first Friday of every month, with a different theme and judge/sponsor each month. Check out our Facebook group for more details if you'd like to join in!
Sea Bass with Tomato Confit and Red Onion and Bacon Vinaigrette
adapted from Keeping It Simple by Derry Clarke
Serves 4
If you want to make this for entertaining, the tomato confit and red onion and bacon vinaigrette could be made in advance and simply reheated shortly before you're ready to serve. If you can't get sea bass, you could also use halibut, cod or snapper.
4 x sea bass fillets, scaled and pinboned
salt and freshly ground black pepper
1 tablespoon sunflower oil
juice of 1/2 lemon
mashed potatoes, to serve
a handful of arugula or baby spinach, to serve
for the tomato confit:
2 tablespoons brown sugar
1/4 cup (60 ml) red wine vinegar
1 x 14 oz (400 g) can of chopped tomatoes
1 bay leaf
salt and freshly ground black pepper
for the red onion and bacon vinaigrette:
1 tablespoon olive oil
2 shallots, thinly sliced
1/2 lb (225 g) bacon, diced
1 tablespoon brown sugar
1 tablespoon balsamic vinegar
1/3 cup (80 ml) red wine, port or stock
1/2 red onion, finely diced
salt and freshly ground black pepper
To make the tomato confit, place all the ingredients in a saucepan and cook over a very low heat for 1 hour, or until most of the liquid has evaporated. Remove the bay leaf, season and allow to cool.
To make the vinaigrette, heat a splash of olive oil in a frying pan over a medium heat. Saute the shallot and bacon until the bacon is lightly browned. Add the sugar, vinegar and wine and cook briskly until reduced by half. Add the red onion and season to taste. Set aside.
Season the fish well with salt and pepper. Heat the sunflower oil in a clean frying pan over a medium heat. Place the fish in the pan, skin side down. Cook for about 4 minutes, or until the skin is crisp. Carefully turn the fish over and cook for a further 2 to 3 minutes, lowering the heat if necessary. Pour the lemon juice over the fish and remove from the pan.
To serve, place a dollop of mashed potatoes on a plate. Spoon over some of the tomato confit and arrange the arugula or spinach on top of the confit. Gently place the sea bass on top of the arugula/spinach. Spoon the vinaigrette over the sea bass and serve immediately.

Email this post

Print this post