When I moved to Ireland 11 years ago, any ingredient that was the least bit exotic was almost impossible to find, or at least it was outside of upmarket Dublin delis or ethnic markets. I remember how excited I was after a couple of years here to find a local store that sold sweet potatoes and butternut squash, though an Irish friend asked me what the squash was after seeing it sitting on my kitchen counter. To this day, when I buy an eggplant (aubergine) or avocado, the checker will sometimes ask me what it is, leaving me to wonder if I'm really the only person who's ever come through their line to buy these things. Just last week, when I saw that my store was stocking fresh lemongrass, I snatched up a bundle with this recipe in mind after recently watching Bill Granger make it on his Bill's Holiday TV show, but laughed when I looked at the receipt and saw that the checker had charged them as scallions.
I'm just happy to have found it at all, since these burgers and this fresh, zingy slaw were the perfect dinner for the equally unexpected hot, sunny weather we had this past weekend. But if you can't find lemongrass (I certainly didn't expect to!), you could either substitute the zest of half a lemon or just leave it out altogether and the burgers will still have plenty of flavor. With or without the lemongrass — and with or without the accompanying summer weather, for that matter, seeing as how you can't count on that either in Ireland anymore — I'll definitely be making both of these dishes these again.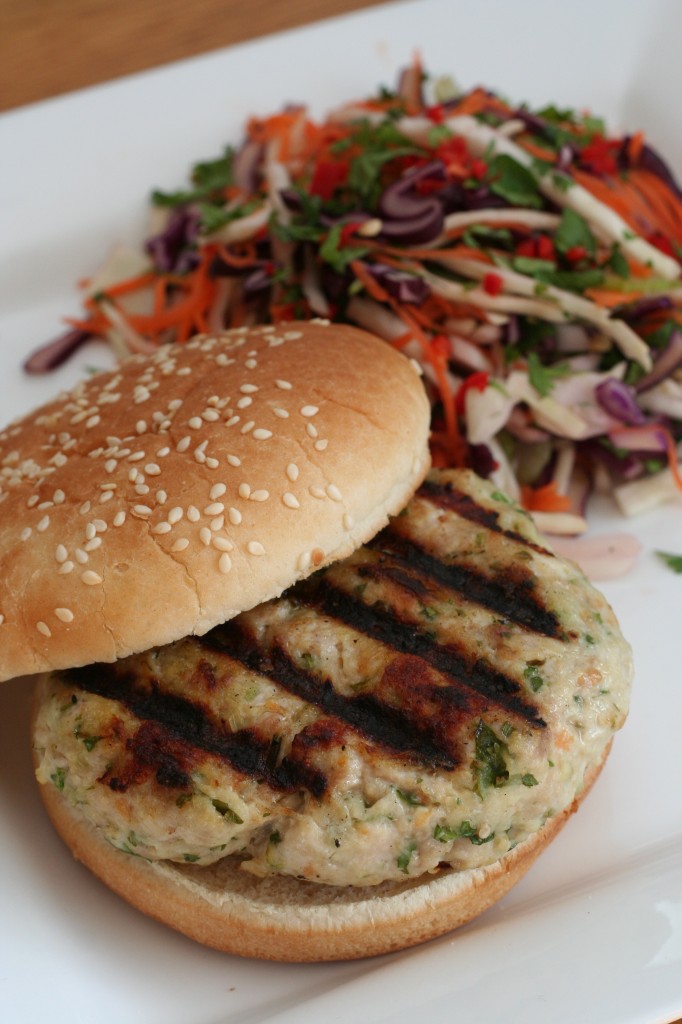 Chicken Burgers with Lemongrass and Lime
adapted from Holiday by Bill Granger
Serves 4 to 6
1 lb (450 g) minced chicken
1 small onion, grated
1 clove garlic, crushed
1 stalk lemongrass, white part only finely chopped (or the zest of 1/2 lemon or omit altogether)
3/4 cup (75 g) fresh white breadcrumbs
2 tablespoons chopped cilantro
zest of 1 lime
1 tablespoon fish sauce
2 teaspoons sugar
vegetable oil, for brushing
soft rolls, to serve
lettuce, to serve
chili sauce, to serve
mayonnaise, to serve
Mix the chicken, onion, garlic, lemongrass, breadcrumbs, cilantro, lime zest, fish sauce and sugar in a large bowl and gently mix everything together well with your hands (try not to overwork the burgers). Shape into 6 patties, then cover and refrigerate for 30 minutes to allow them to firm up a bit.
Heat a barbecue or grill pan and brush the burgers with a little oil. Cook for 4 minutes on each side, or until cooked through. Serve the burgers on soft rolls with lettuce, chili sauce and mayonnaise.
***
Spicy Slaw
adapted from Holiday by Bill Granger
Serves 8
I left out the thinly sliced red onion called for in the original because I don't personally care for raw onion, but by all means add it back in if you want to. The original recipe doesn't call for basil either, but I had half a bunch in my fridge and wanted to use it up. You could use any combination of these herbs that you like or have to hand.
for the salad:
4 celery stalks, thinly sliced
2 large carrots, grated
2 large handfuls grated white cabbage
2 large handfuls grated red cabbage
1 large handful mint leaves, roughly chopped
1 large handful basil leaves, roughly chopped
1 large handful coriander leaves, roughly chopped
for the sweet chili dressing:
1 or 2 red chilies, deseeded and finely chopped
2 tablespoons lime juice
2 tablespoons fish sauce
1 tablespoon rice vinegar or white wine vinegar
1 tablespoon sugar
Toss all the salad ingredients together in a large bowl. In a separate bowl, mix all the dressing ingredients together, stirring until the sugar has dissolved. Add the dressing to the salad and toss together. Serve immediately.

Email this post

Print this post