Kristin and I are food psychic — strange but true. I've lost count of the number of times I've emailed her about a great cake I just made only to find she made the same thing (or something close) the day before. This blog has only confirmed my suspicions. I now double check the titles of her planned posts before doing my meal planning or, heaven forbid, I'll risk making the same thing and will have lost a post opportunity. Last week, I opened up Molly Wizenberg's A Homemade Life
, planning to make bouchons au thon and these fantastic-sounding meatballs. Well, Kristin beat me to the tuna corks, but I'm happy enough to be able to share these sweet and savory meatballs. I suspected they would be lovely and so doubled the recipe for leftovers. I'm glad I did, because the second batch made for an amazing lunch the next day.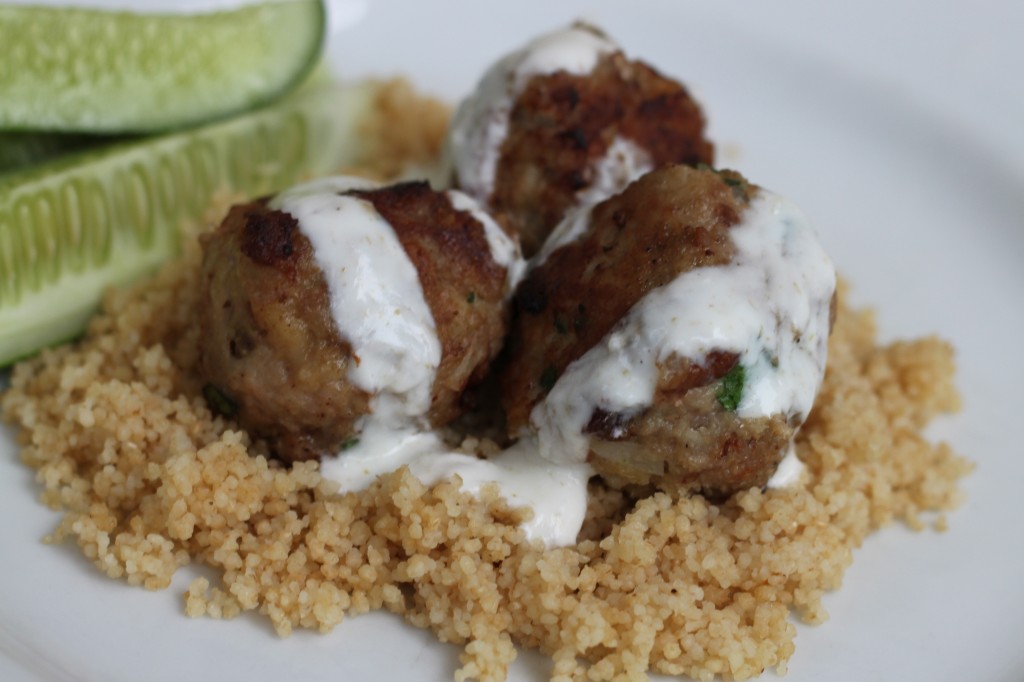 Turkey Meatballs with Walnuts, Cilantro, Golden Raisins, and Lemon-Cumin Yogurt Sauce
adapted from A Homemade Life
by Molly Wizenberg (or via Orangette)
Makes about 40 meatballs (serves 4 for dinner plus leftovers the next day)
for the sauce:
2 cups (480 ml) plain yogurt
juice of 1 lemon
1 clove garlic, grated or minced
1/2 teaspoon ground cumin
1/2 teaspoon salt
for the meatballs:
2 lb (900 g) ground turkey or chicken (mix of light and dark meat)
1 small yellow onion, minced
2 eggs, lightly beaten
1/2 cup (15 g) finely chopped cilantro (coriander)
1 cup (100 g) chopped walnuts or pine nuts
1 cup (160 g) golden raisins, roughly chopped if they're large
1 cup (100 g) panko or breadcrumbs
1/4 teaspoon ground cumin
1 teaspoon salt
1/4 teaspoon freshly ground black pepper
olive oil
cooked couscous, for serving
To make the yogurt sauce, combine the yogurt, lemon juice, garlic, cumin, and salt in a small bowl and whisk to combine. Set aside at room temperature to let the flavors develop while you make the meatballs.
To make the meatballs, gently mix all the meatball ingredients except the olive oil and couscous together in a bowl, using your hands. Take care not to overmix the meat (which would make the meatballs tough), but make sure all the ingredients are evenly mixed. Form the mixture into 1 1/2‑inch balls and set aside on a large plate. (Raw meatballs can be covered and refrigerated for up to 1 day. Alternatively, place them, not touching, on a rimmed baking sheet and freeze until hard, then transfer them to a heavy-duty plastic bag and freeze for up to 2 weeks.)
Heat a thin film of olive oil in a heavy skillet over a moderate heat and saute the meatballs in batches (don't overcrowd them in the pan). As they begin to color, turn them gently with tongs so that they're golden on all sides. They should be done when they're evenly browned and feel medium firm (but not hard) to the touch. Place on a paper towel to drain. Add additional oil to the skillet if it looks dry and cook the remaining meatballs. Serve hot, warm, or cold with yogurt sauce and couscous.

Email this post

Print this post