Chimichurri is what all the cool kids are eating now, according to Saturday's Irish Times. I made this three-herb chimichurri a few weeks ago, inspired by the herbs I got from Living Flavour last month, so I'm feeling very smug and ahead of the trends.
Chimichurri is usually only made with parsley, but this version, using cilantro and mint as well, is even better. And now that so many people are growing their own these days, it's an ideal recipe for using up some of the herbs from your garden.
If you want to make this recipe even faster (and less expensive) to cook, use steaks or even chicken instead of a pricey tenderloin. I served sweet potato wedges with this, but a selection of roasted or grilled vegetables would be fantastic too.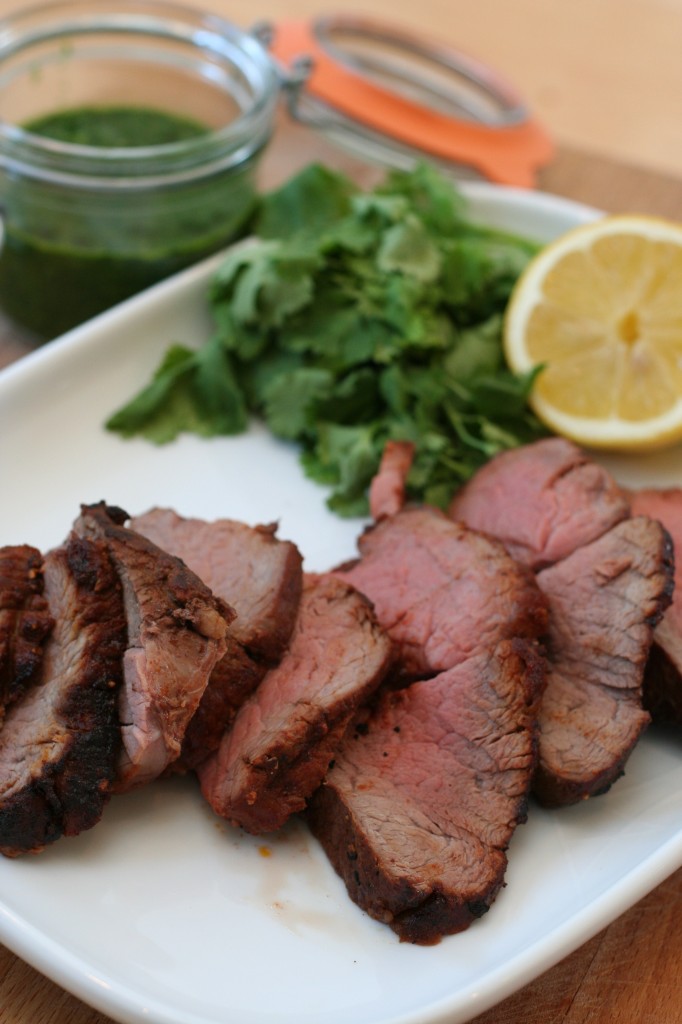 Beef Tenderloin with Three-herb Chimichurri
adapted from Bon Appétit, July 2006
Serves 4 to 6
The original recipe calls for the beef to be grilled, but since my Weber hasn't been used (and therefore cleaned) since about 2006, I opted to roast it instead. I also scaled down the original quantities to make this more suitable for a family dinner. Click on the link above for grilling instructions and for ingredient quantities to serve 8 to 10.
for the spice rub:
1 tablespoon dark brown sugar
1 1/2 teaspoons smoked paprika
1 1/2 teaspoons coarse kosher salt
1 teaspoon chipotle chile powder or ancho chile powder (optional)
1/2 teaspoon ground black pepper
for the chimichurri:
1/4 cup (60 ml) olive oil
1 1/2 tablespoons sherry vinegar or red wine vinegar
1 1/2 tablespoons fresh lemon juice
1 garlic clove, peeled
1 medium shallot, peeled and quartered
1/2 teaspoon fine sea salt
1/4 teaspoon freshly ground black pepper
1/4 teaspoon dried crushed red pepper (optional)
1 1/2 cups (packed) (30 g) stemmed fresh parsley
1 cup (packed) (20 g) stemmed fresh cilantro
1/2 cup (packed) (15 g) stemmed fresh mint
1 x 2 lb (900 g) beef tenderloin
olive oil
To make the spice rub, combine all the ingredients in a small bowl. Set aside.
To make the chimichurri sauce, combine the olive oil, vinegar, lemon juice, garlic, shallot, salt, pepper and crushed red pepper in a blender or food processor. Blend until almost smooth. Add one-quarter of each of the herbs and blend until incorporated. Add the remaining herbs in three more additions, pureeing until almost smooth after each addition. Add in a little more olive oil if you think it needs it — you want it to have a pesto-like consistency, not a paste.
Let the beef stand at room temperature 1 hour before roasting. Position a rack in the center of the oven and preheat it to 425°F (220°C). Pat the beef dry with paper towels, then brush with oil. Sprinkle all over with the spice rub, using all of the mixture (the coating will be thick). Heat a splash of olive oil in a large frying pan over a medium-high heat and sear the beef for 1 minute on all sides. Transfer the beef to a foil-lined baking sheet (for easier clean-up) and roast for about 30 to 40 minutes, until a meat thermometer inserted into the thickest part of the meat registers 125°F to 130°F (52°C to 54°C) for medium-rare. Transfer to a platter, cover loosely with foil and allow to rest for 15 minutes. Thinly slice the beef crosswise and serve with the chimichurri sauce.

Email this post

Print this post