When I attended the Bord Bia Irish food bloggers event last month, I first and foremost met loads of fantastic people, some of whom are bloggers I've been reading for awhile, and some who I happily discovered thanks to this event. I also saw a few cooking demos, including a don't-try-this-at-home handsaw-wielding butcher; heard talks on raising your blog's profile from Damien Mulley and how to land a book deal from Eoin Purcell; learned some tips on food styling from Erica Ryan and food photography from Jocasta Clarke; and ate pork belly and its fabled crackling for the first time.
And I got some free grub.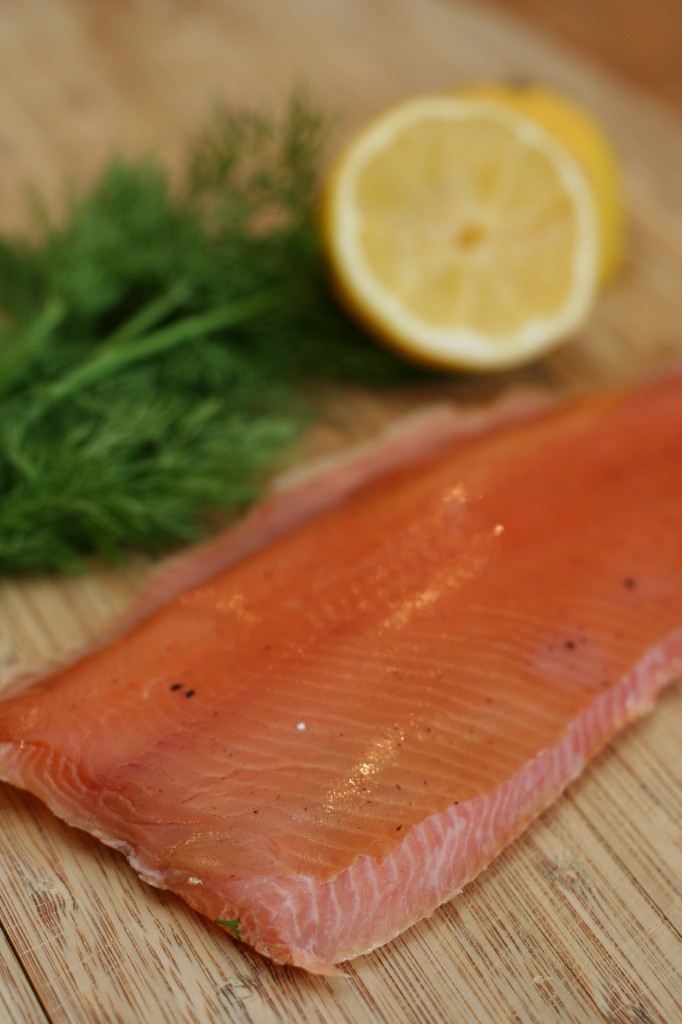 I left the Bord Bia offices laden down with potted thyme and sage plants from Living Flavour; a jar of chutney for cheese from Sheridans Cheesemongers; a box each of Pu-erh and South African Roobios tea from Barry's Tea; a pack of Biltong Irish beef jerky; a pack of lentil, pea and bean shoots from Good4U; a homemade Macroom oatmeal ginger biscuit made by fellow blogger Lilly Higgins; and last but not least, two fillets of hot smoked Irish trout from Goatsbridge. (And not forgetting, of course, the 4 lb pork loin sent out by Bord Bia before the event that I brined and served with a rhubarb compote.)
We scoffed most of the lot fast enough, but I let the trout sit in the fridge for a week while I decided what to do with it. I can't claim to be the first of the Irish bloggers to come up with the idea of pairing the trout with pasta and peas — Darren at Supper Satisfaction and Aoife at Babaduck Babbles have both posted similar versions already, and I was inspired by Gizzi Erskine's recipe for spaghetti with smoked salmon and peas that Donal Skehan featured on his blog last month and which my kids loved when I made it. The top-quality trout did most of the work for me in this recipe, but some lemon, crème fraîche and white wine didn't hurt either. If you can't find smoked trout, this recipe would work just as well with smoked salmon.
But I left with more than just a bag full of free food. I came away from the event inspired to try some new recipes thanks to the producers' generous donations, with new friends and with a sense that I'm part of a buzzing little Irish food blogging community. Now that's what I call a good day out.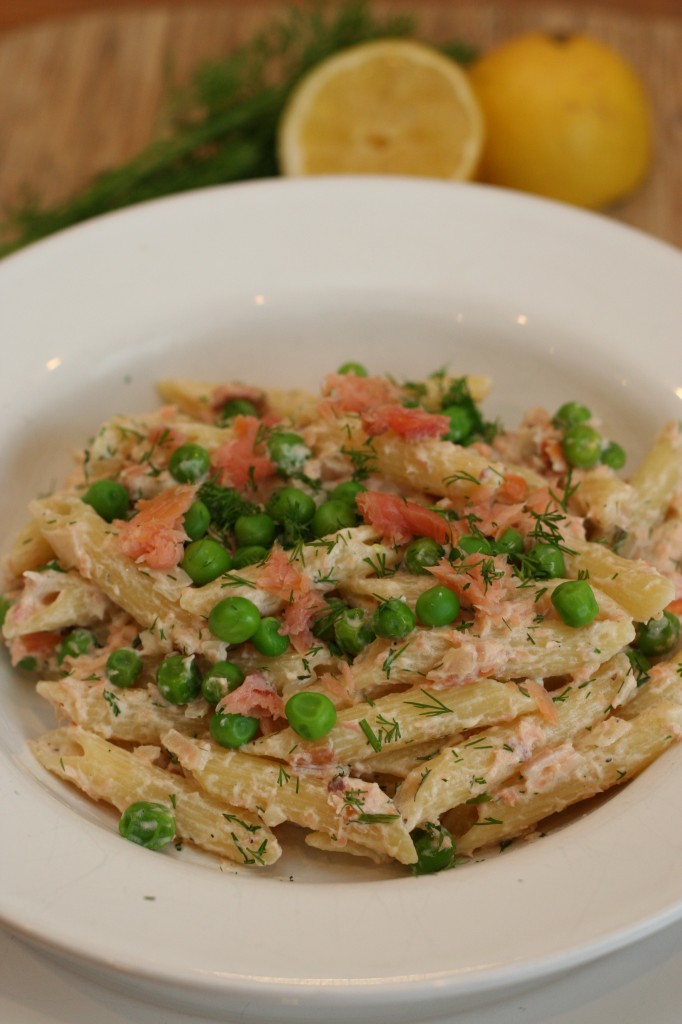 Creamy Penne with Smoked Trout and Peas
Serves 4 to 6
The folks at Goatsbridge suggested adding a pinch of dried chili flakes to this recipe for a little kick. If you can't get crème fraîche, try taking a leaf out of Gizzi Erskine's book and using 1/2 cup (120 ml) heavy cream and 1/2 cup (120 ml) Greek yogurt instead, in which case you might not need to add the pasta cooking water at the end.
1 lb (450 g) penne
2 cups (200 g) frozen peas
1 tablespoon (15 g) butter
4 small shallots, finely chopped
juice of 1 large lemon
1 cup (240 ml) white wine
1 cup (240 ml) crème fraîche
salt and freshly ground black pepper
7 oz (200 g) smoked trout (or smoked salmon), roughly chopped
1/4 cup (10 g) chopped fresh dill
freshly grated Parmesan, to serve
Cook the penne in a large pot of boiling salted water according to the packet instructions. Five minutes before the end of the cooking time, add the frozen peas in with the pasta.
Meanwhile, melt the butter over a medium-low heat in a large frying pan, one that's big enough to eventually hold all the cooked pasta. Add the shallots and cook for 3 to 4 minutes, until softened. Add the lemon juice and wine and bring to the boil. Turn the heat down to low and simmer for about 10 minutes, until the lemon and wine have reduced a little. Add in the crème fraîche and stir well, then season with salt and pepper. Add in the smoked trout and continue to simmer until the trout is heated through.
Drain the pasta and peas, reserving some of the cooking water. Add a ladleful of the pasta cooking water to the sauce to thin it a little. Add the pasta and peas directly to the sauce in the frying pan, stirring well to coat the pasta evenly with the sauce. Add more cooking water if needed. Sprinkle with fresh dill and toss to combine. Serve immediately with freshly grated Parmesan cheese on top.

Email this post

Print this post